Jaguar
The Nic. Christiansen Group (NCG) is one of the leading players in the Scandinavian automotive industry, with operations in Denmark, Norway, Sweden, Finland and the Baltic States. NCG manages the import of Jaguar Land Rover in Scandinavia under the British Car Import heading.
View Live site
Reaching new customers
When Jaguar's I-PACE model was first presented to the Norwegian market in November 2016, there was significant consumer interest shown in Jaguar's first all-electric car with deposits being put down for what at this stage was a concept. It was clear to British Car Import that their six retail dealers in Norway would have a huge bottleneck of interested customers to prioritise once the car was available.
British Car Import therefore needed a solution to further qualify customers' potential interest. This would allow customers to formally register their interest in the I-PACE. Therefore, the brief to NCG Online and Vaimo was to create a conversion website with the look and feel of an eCommerce store, in order to bring the customer as close to a real purchase situation as possible. British Car Import wanted a site that at its core was easy and intuitive to use, and that would also give customers a feeling of really committing to the purchase of the car, without actually fulfilling the transaction online. It was also critical that a platform was delivered as quickly as possible in order to match pre-launch timing and be available for the pre-launch campaign peak period.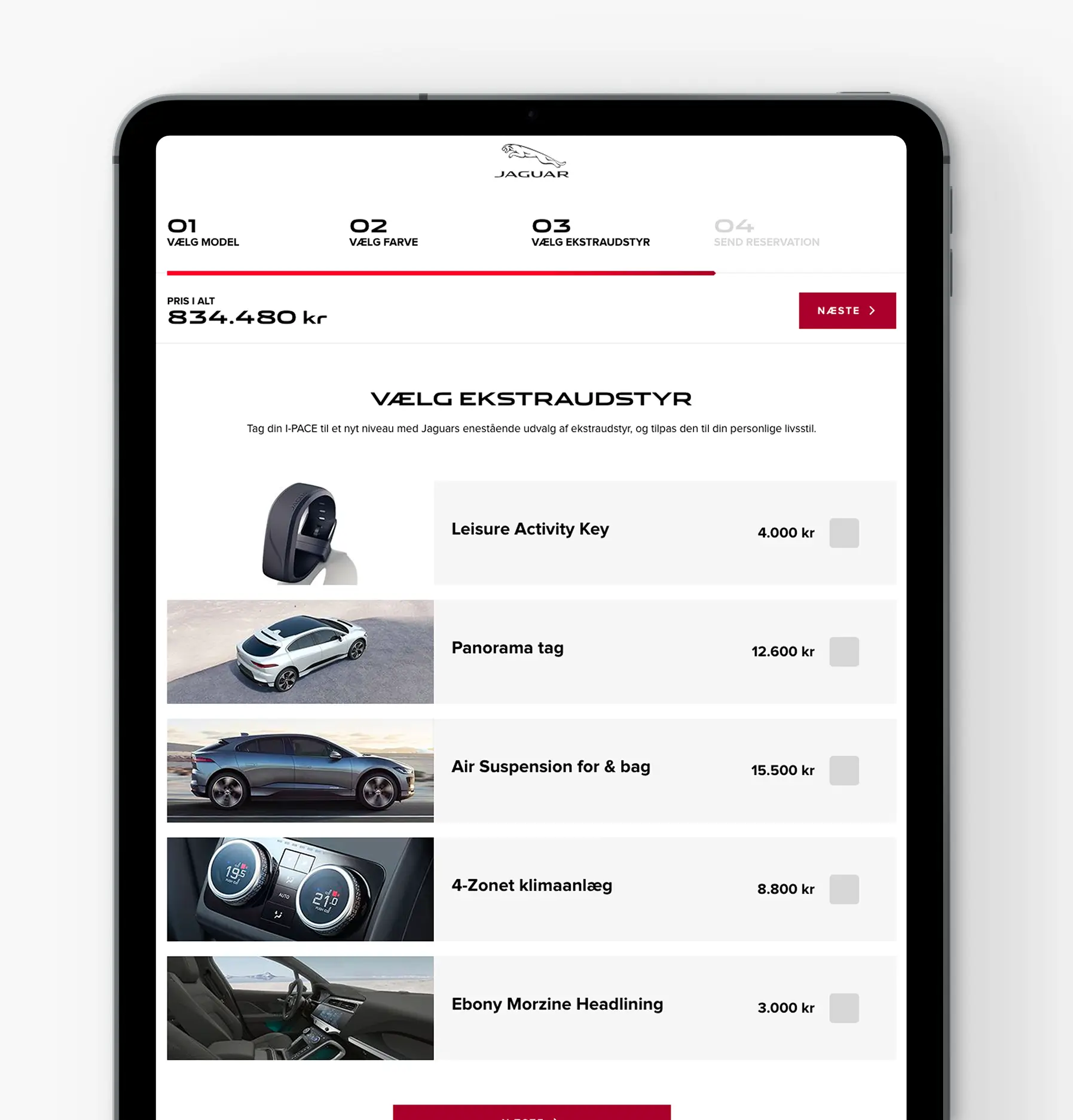 350 leads
in the first 14 days
The solution
An innovative eCommerce solution
In collaboration with NCG Online, Vaimo developed a fully responsive site for British Car Import, with a slick feel that is intuitive and easy to navigate for customers. The new site allows customers to walk through four intuitive steps, inputting details about the car they would like to purchase—this calculates the overall price and leads to a final check-out page. As well as being a site that is easy and convenient to use, it also commits customers to their choice with full transparency of visual details and pricing, giving them the feeling that they have pre-ordered the car. For the dealers, the benefit is clearly a higher number of customer contacts who are very close to the final purchase. The site was developed with Vaimo's own CMS (content management) module which gave NCG Online the freedom to work autonomously and flexibly with both their dynamic and static content; a crucial factor in a project with such a tight timeframe. And through the implementation of an eCommerce solution, NCG Online had instant access to the functionality and tools it required without the need to develop features from the ground up. Within the first 14 days following the launch over 350 leads were recorded and so far the conversion to actual sales has been very high, even though the car is not yet available to test in the markets.
Delivered in time
"The design process for this project began in November 2017, with the site going live on March 1st 2018. So in this very short timescale, Vaimo managed to take our idea and transform it into a fully-fledged conversion site. We're incredibly happy with the service provided by Vaimo and the fact that we were able to get this site live so quickly."
Morten Stig Hansen, Online Business Partner, British Car Import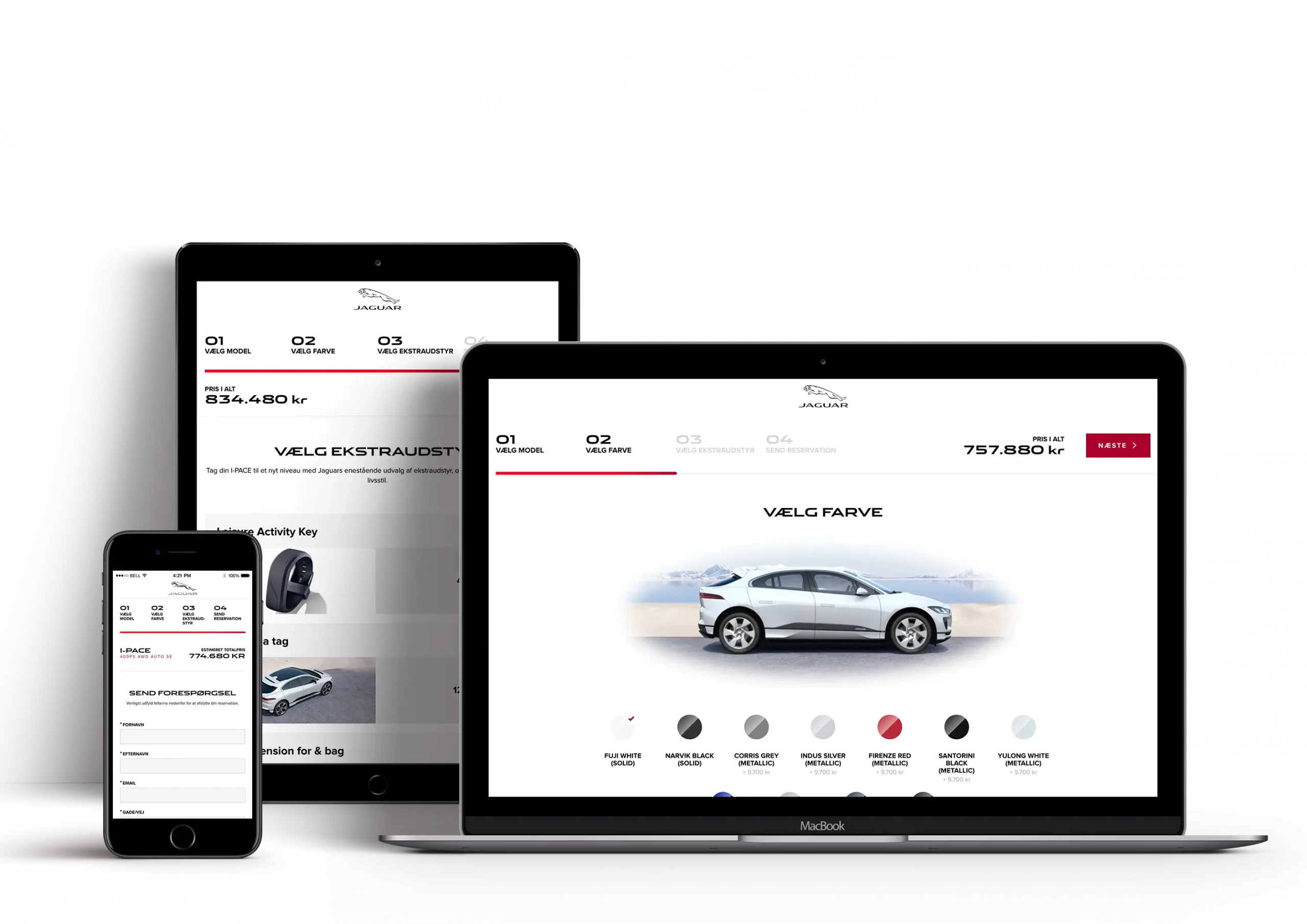 "The process of working with Vaimo on this site went very well—communication was efficient and decisions were made quickly. This is exactly the type of agile response we needed from a solution partner in making this project happen. We simply could not have launched the site in this timescale without Vaimo's insightful and collaborative approach."

Michael Rachlitz
eCommerce manager
Future: New eCommerce platforms
Given the ease of implementation and initial results, goals for the short-term include creating similar eCommerce sites for the rest of the British Car Import models. And from a longer-term perspective, NCG Online wants to look at expanding their eCommerce operations so that all brands under their umbrella can benefit from the features that a digital platform provides.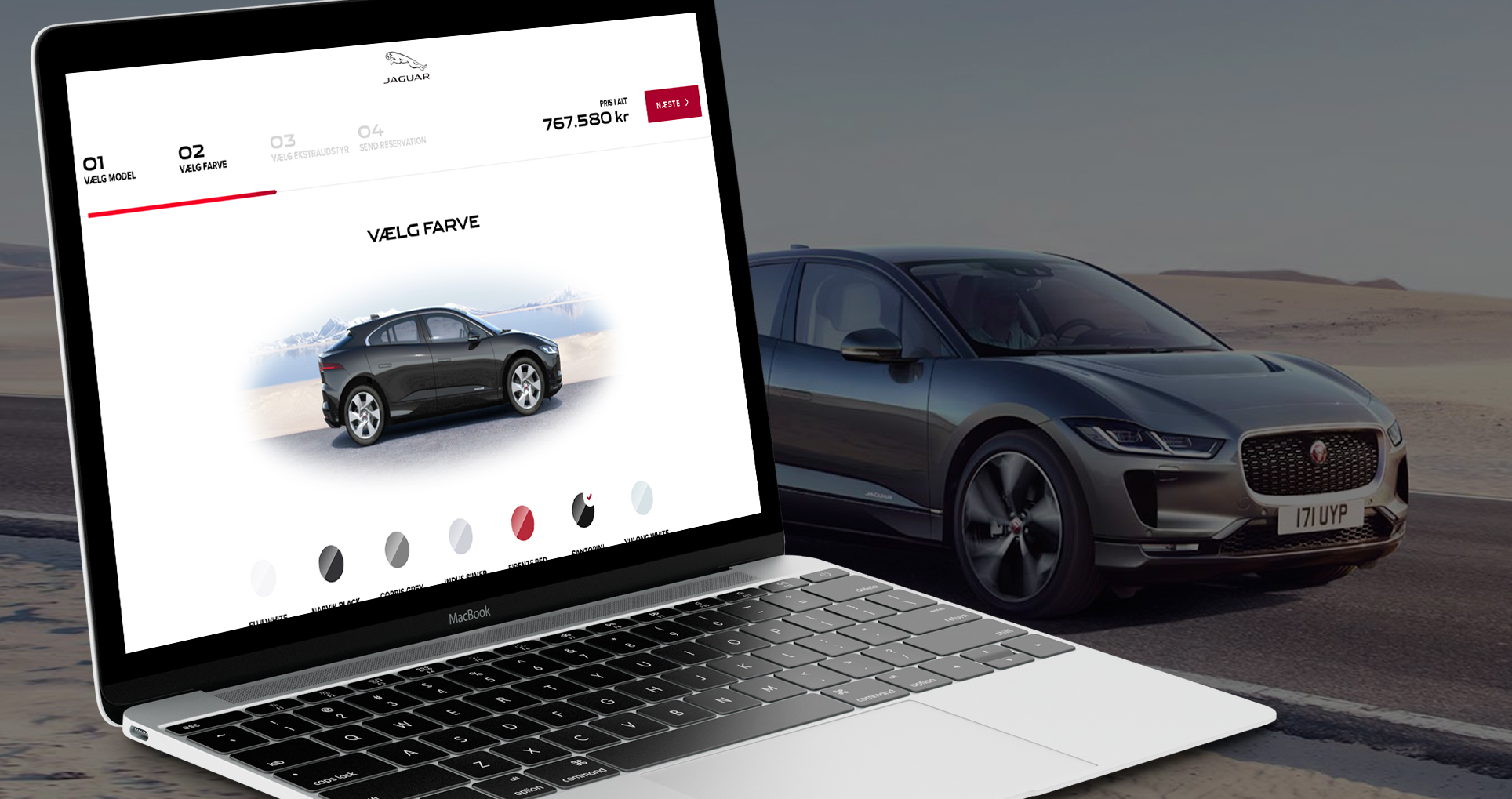 Features implemented
Tailored solution built on Magento 2
Ability to pick car colour and dealer
Vaimo Content Management System
Select more than one payment method
Use of KnockoutJS on steps 2 and 3
Integration to EASI'R CRM
Continuous progress bar
Intuitive walk through design
Custom-built features and modules
Want to accelerate your online sales?
At Vaimo, we build world-class digital experiences to ensure you have the competitive edge. The eCommerce landscape is changing in often unpredictable ways, but we provide you with the capabilities to increase sales, provide compelling customer experiences and drive long-term growth.
Get in touch