A pitter-patter of Slack messages foreshadows what we already know: the 2020 eCommerce peak sales season is almost here. Before sprinting into the holiday season, uncrumple your 2019 holiday to-do list and assess your successes and failures to improve your 2020 results.
Your eCommerce website needs to work at peak performance from Halloween to Valentine's day. After all, US holiday eCommerce grew 13.6% last holiday season. The 2020 holiday season also will take place mostly online due to the COVID-19 pandemic, and shoppers already responded to this shift. From April to May, eCommerce sales exceeded last year's holiday season sales by 7%. With the crisis continuing, you can expect an increase in online purchases during the 2020 peak sales season.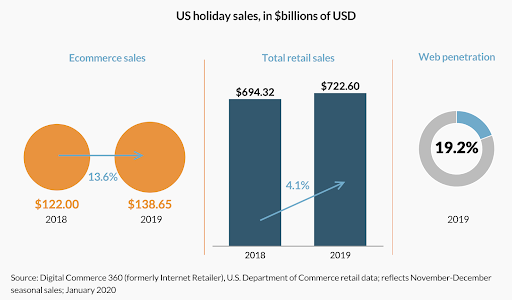 Reflecting on Peak Season 2019
Make 2020 preparation easier by relying on your learnings from 2019. By using analytics and reporting tools, you will boost your 2020 results. Here are a few areas to reflect upon from 2019.
Operations:
Ecommerce managers spend lots of energy on monitoring their website and dropping the curtain for new holiday deals. By the time the holiday sales season ends, managers often forget to take stock of how things went and to implement changes for the following year. Ask the questions below when reassessing your 2019 operations.
Did you refund customers because you sold stock that wasn't there? Did you refund customers because you delivered their products late? A proper refund analysis will identify stress points from 2019 that you can minimize in 2020.
Was there confusion around when to drop the curtain? Did you scramble to reactivate your integrations after big holiday sales ended? The answers will help you prepare better for 2020.
Did you start your campaign on Black Friday at midday rather than at midnight? Did you hire a group of five people for picking and packing? Ensure that your successes are also accounted for; after all, they contributed to the outcome.
After certain holiday sales ended, was it easy to return to normalcy? Did you struggle going back to business as usual or preparing for the next big sale? The transition often slows businesses down.
SOME OTHER QUESTIONS TO ASK:
What did social media say?
Did we meet our operational KPIs?
What could we have done better?
After assessing 2019, you'll locate some hidden gems and, hopefully, avoid repeating any costly errors in 2020.
Promotions:
2020 is undoubtedly the year of promotions. Due to the economic slowdown triggered by the pandemic, prices fell on many consumer products. You might compare the holiday season promotions to a flock of birds—each one identical to the next. Consider how your 2019 ads look in the current landscape. How do you make them stand out?
A good way to start choosing holiday promotions is to evaluate which offers performed the best last year. Was it free shipping or discounted items? Compare offers and find out which promotions gave the best results and helped to reach your campaign goals.
Channels:
Knowing which channel performed the best in 2019 will give you a guideline for budget allocation. Which channel(s) converted the most sales? Advertising is extremely competitive during the holiday season, so make sure advertising costs aren't hollowing out your profit.
You also might notice that operating on one channel makes you vulnerable during the 2020 holiday sales season. Multi-channel means establishing a presence on several channels, while the next level, omnichannel, creates a cohesive and consistent customer experience across channels. Many traditional firms are adopting omnichannel commerce to compete in 2020.
Omnichannel means even more in 2020 as customers seek products, orders, fulfillment, and store information during the COVID-19 pandemic. For this reason, omnichannel commerce lies at the foundation of holiday sales. Additionally, companies such as Nike are coupling their future with a goal of 50% digital sales by 2025. Make sure you are ready for eCommerce sales to drive your holiday sales in 2020 and for years to come.
Devices:
Stemming from omnichannel, do you know what device your customers used to make purchases? Where did the majority of your conversions come from — mobile, tablet, or desktop?
While many UX guides focus on mobile-first, Black Friday has shown that many buyers still rely on desktops. When analyzing our clients in both 2018 and 2019, mobile numbers have underperformed. Indeed, the COVID-19 experience forces people to snuggle up to their desktop and curbs the advantage of mobile. Give last year's device usage another look as the holiday season approaches.
After assessing which devices performed the best in 2019, optimize each device for screens of various sizes. It sounds like the first day of website development school, but look out for perennial issues such as the cropping of pictures, font sizes, navigation headings, the length of pages, etc. Can your customers return to the top of a page without swiping until their thumbs bleed? It's the little things that turn a good customer experience into a great one.
Timing:
The holiday calendar is full of various offers running at different times and durations. Black Friday discounts occur for just one day, whereas your Christmas promotions may last for weeks. The timing of your offers will impact your overall sales and your website's functionality. So, consider the timing of your efforts to avoid unwanted site crashes.
One tip is to start selling earlier in 2020. According to RetailWire, many shoppers will buy earlier to ensure their products are in stock. A complete rethink is unnecessary, but tweaking the timing could impact your holiday season.
Customer Service:
The 2020 holiday shopping season guarantees an uptick in work for your customer service team. Where do customers need help on your site? At what points of the checkout process did your customers fall off their purchasing journey in 2019? Digging into last year's customer service data will help you create happy customers.
"If your company isn't measuring the success of your customer service, you'll have no idea how your customer support and campaigns are performing."

Louis Lavedan, Strategic Partner Manager EMEA at Gorgias
To get serious about the quality of your customer support, setting clear KPIs and tracking them is imperative.Here are a few KPIs to reassess from 2019:
The number of tickets that were created, replied to, and closed
The average time it took to resolve a ticket
The total sales your support team generated
In addition to these KPIs, how were your employee engagement rates? Engagement rates are crucial to ensuring workers are satisfied with their jobs. If you noticed a dip in engagement from your team members or across your entire workforce, you could then take the steps to rectify the problem. For instance, you can lessen their workload or set different tasks to increase their motivation during the holiday season.
Do you know how conversational commerce could impact your eCommerce? Gorgias, a helpdesk and live chat solution built for Magento 2, can help you evaluate your team's productivity and efficiency. Moreover, you can provide the support your customer's crave on their purchasing journey. Learn why Conversational Commerce is essential for your 2020 peak season in our upcoming webinar with Gorgias. Sign up here.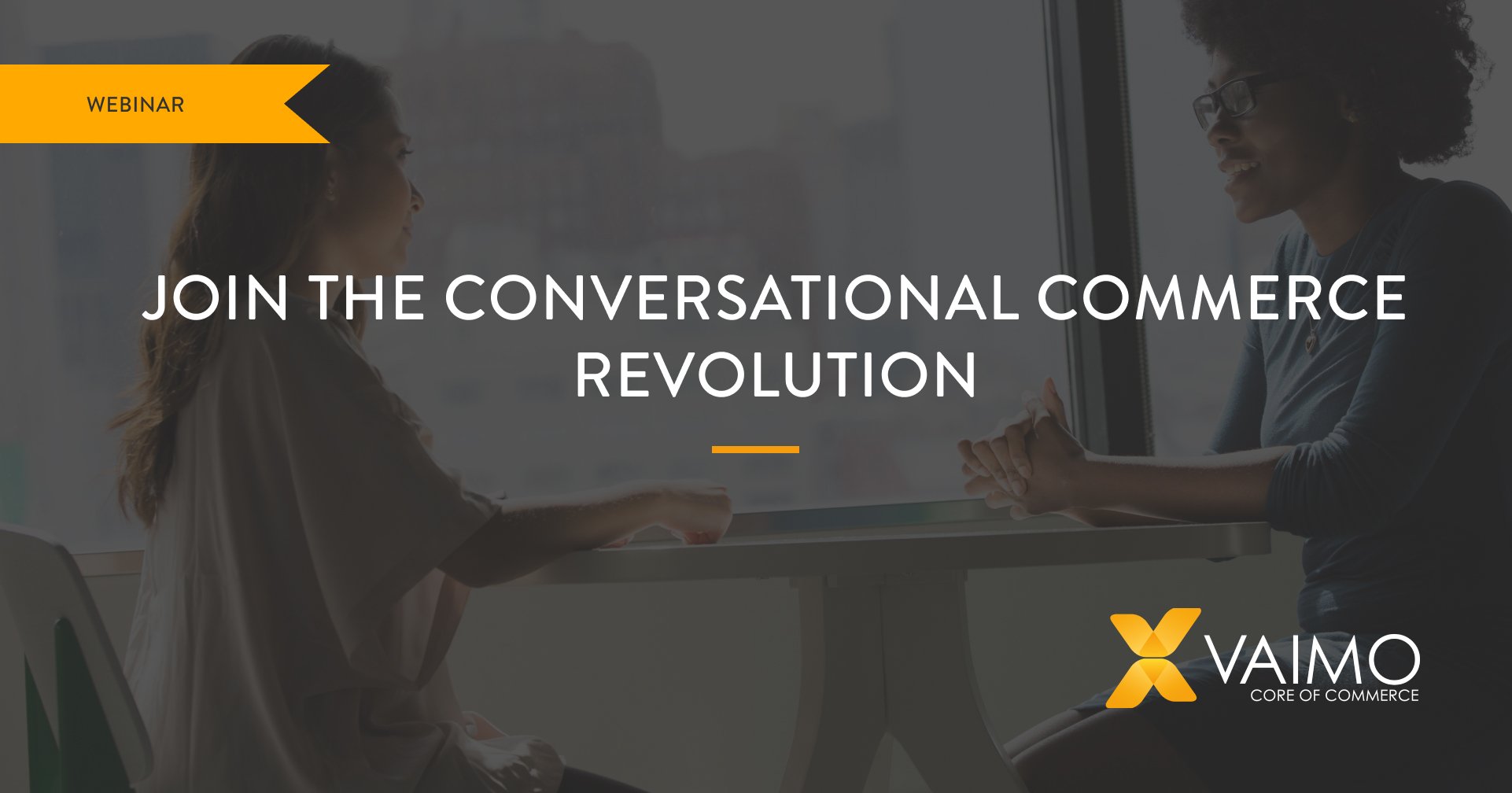 Both your customer support team's and customers' happiness depend on this question: when did you have to scramble in 2019? Generally speaking, customer service is a reactive job. For example, when a shopper stumbles across an issue, they'll contact your customer support team to find a solution. Although this is traditionally the way customer service has worked, you can mitigate issues by looking at problems you had in 2019 to be more proactive.
Let's take shipping delays as an example. Since the dawn of COVID-19, eCommerce shipments have increased by 47%. With such an influx, delays are inevitable. But, what is within your control is your ability to keep customers in the loop. For instance, you can send daily emails informing customers about what's going on behind the scenes, telling them exactly what's causing setbacks.
For example:
The weather
The current state of the pandemic
Changes in regulations that have impacted your business
Transport
You need to show customers that you understand the cause of the delays and that you're monitoring them. These messages reassure your customers and adjust their expectations, which should quell any frustration they feel about their delayed shipment.
Remember, a large chunk of shoppers normally elbowing each other in stores will be shopping online during the 2020 peak season. If you check your 2019 results and notes, you can achieve new heights in the months ahead.
about vaimo
Vaimo is a global expert in digital commerce. As an omnichannel agency, we deliver strategy, design, development and managed services to brands, retailers, and manufacturers across EMEA, APAC, and North America. Since 2008, Vaimo has delivered 400 commerce solutions and is your full-service partner for success in eCommerce. Contact us here to get in touch with Vaimo representative.