US-based sports retailer, Nike, reported a $790 million quarterly loss and revenue $1 billion below initial Wall Street forecasts. Despite the poor quarterly results, Nike reported a 75% increase in digital sales.
The results drove Nike's management to change leadership and invest even deeper into a direct-to-consumer (D2C) strategy. Nike Inc. announced several promotions on Wednesday, July 26th, to reorganize management to grow the D2C business, navigate their partnerships and create long-term profitability.
What does this mean?
Yes, digital sales increased, comprising 30% of revenue (a target it had not expected to reach until 2023) with a goal of 50% of Nike's sales in the future.
But the real story isn't the increase in digital sales, but rather how the COVID-19 pandemic has allowed Nike to accelerate the reacquisition of their consumers without disrupting their share price growth on Wall Street. We haven't seen a business phenomenon like this before! And yes – direct to consumer acceleration is the strategic driver.
Direct to consumer acceleration is the driver during the Crisis
The COVID-19 pandemic exposed companies that forfeited further investment in eCommerce marketing strategies during the crisis. Companies that instead doubled-down on their eCommerce strategies continue to see incredible results. This trend emerged from a misjudgement of consumers: that they would stop spending during the crisis. But, the limited product availability and mobility pushed consumers online for their purchases. Brands like Nike had a chance to take advantage of a unique moment in history.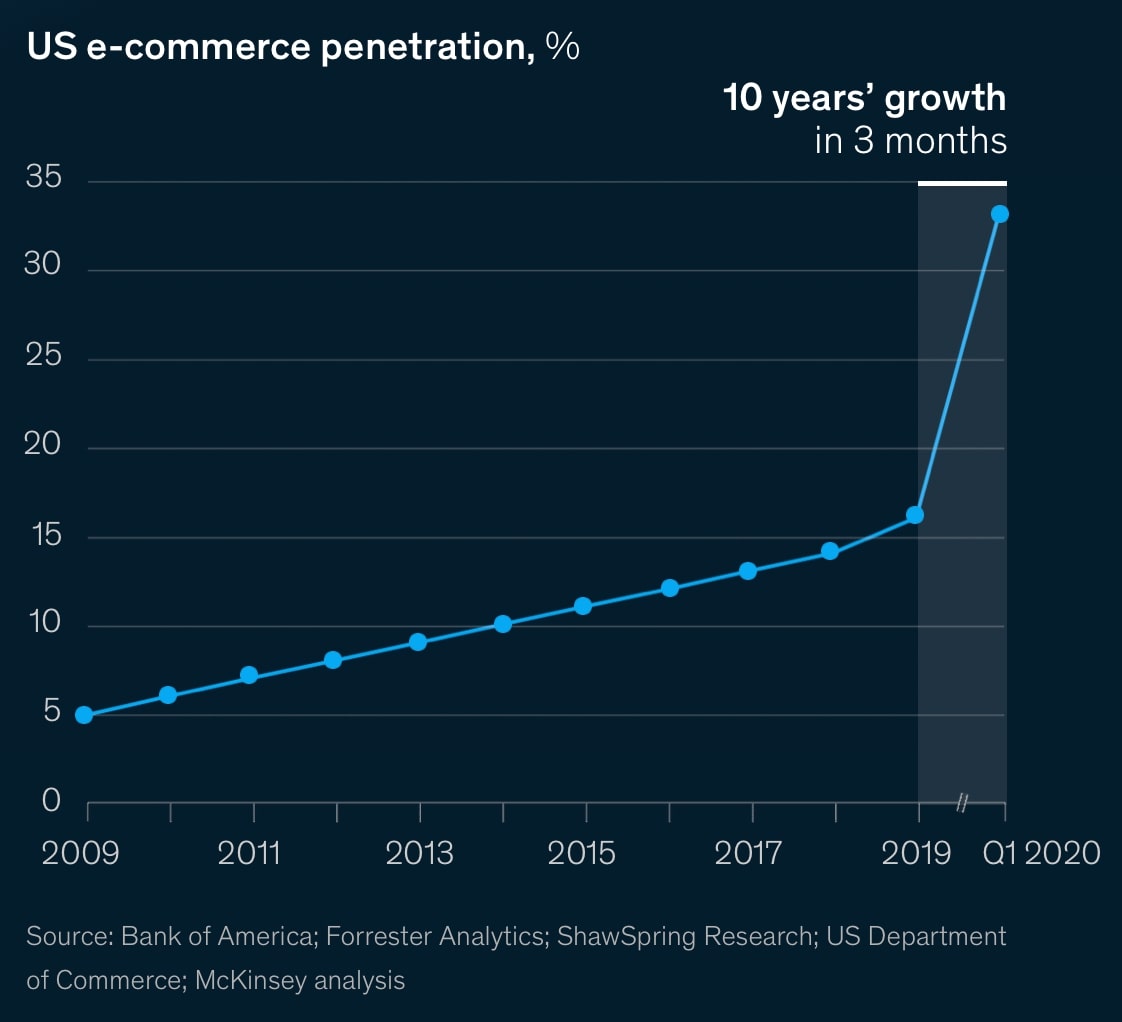 Cut Back Overproduction & Cut Out Wholesale Accounts
The D2C eCommerce route allows brands to evade traditional issues that plague in-store selling. First, Nike, through pursuing a D2C approach, can decrease the overproduction of their products through streamlining sales on their own eCommerce sites. The eCommerce site then allows Nike to maintain oversight on the success of their products and make necessary adjustments. Second, moving 50% of sales to digital eliminates less lucrative wholesale accounts and aligns with Nike's digital strategy. A hallmark of Nike's new approach is the 150 to 200 new smaller footprint stores in North America which give customers a more premium shopping experience. While brick-and-mortar will never regain preeminence, Nike is betting that coupling footprint stores with online will increase purchases through their sales channels. As a result, they will own more of the customer interaction.
With Nike's House of Innovation in New York City, the company brings the omnichannel experience to life. The mobile app plays an integral role in how the customer interacts with the brand while in the store. Sean Madden, Senior Director of Product for Nike Direct, said in Retail Dive,
"This building was designed with the app in mind. This wasn't a building that's been here for years, and now we're overlaying mobile. It's in the DNA."
Madden alludes to in-store services like the in-app choice of sizing options that can be picked up at a Nike service desk within the store.  Customers can also scan QR codes on their desired shoes that have a "request try-on" option. Though the in-store presence of shoppers limits Nike's House of Innovation, the pandemic will shape their long-term behavior and further tie the customer to Nike's digital presence.
A gut-punch for many retailers is their record on sustainability. With eCommerce, firms like Nike can also demonstrate their brand story better than in a traditional brick-and-mortar store. For instance, Nike can share products designed with sustainability in mind and connect them to Nike's overall brand values.
Recoup expenses faster and drive bigger profits
The pandemic helped brands get a quicker return on their investment after aligning digital with their overall strategy. Typically, the move to eCommerce requires an extra push to demonstrate value to consumers and to boardrooms. But, in the current context, all parties are on board. Customers are trying to purchase online first. Plus, they use online stores to verify hours of operation, confirm product availability, and other necessary information before going to the store location. All of this results in firms recouping digital expenses faster than before the crisis.
The Nike case is one of many that highlight the massive business opportunity playing out during the COVID-19 pandemic. The brands most successful in recalibrating and gearing up for accelerated eCommerce growth will be the winners.
In our Practical Guide to Ecommerce in a COVID-19 World, you can access a free, ungated resource provided by our experts on topics such as COVID-19's impact on Black Friday, eCommerce, Cybercrime, and Customer Experience.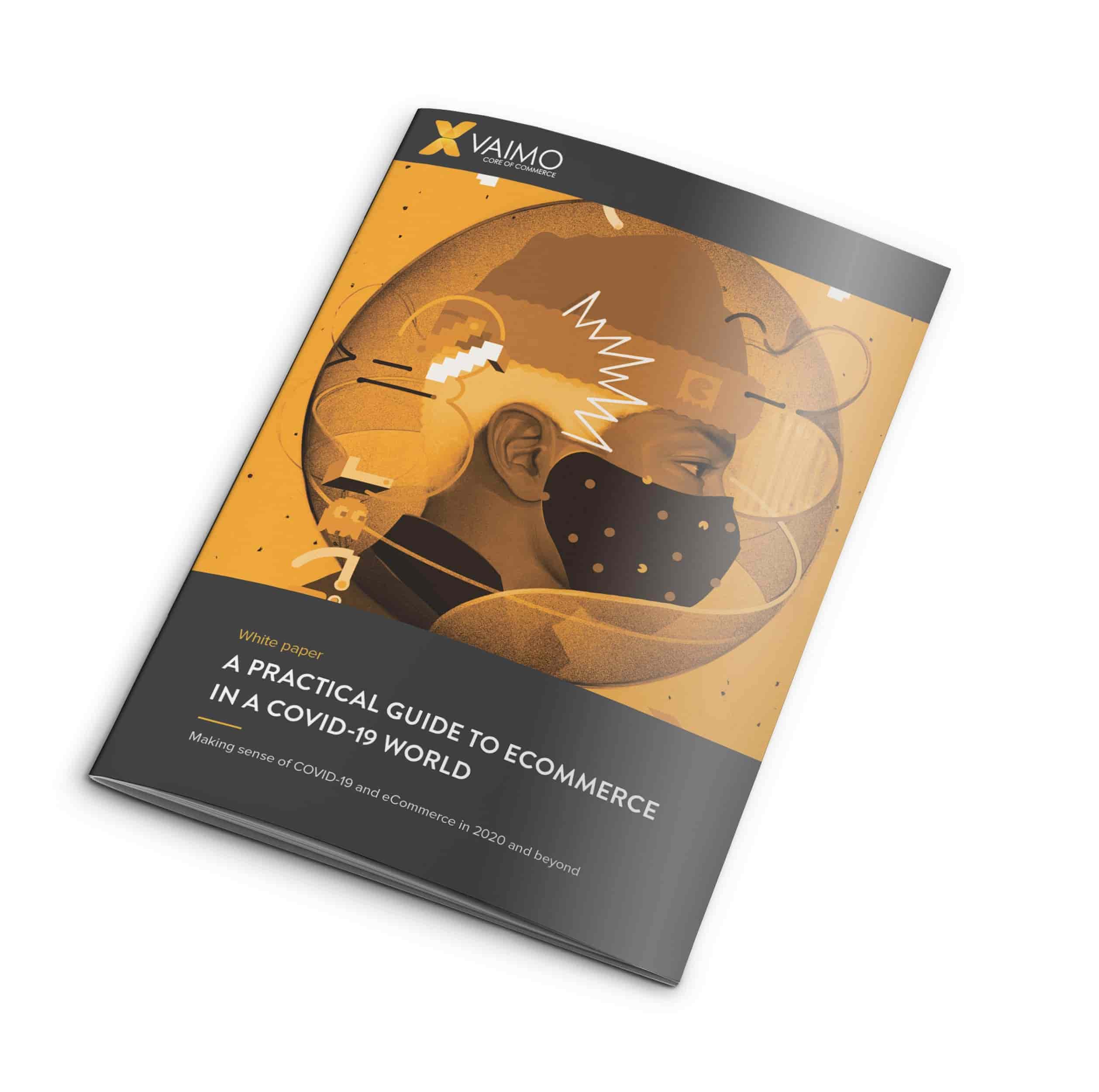 About Vaimo
Vaimo is one of the world's most respected experts in digital commerce on the Magento and Adobe Commerce Cloud platform. As a full-service omnichannel agency, we deliver strategy, design, development and managed services to brands, retailers and manufacturers all over the world.
Our 10+ years track record of technical excellence coupled with our proven results in helping our clients succeed with business development, digital strategy and customer experience design is proudly manifested in our status as an Adobe Platinum partner. With local offices in 15+ markets in the US, EMEA, APAC and over 500 employees, we provide an international presence that allows us to cultivate close, long-term relationships with our clients.