Welcome to Step 3 of the digital strategy roadmap planning. In our previous article, we explained the importance of KPI setting, and the best practices we employ to ensure continuous tracking and grooming of these measures.
In this post, we'll be discussing how to identify and plan the activities and projects that you need to undertake to achieve your goals and targets.
At Vaimo, we engage with clients at different stages of their roadmap development. As a result, we've developed tailored approaches to meet our clients' varying needs and ensure any work already done in this area is taken into account and assessed.
Scenario 1 – No clear backlog or idea of what projects and activities are required
In this approach, we work with the client to find gaps and opportunities. These are discussed and planned with the vision, goals and success factors in mind. A critical aspect to succeeding in your strategy is ensuring that you have sufficient projects and activities supporting the overarching business/website goals you have set.
In this scenario, we use tools such as our Digital Maturity Assessment and the Customer Experience Rating to review key areas of the business, people, processes and website experience. These include reviews of areas such as:
| | | |
| --- | --- | --- |
| 1. CRM & customer service | 8. Search | 15. Assortment & pricing |
| 2. Social & messaging | 9. Browse | 16. Payments |
| 3. Search & marketing | 10. Omnichannel experience | 17. Digital marketing |
| 4. Personalisation | 11. Mobile experience | 18. Fulfilment |
| 5. Commerce | 12. Desktop experience | 19. Product information |
| 6. Content | 13. Sales channels | 20. System & tools |
| 7. Purchase journey | 14. Customer data | 21. Digital team capabilities |
Measure your customer experience rating across 12 key criteria to drive higher conversions and engaging experiences!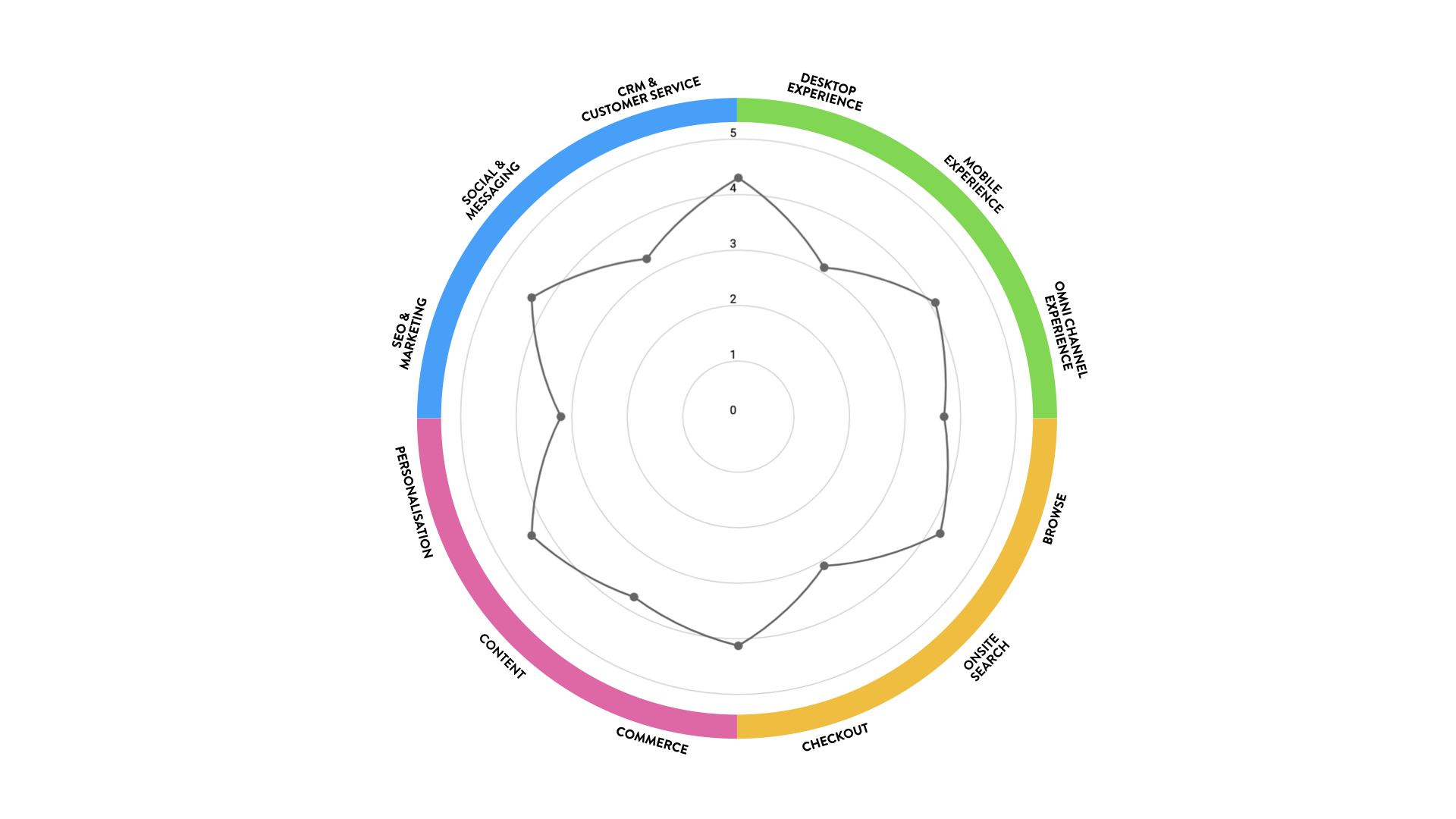 Upon completing these assessments, we get an understanding of your business and website's strengths, weaknesses and opportunities. We are then able to actively recommend which activities and projects to implement, versus those that would require validation before implementing.
Scenario 2 – Client has an idea of what key projects and activities are required
In our second scenario, the client will come to us with an idea of the key activities and projects to be implemented. We then help them to validate those activities against the goals and success factors, and prioritise them based on cost vs benefit.
Step 3: Prioritising your Activities & Projects
Validation & Prioritisation
Validating and prioritising your activities is no small feat. In this second approach, we begin with identifying activities that require validation. This could be through testing, data analysis or market research. Once an activity or project is validated, it will become an activity to implement. At any point, you might have a list of activities that you're busy validating through testing and data analysis (whilst implementing the backlog items from your "implement list").
Once activities and projects are defined, you will need a clear way of prioritising them so that you implement the high impact activities and projects first. At Vaimo, we use a planning board to do this. The planning board is based on cost vs benefit analysis and takes into account predetermined factors that have been weighted in terms of importance.
For example, benefit factors might include "increase revenue", "customer value" and "strategic value", and cost factors might be "implementation effort", "operational cost" and "risk".
We define these factors and give them a weighting according to their importance. Once this is done we score each activity based on their impact on the factors.
The outcome is a score for each activity that can be ranked in order of impact on the overall goals.

Example of planning board, cost & success factors, weighting, score, rank, priority: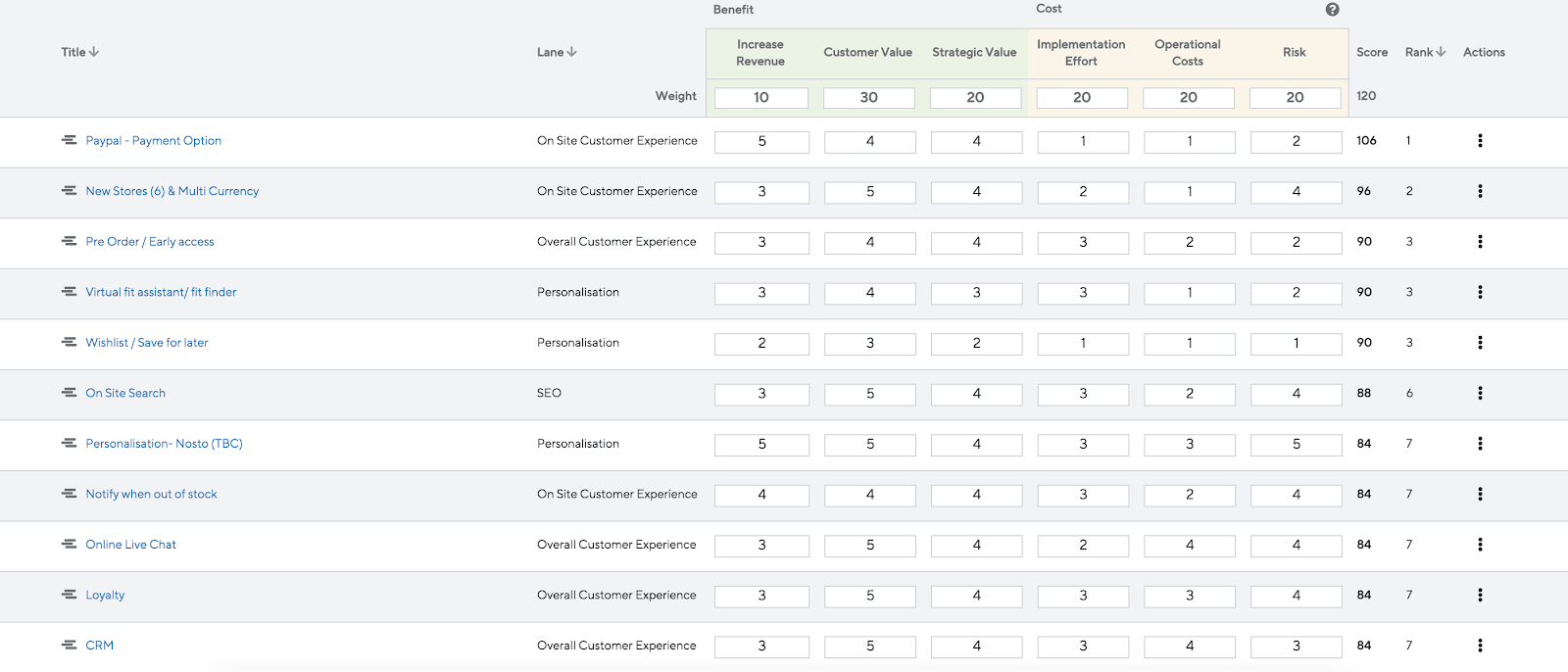 It's important to align your activities with the KPIs that you originally set out so that your projects have a direct impact on your targets. Additionally, monitoring your KPIs and their progress will help you with the prioritisation of your activities and projects on an ongoing basis. KPIs are often difficult to measure at an activity/project level, and we usually recommend setting and measuring these against your goals and success factors.
In the next article in our Building a Digital Strategy Roadmap series, we'll cover how to create a high-level thematic plan. This is the last step before putting together the roadmap, and while not critical, it offers a pragmatic and holistic overview of the varying themes and epics to base your roadmap on. Stay tuned…..