On April 7th, Vaimo hosted a webinar on the migration to the Magento Commerce 2 platform. The webinar included two experts from both Vaimo and Magento, Georgia Barry from Strategy & Consulting at Vaimo and Sales Lead at Adobe, Erik Bergelin. They explored the key features that make migration to M2 an essential piece of your business's success in both the short and long-term. In addition, Georgia and Erik shed light on their clients' success and growth through case studies and key B2B features on the M2 Commerce platform.
The webinar was filled with great content to help you understand the benefits of migration to the M2 Commerce platform. Now, let's dive deeper into a few key takeaways from the session.
A Superior Shopping Experience
The M2 Commerce platform brings a design that contributes to ease-of-use, planning precision, and speed of execution. Are you worried that some of your non-technical teammates might struggle on the new platform? Don't worry – the M2 platform enables ease-of-use for your entire team with quick and easy drag-and-drop functionality.
Ease of use also extends to your client experience. In this way, Magento 2 offers a new architecture combined with PHP7 that improves performance and decreases the visitor bounce rate. The enhanced customer experience leaps the whole way through the customer journey with an improved two-step check out.
Intelligent Commerce with Adobe Sensei
With a keen eye on business intelligence, Magento 2 unlocks the hidden gems in the areas of business operations & health, merchandising, marketing, and experience.
Meshing both data and content, you can give your customers a more tailored experience. This includes custom catalogues and price lists, segmentation and targeting, or sites that account for geographic location, account type, or brand/division. As a result, the Magento 2 platform both nurtures and converts leads to long-term clients.
Take a look at our Magento 2 migration whitepaper.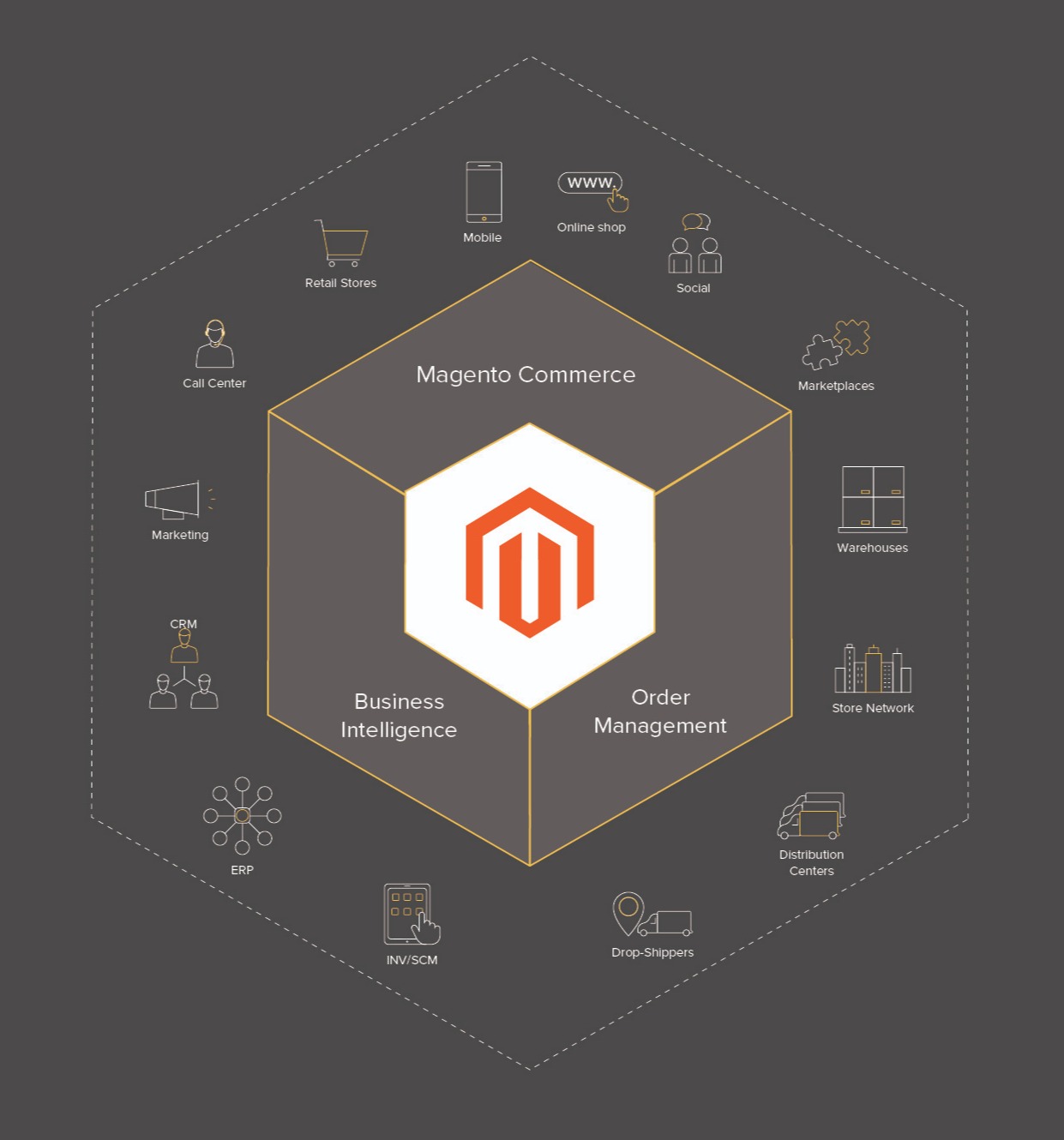 Business Agility
At Vaimo, we've seen first-hand the evolution of the eCommerce model to where we are now, helping brands, retailers and manufacturers across various business models: B2C, B2B, D2C and a variety of hybrid models. The Magento Commerce platform has adapted to this trend, covering multiple business models: B2B, B2C, and hybrid models. For example, M2 has an intuitive admin interface which allows you to cover different business models simultaneously. With the migration to the M2 platform, you can trust that your business will adapt quickly to any market changes.
Another key aspect contributing to business agility is integration. The Magento 2 platform offers seamless integration with both Amazon and Google Shopping. If you wish to integrate with third-party applications, M2 can service virtually any third-party system. You can rest assured that your business will increase its performance across different business models.
B2B Features
"The future of high-tech B2B sales is digital. The same study forecasts that more than half of high-tech B2B sales will come from digital by 2020."

– Adobe
Despite this projection, many B2B merchants still don't have an eCommerce site. Taking this into consideration, Georgia and Erik also delivered a few points regarding specific B2B features. In addition to the great user experience, they emphasised both friction-free purchases and self-service tools which will assist your B2B model.
Customers are interested in completing their online orders as quickly as possible. To make the process easier for B2B customers, M2 has added new features. Firstly, requisition lists will help B2B customers quickly add their frequent purchases to their cart. Then, customers with a purchasing history can order by SKU or even import product lists directly. If you want your customers to have an opportunity to request a quote, the buyer can submit a request from the shopping cart. These examples represent just a few ways that migration to M2 will optimise your conversion rate.
Case Studies and Results
We have talked a lot about the value pillars today, but how does that actually translate into outcomes?
In a specific case, Vaimo helped Bauhaus update their site with outstanding results: a 256% growth in online revenue, a 50% increase in customer registrations, and an 80% reduction in manual processes.
In the current climate, eCommerce has become an important part of every business. With the help of Vaimo, the migration can be quick and painless with a relatively short period to site launch – 4 weeks in some cases.
Contact our team today to start driving success on the M2 platform! Missed the webinar the first time around?
You can view the M2 webinar here today!