Just eight days before the kickoff of Magento's annual event, the Imagine Commerce 2016 in Las Vegas, Nevada, Magento has announced the finalists for the Imagine 2016 Excellence Awards. The companies and brands selected will be honoured and recognised for their exceptional performances. They are notable outliers who push the limits of innovation, outstanding customer experiences, beautiful design, and superior business acumen. Finalists in each category were selected by a panel of internal judges with the required knowledge and expertise to apply the judging criteria for that category. The categories for merchants to enter were:
Best Omnichannel Experience Award
Growth Award
Commerce Marketer of the Year Award
Most Innovative Award
Best Web Design Award
Great Explorer Award
Best Web Design Award
Best Mobile Experience Award
Best Commerce Launch Award
Best B2B User Experience
Selver, Vaimo's client, has been nominated for the Best Commerce Launch Award which recognises the highest-impact launch of the year. Selver is one of the largest and most prestigious grocery store chains in Estonia, and has over 45 supermarkets and hypermarkets all over the country. View the nominations for all the categories here. Winners will be announced on April 12, 2016, during a live ceremony at Imagine Commerce 2016. Selver's online store went live in November 2015; read Vaimo's launch story about Selver here.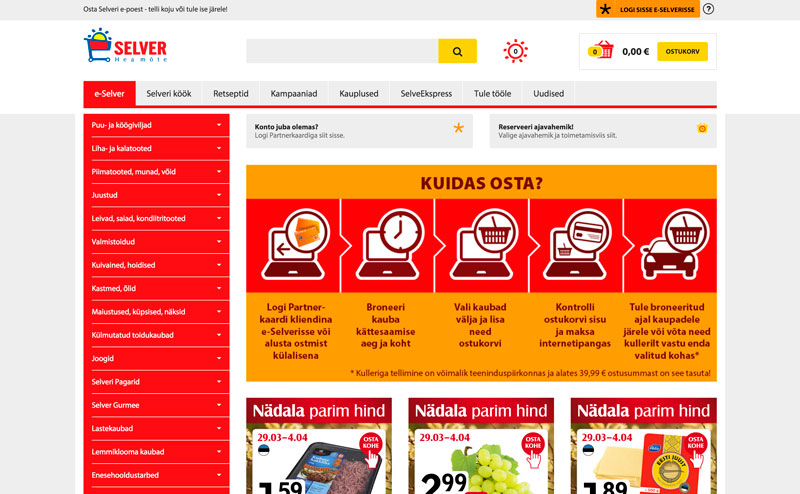 About Imagine and Imagine Excellence Awards
Imagine is Magento's primary commerce conference that brings together over 2,500 commerce experts that are composed of merchants, agencies and technology providers across more than 45 countries to network, exchange ideas and build relationships. For more information, visit imagine.magento.com. The Imagine Excellence Awards recognise exceptional creativity, innovation and success that merchants across the global Magento ecosystem are driving across channels.
About Magento Commerce
Trusted by over 250,000 businesses across the world, Magento Commerce is the top provider of open omnichannel innovation to brands, retailers, and branded manufacturers across the retail B2C and B2B industries. In addition to its leading open source eCommerce platform, Magento Commerce owns an outstanding portfolio of cloud-based omnichannel solutions that enable merchants to successfully blend digital and physical shopping experiences. With over $50B in gross merchandise volume transacted on the platform every year, Magento Commerce is the leading provider for the Internet Retailer Top 1000 and the Internet Retailer B2B 300, and has more than double the clients to its closest competitor. Magento Commerce is supported by an immense worldwide network of solution and technology partners, an active global developer community and the largest eCommerce marketplace for extensions available for download on the Magento Marketplace. More information can be found at www.magento.com.