We are pleased to announce that Vaimo has won the Yotpo Partner of the Year Award for 2018 under the category 'Best Magento Agency.'
Now in its second year, Yotpo's Partner Awards celebrate those that are defining the future of eCommerce. This year, over 100 submissions were received across seven different award categories.
Vaimo first partnered with Yotpo back in 2016. Since then, we've been implementing Yotpo's user-generated content (UGC) platform to create engaging customer experiences and to drive success in digital commerce for our clients around the world. By leveraging customer content throughout the purchasing journey, our clients are able to build trust, authenticity and ultimately, sales. UGC also provides our clients with a cost-effective method for building brand awareness and driving growth. To see how UGC works in practice, check out this case study to see how Vaimo grew Helly Hansen's online YoY sales by 45% through Yotpo integration.
Here's a selection of our clients that are currently benefitting from the power of UGC: Helly Hansen, BAUHAUS Sweden, Björn Borg, MTG Co, Engelsons, BAUHAUS Finland, Domu Brands, I.Ma.Gi.N Jewels, Veken Kaluste, Nordica Golf, aim'n, Postery and AB Väskan.
"Content plays a fundamental role in the online user experience. A standard product catalogue is simply not enough in this competitive landscape —customers value and demand the authenticity that UGC offers because it provides social proof. And Yotpo is our number one partner in making this happen. What stands out about the Yotpo platform is its seamless and easy functionality. It's lightweight, developer-friendly and has tight integration with Magento. We are extremely happy to be partners with Yotpo and to receive this award. Not only is Yotpo a great fit culturally with Vaimo, but it continues to lead the drive in user-generated content with transformational results to back it up."

PJ Utsi
CCO, Vaimo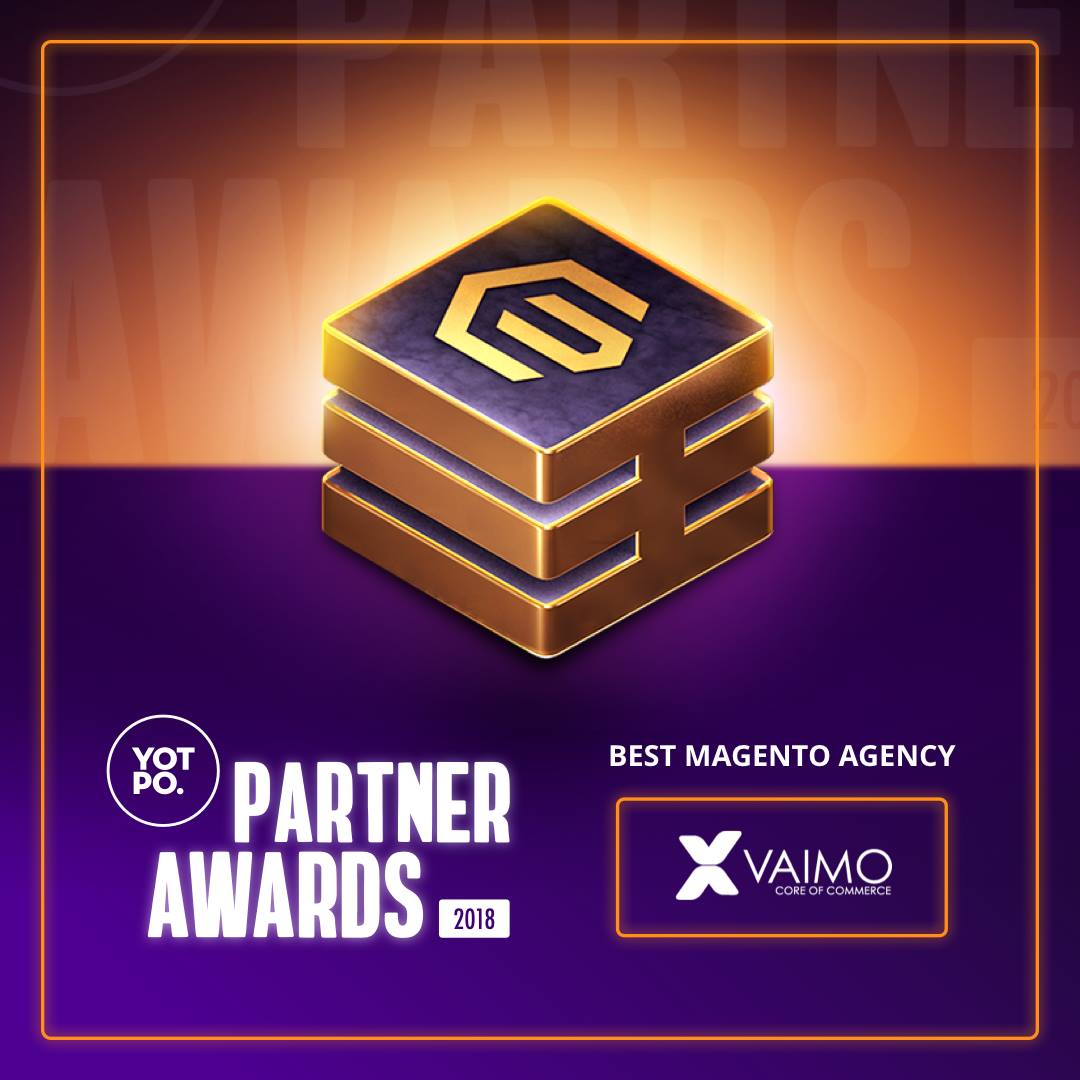 If you'd like to learn more about how Vaimo can implement user generated content to accelerate your digital sales then contact a member of our team today!
About Vaimo
Founded in 2008, Vaimo is the global leader in delivering award-winning digital storefronts, omni-channel solutions and mobile apps. Our only focus is to drive digital commerce success for our brand, retail and manufacturer clients. With 15 offices across the globe and 400 employees, we provide an international presence that allows us cultivate close, long-term relationships with our clients. With a focus on driving digital innovation our services cover the full-spectrum of your Commerce needs ranging from strategy, design, development, optimisation, cloud services, all the way to wherever your Commerce initiatives reach. We deliver solutions around B2B, B2C, Omni-Channel, PIM, Order Management and Business Intelligence.
Every year, Vaimo wins awards in recognition of our commitment to technical excellence, innovation and satisfaction. Among others, we have received the Gazelle Award (6th consecutive years), listed as Econsultancy's top 100 digital agencies (3 consecutive years) and Magento has recognised Vaimo's leadership by selecting us as Global Elite Partner in 2017, Commercial Partner of the Year in EMEA in 2017, Omni-channel Partner of the Year in 2016 and EMEA Partner of the Year in 2015.
About Yotpo
With the most advanced solutions for user-generated content marketing, referrals, and loyalty programs, Yotpo helps brands accelerate growth by enabling advocacy and maximizing customer lifetime value. With Yotpo, brands can effectively leverage social proof to increase trust and sales, cultivate loyal customer advocates, and make better business decisions based on customer feedback.