Väskan
Väskan is Sweden's oldest bag and glove retail chain. Founded in 1939 in Karlskoga, Sweden, Väskan has been run by the same family ever since and is now in its third generation of family ownership. In 2008, Väskan began to expand its sales through digital commerce.
View Live site
A scalable eCommerce store
Väskan's previous eCommerce solution was complex and difficult to use. The store needed a platform with greater flexibility and one which would provide scalability for future expansion into new markets. Väskan's co-owner, Andreas Wahlsten, was aware of Magento's superiority in these two areas plus the platform's key ability to integrate multiple systems under one roof. After receiving recommendations, Väskan chose to turn to Vaimo—a Magento Global Elite Partner—in order to transform the company's digital presence, grow its eCommerce profile and ultimately to keep it at the forefront of the digital commerce landscape. Part of the challenge also lay in the immediate practicalities of completing a new eCommerce project. But Väskan knew that the switch to digital was absolutely necessary in order to sustain the long-term growth of the company and to ensure its competitiveness and success.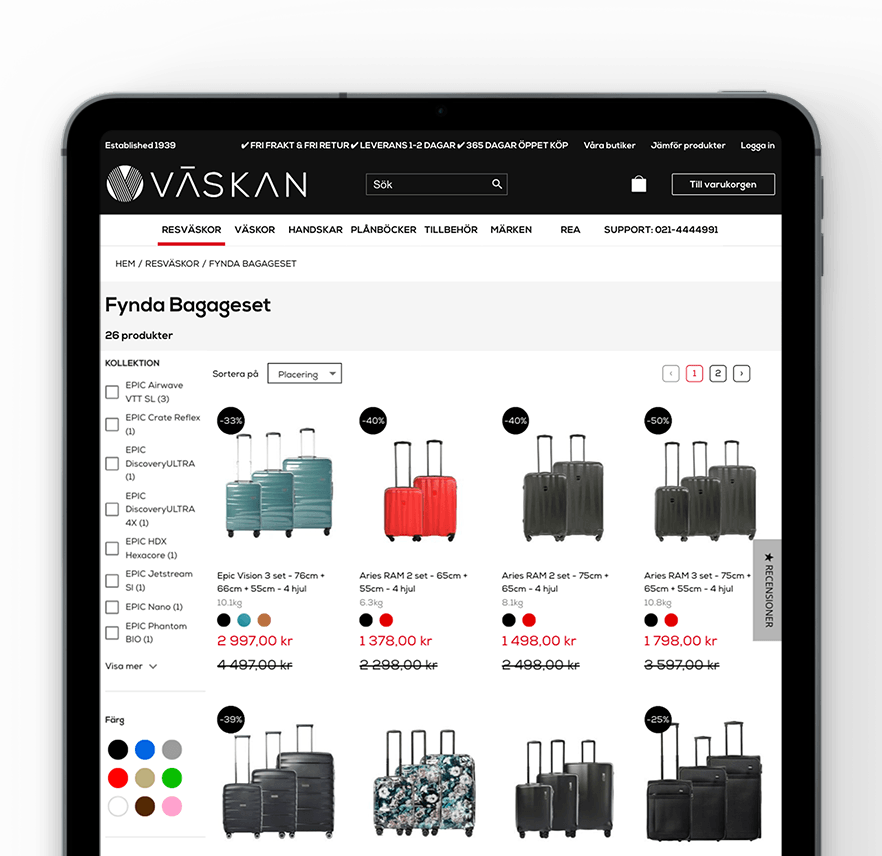 Easy-to-navigate
webshop
4000 products
in multiple colours, sizes & designs
The solution
eCommerce growth
Vaimo delivered a responsive and easy-to-navigate webshop with the desired scalability for future expansion. With Väskan's input, Vaimo chose to implement the front-end system, Angular, which replaced Magento's custom front-end solution. Angular provides a simpler workflow for Väskan and allows for smooth and quick updates on the site. Elsewhere, Vaimo also combined the best in personalisation (Nosto), user-generated content (Yotpo) and optimised search (Klevu) to deliver an enhanced and seamless user experience. And with over 4000 products available in multiple colours, sizes and designs, it was critical that customers could easily navigate these options, simply and without hassle. Vaimo configured the site with the ease of usability in mind, arranging products by their attributes and with coherent filtering options—all of which lay the groundwork for future expansion plans.
A collaborative relationship
Throughout the lifetime of the project, Väskan and Vaimo have worked closely together in order to deliver this eCommerce initiative successfully. In creating the new framework a number of challenges appeared but strong collaboration and cooperation between the two companies allowed the project to overcome these and to succeed.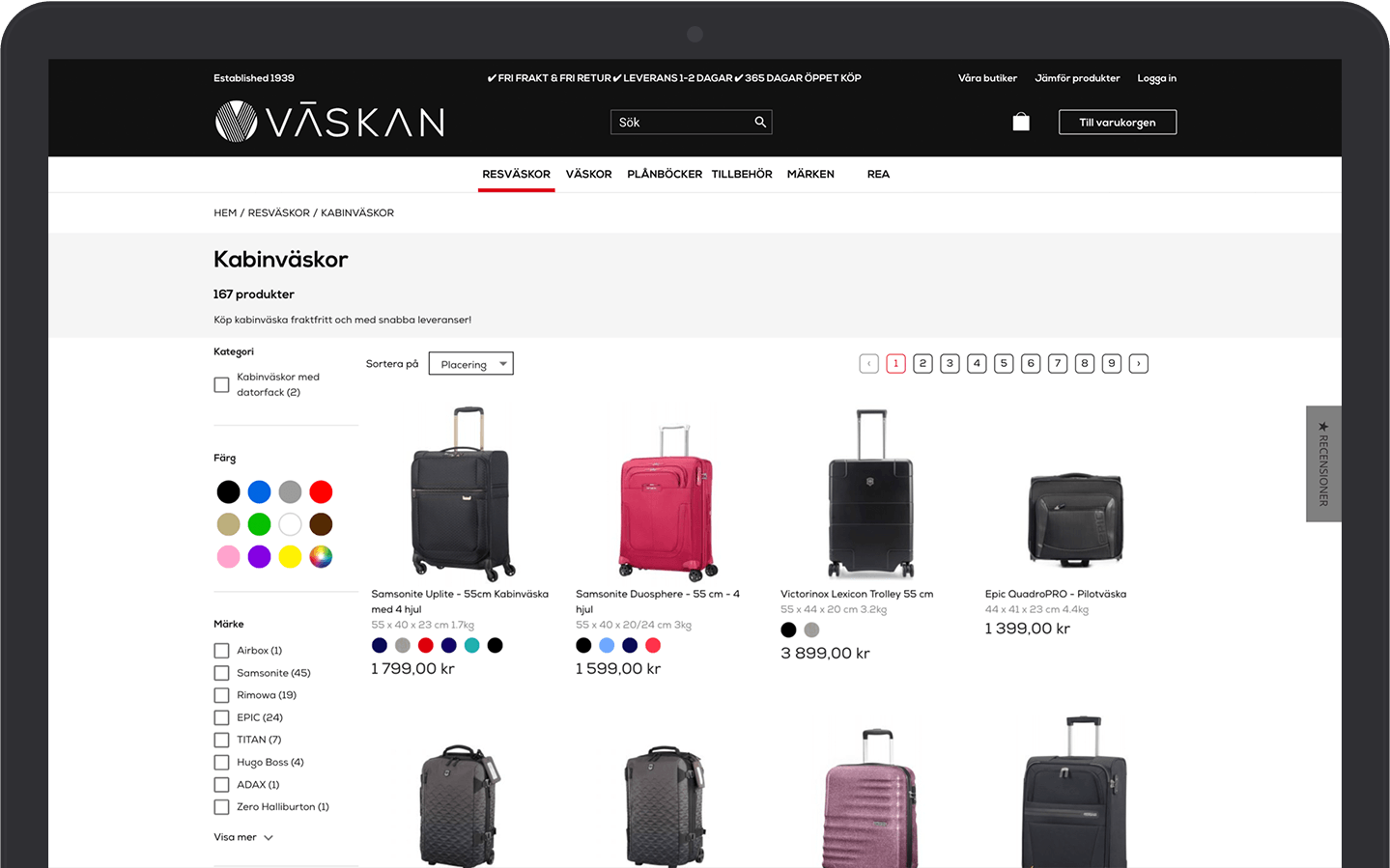 "We are very pleased with the professionalism, commitment and treatment we have received from Vaimo. Vaimo shows that they really want to try and care to help; as soon as a problem has been detected, it is quickly resolved which has contributed to a trustworthy business relationship."
Andreas Whalsten
Co-Owner

Future: Digital expansion
Now with a reliable digital commerce solution in place, global expansion is certainly on the horizon for Väskan. It is their goal to reach more markets around the world and grow the business in the process. Closer to home, Väskan is looking to add to its six physical stores and increase its offline offering in conjunction with the company's growing digital commerce presence. This blend of offline and online will allow Väskan to offer a truly omnichannel purchasing experience for its customers.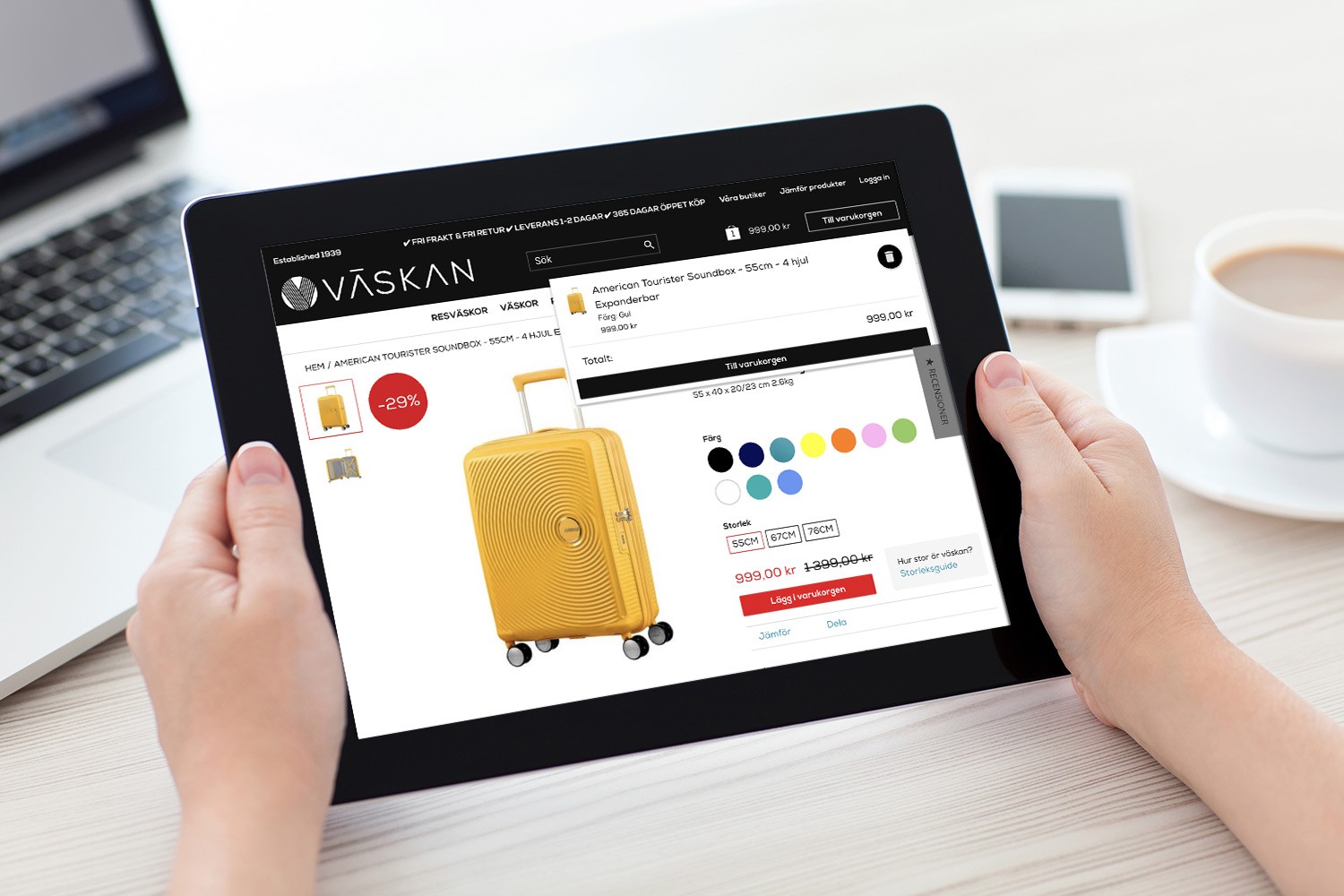 Features implemented
Angular front end
Integration with Yotpo
Integration with Nosto
Optimised search function using Klevu
Payment checkout with Klarna
Want to outshine your competitors?
At Vaimo, our team of commerce experts takes your vision and turns it into reality. Combining the best in strategy, design and technology, we build digital experiences to grow your online sales, increase brand loyalty and drive revenue.
Get in touch