Established in the City of Diamonds, Antwerp in Belgium, I.Ma.Gi.N. Jewels is dedicated to creating jewellery of the finest quality at accessible prices. The brainchild of two young designers, one a goldsmith, the other a diamond expert, I.Ma.Gi.N. Jewels combines intricate craftsmanship with innovative design to produce its elegant and refined wares. From sterling silver to 18-karat gold to diamonds, quality and professionalism are at the forefront of the duo's creations. Growing from its flagship store to multiple locations nationwide, this dynamic brand sees an item of jewellery as an extension of one's personality which is why I.Ma.Gi.N. Jewels seeks absolute perfection in every one of its designs.
Following our 'We got the deal – I.Ma.Gi.N. Jewels' in March 2018, we are proud to announce that this amazing jewellery site is now live. See the challenges they faced and the solution that the Vaimo team delivered.
Key Points
Merchant – I.Ma.Gi.N. Jewels
Industry – Jewellery
Magento Edition – Magento Commerce 2.1
Markets Served – Global
Website – https://www.imaginjewels.com/en/
 Source: https://www.imaginjewels.com/en/
The Challenge
I.Ma.Gi.N. Jewels had initially tried a number of web store options with various solution providers to increase its eCommerce offerings, but the team never felt like it was reaching its potential in this area. The jewellery company approached Vaimo with the goal of providing more features for its customers in an increasingly digitised retail environment and ultimately driving forward its growth. Aware of its customers' demands, I.Ma.Gi.N. Jewels wanted to be able to provide an unparalleled purchasing experience—one that was frictionless, hassle-free and that could be completed seamlessly across both online and offline channels. And the ultimate goal for I.Ma.Gi.N. Jewels was to replicate the flow of a physical store on a digital platform so that customers could truly experience the feeling of being physically close to its collection of timeless and elegant wares.
The Solution
Vaimo delivered a fully-responsive, easy to navigate and minimal web-store with a key emphasis on an enhanced customer experience. The site now features configurable products so that customers can more easily browse and purchase whilst the integration of the Vaimo Story module allows the I.Ma.Gi.N. Jewels story to be interwoven into the overall shopping experience through shoppable content. Integrations with Yotpo (user-generated content), bpost (Belgium's postal service) and Adyen (payments), all serve to bring about a smoother and more transparent end-to-end customer journey—a chief priority for this project. Elsewhere, integration of Vaimo CMS allows I.Ma.Gi.N. Jewels to effortlessly update its website content which was key given the evolving nature of the products from season to season and the brand's goals for expansion.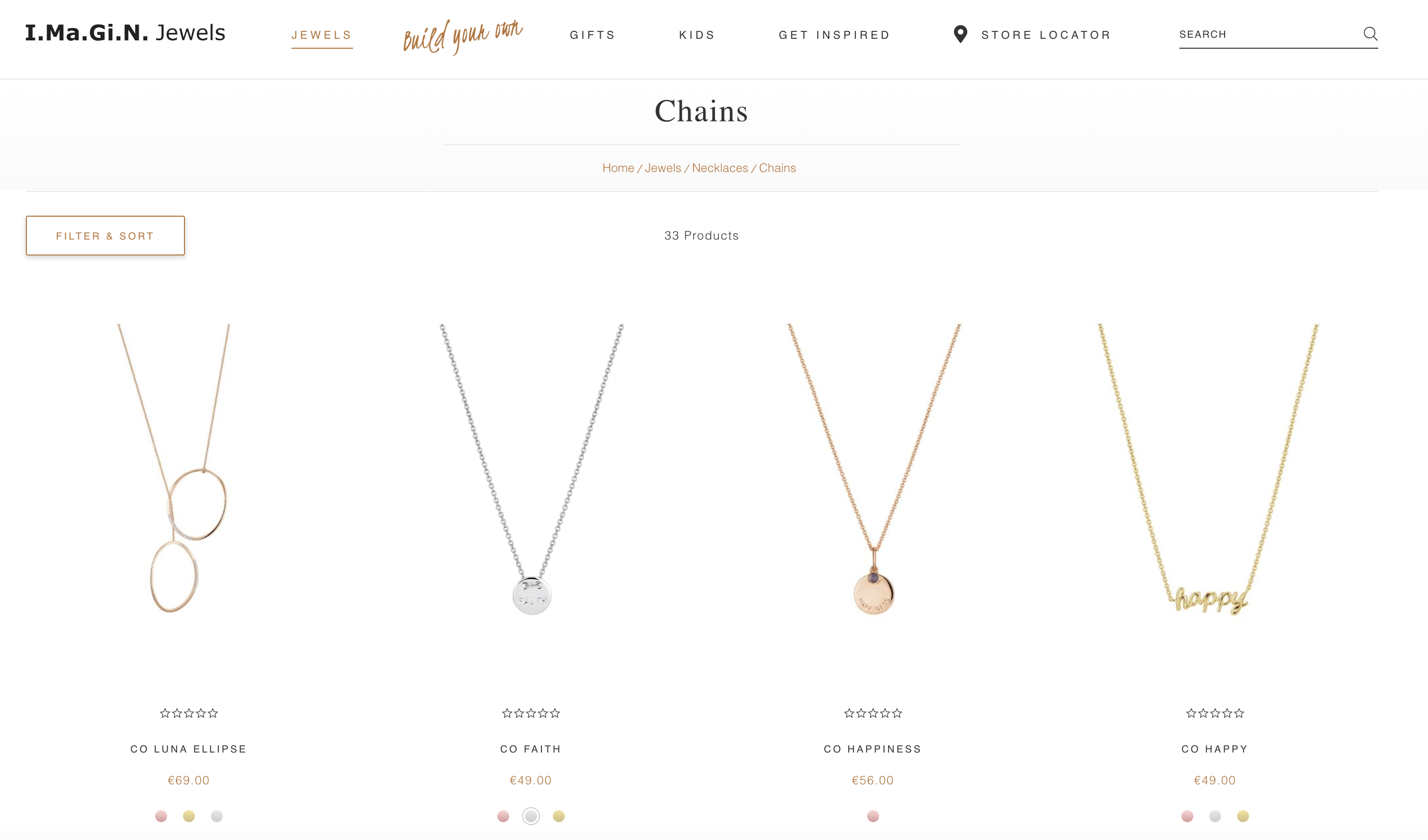 A closer look at some key features:
Build Your Own
A new addition to the I.Ma.Gi.N. Jewels site is the innovative 'Build Your Own' function which is available across two separate instances. In the first scenario, customers are able to build and customise their own necklaces, adding charms to suit their style and personality. Secondly, customers are now able to engrave their products with a personal message of their choosing which they can carry around at all times. Easily guiding customers through the process, the new site also provides a real-time view of what the 'Build Your Own' product will look like in real life.
 Source: https://www.imaginjewels.com/en/
Integral to the implementation of Build Your Own has been the installation of touch screens across I.Ma.Gi.N. Jewels' physical stores. From these touch screens, customers are able to assemble a product immediately, pay, choose one of a number of shipment options and then send the order to themselves or a friend. The ability to complete this process in an offline environment truly marries off and online for a seamless and accessible omnichannel purchasing experience.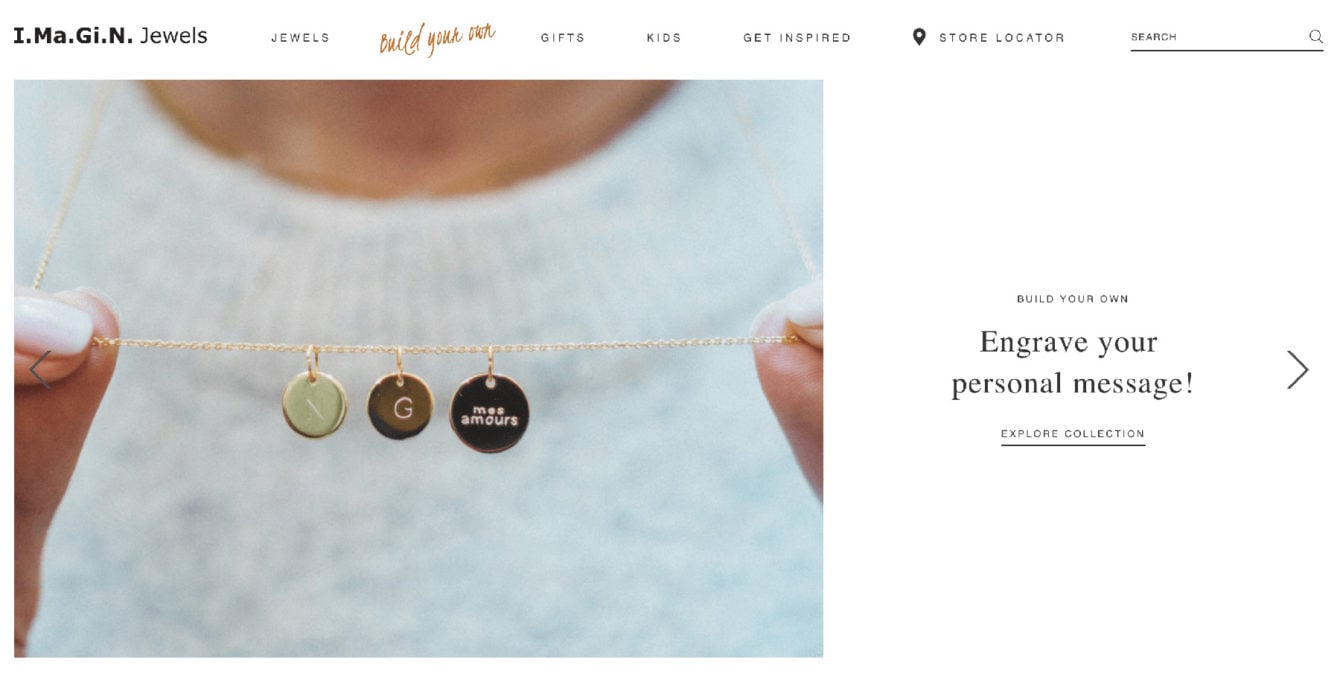 "We saw the work that Vaimo had undertaken with large fashion brands around the world and how they were able to drive the strategy of these brands forward. Then after meeting with a representative from Vaimo, and discussing our options, we knew that this was the right partner to team up with and propel our brand's digital growth to its potential and beyond."

Gilles Van Gestel, Co-Founder, I.Ma.Gi.N. Jewels
Project delivery
From initial discussions all the way through to final project delivery, Vaimo and I.Ma.Gi.N. Jewels have worked closely and collaboratively to ensure that the new site delivers on its original aims. At the beginning of the project, a kickoff meeting was held between I.Ma.Gi.N. Jewels founders, Gilles Van Gestel and Margaux Spruyt, and the Vaimo project team. This allowed Vaimo to get a better sense of the brand's identity, its history and to hear in person the company's vision for their future in the digital commerce environment. And as the project continues to grow and thrive, Vaimo will be offering guidance and advice to ensure that I.Ma.Gi.N. Jewels maximises its results and reaches the digital commerce success.
Key Features Implemented:
Built on Magento 2.1
POS Lightspeed integration
Build Your Own functionality
Shipping via Belgium Post (including click and collect)
Store locator
Yotpo integration
Payment through Adyen and Paypal
Vaimo Content Management System
Vaimo Story module
Vaimo translations for M2
  Source: https://www.instagram.com/imaginjewels/ 
Future eCommerce Plans
Now that I.Ma.Gi.N. Jewels has a reliable and scalable digital commerce presence, the brand is looking forward to expanding the site and adding further jewellery products and collections. The Build Your Own feature, in particular, is something that the team would like to exploit and open up to other product categories and areas over time. 
If you'd like to learn more about partnering with Vaimo for digital commerce growth then just get in touch with a member of our team today! 
Images: https://www.imaginjewels.com/en/