Perhaps one of, if not the most important metric for your business should be your Customer Lifetime Value (CLV). The measurement forecasts how much an individual customer is worth to your company over their lifetime. And the higher your CLV, the better the growth and stability of your business in the long-term. The CLV is not necessarily concerned with your next conversion or the results for the next quarter—it teaches you to focus on the long-term strategy of your relationship with your customers.
Why is Customer Lifetime Value so important?
Of course, customer acquisition is vital. You must attract new leads to grow and diversify your business. But it's your returning customers and your repeat orderers that will ensure the long-term stability of your business.
Just a 5% increase in retention can increase profitability by up to 75%
'The Economics of E-Loyalty' by Bain and Company 
And on average, attracting new leads can cost your company up to six times more than keeping hold of your existing customers. It is these deeper relationships built over time that will lead to the sort of brand loyalty and advocacy that every business thirsts for. Like any relationship, it must be worked at and requires time and resources from your side, but the long-term payoff of increased CLV will be worth it.
Let's now dive into some actionable ways you can ramp up your CLV today. 
Email marketing
Arguably your most valuable form of customer communication, email marketing provides you with direct access to your customer and so is imperative in influencing CLV. And whilst your email contact book is a great asset for you to have in your arsenal, it also means that you need to treat it with the utmost respect—otherwise your customers will be unsubscribing like there's no tomorrow. Whether it's your welcome email to a new customer or a message to a customer who's been around a while, the principle remains the same: make it relevant and make it appealing. Just think of the number of emails the average person is required to wade through each day. It's vital that you put the necessary thought and craft into your emails so that it provides value to your customers. This is what will keep them coming back for more.
Let's consider some email marketing strategies to help increase your CLV: 
First impressions count. Your welcome email needs to entice, delight, reassure and wow all at the same time. After all, according to Experian, welcome emails (compared to standard promotional emails) saw 5 times higher click rates, 9 times higher transaction rates and a whopping 8 times higher revenue rates. Part of improving your CLV lies in developing a fruitful, two-way relationship right from the off.
Post-purchase is an ideal time to engage with your customer. They've just bought from you and now it's time to make sure that they'll want to buy from you again. Whether it's offering extra product information, aftercare, special discounts on the next purchase or relevant complimentary products, this email campaign is the perfect opportunity to keep up dialogue with the customer, build trust and nurture your developing relationship.
The average online cart abandonment rate stands at almost 70% (Baymard), but abandoned cart emails have a relatively high open rate of 44% according to SaleCycle. It's clear, then, that there is an opportunity here for you to let your customers know that you're thinking about them and that you're there to help. Again, it's a chance to re-engage with your customer and show them why they should purchase from your brand. And if you can manage to direct them back to that abandoned cart then you'll see your CLV rise in the process.
Download Vaimo's brand new AI white-paper where our partner, dotmailer, provides you with cutting edge knowledge on setting up your next email marketing campaign.
Loyalty Programs
Loyalty programs are a sure-fire way to keep your customers engaged with your business, which means they'll be more likely to buy from you again and again. The act of receiving a reward for each purchase can encourage habit-forming behaviours—which ultimately means more customers returning to your store. And more than this, it provides another opportunity to differentiate yourself from your competitors. Maximising CLV is all about nurturing the relationship you hold with your customers, and a loyalty scheme is another touchpoint you can use to achieve this aim.
When it comes to implementing your scheme, here are a few key points to keep in mind:
Make it easy to enrol and make the rewards easy to understand—provide your customers with relevant information so that they can visualise the types of rewards that they can receive.
Don't just reward spending—think about other ways in which your customers positively influence the image of your business. Whether it's subscribing to your newsletter, writing reviews, sharing your content or sharing your brand with their friends, there are many actions that you can reward. And doing so will show your customers that you appreciate and value them.
Keep it relevant—make sure that the reward matches the customer. Because if it doesn't, they'll become disengaged and will lose the will to contribute to their loyalty scheme. In this sense, it's vital that you have various options available to your customers, be it gift cards, cashback, event tickets or charity donations. Let the customer choose how they use their well-earned loyalty points!
Vaimo's client, Momentum, provides a dedicated reward programme, 'Multiply', where customers amass points to earn discounts and cashback on a whole host of products and services.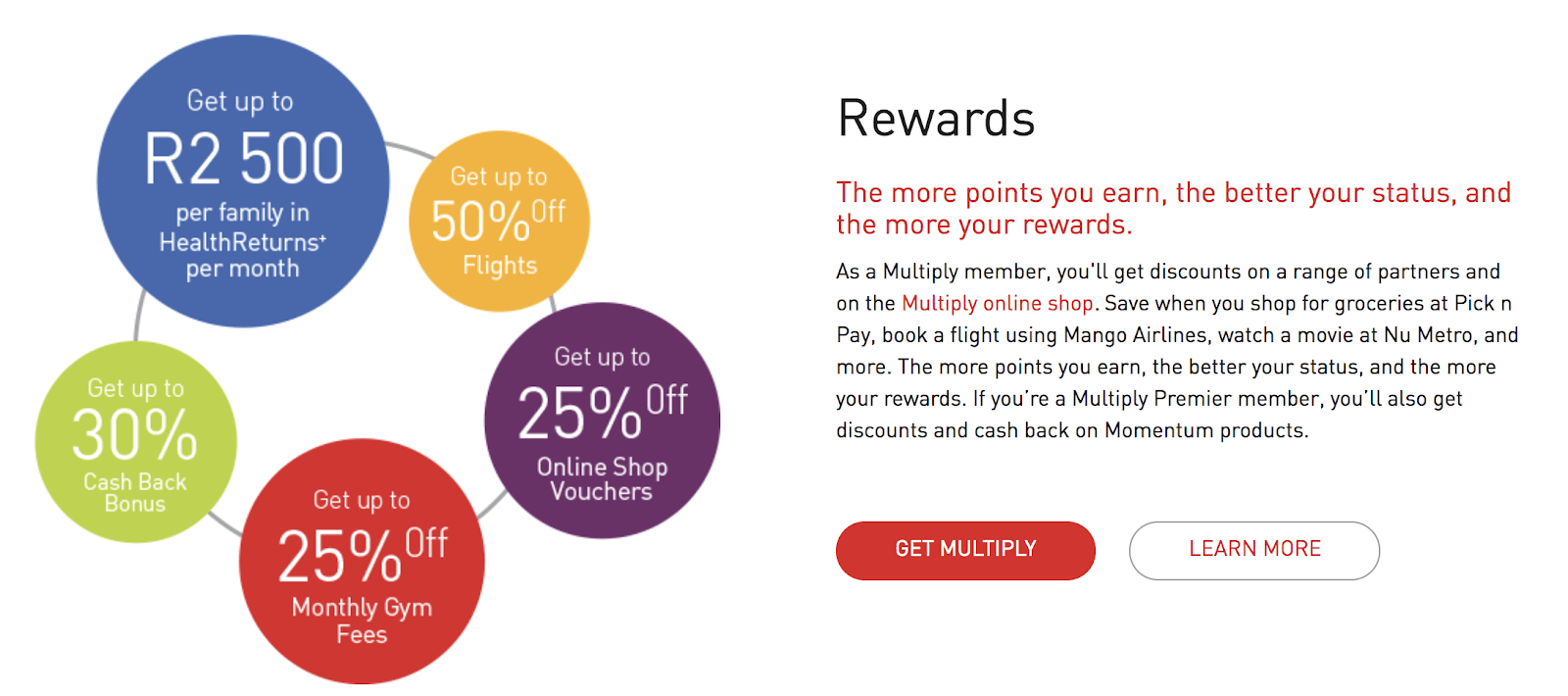 Image source: Multiply.co.za
Personalisation
A big part of growing the bond between you and your customers involves getting personal. In our increasingly digitised and competitive world, customers don't want to feel that they are just another name on a database with many thousands more. They want and even demand something a little more personalised. People like to know that they matter—that they are of importance—so it's your job to empower them with this feeling. Personalised services can not only help to achieve this but they'll also increase the profitability and longevity of each customer.
This is very quickly becoming the norm across industries, so it's important that you find at least some small ways to tailor your message on an individual basis. Here are just a few examples of ways in which businesses just like yours are using personalisation to drive up their CLV:
You don't have to dive right into the deep end of machine-learning algorithms to predict customer demand—start small with your basic customer data. If you have a name, a birthday or location, then you can use these little snippets of information in emails to show customers that you know who they are. Instead of a one-size-fits-all email to millions, including some basic personalised information will make your customer feel special and will reinforce the relationship they have with you!
Use a customer's purchasing history and current needs to create tailored special offers. Delivering a relevant offer directly to your customer's lap shows great thoughtfulness indeed. Not only does it show your customer that you're empathetic towards their needs, but they'll also now have a directly relevant offer that they can make the most of.
And lastly, you can use personalisation on your website itself for a more streamlined and efficient purchasing experience. Your homepage, product pages and checkout can all be used to provide relevant information based on browsing and buying habits. No longer will customers need to grapple through the noise of thousands of irrelevant products. What they want will be right there. A number of Vaimo clients have used this type of personalisation to great effect:
Performance apparel brand, HYLETE, uses self-learning to offer targeted promotions to individual customers based on their search history. And Helly Hansen's site will suggest correct product sizes based on AI and input from customers. You can learn more about Vaimo's work in transforming Helly Hansen's digital commerce operations here!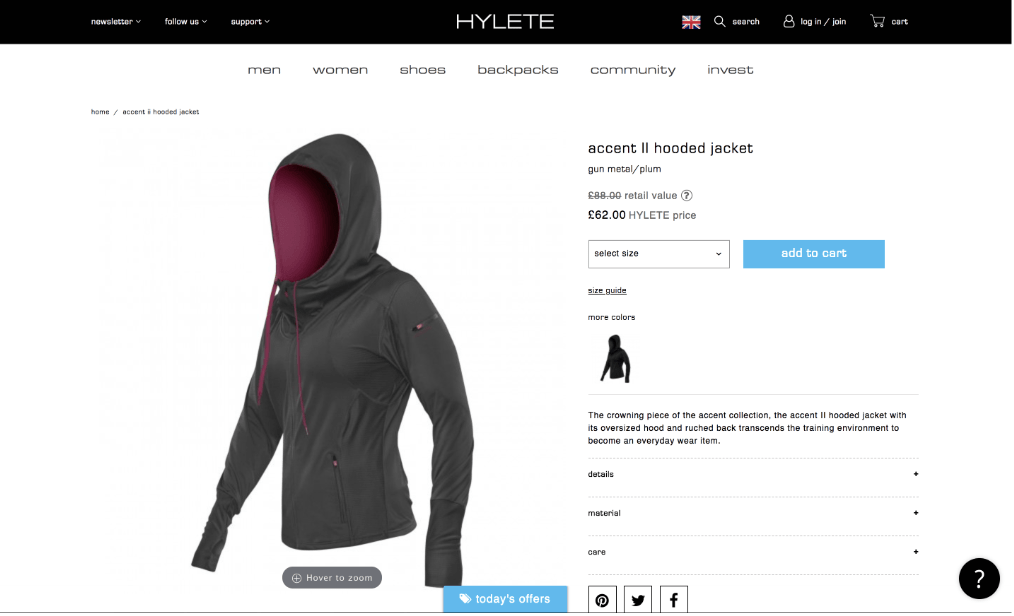 End to End Customer Experience
Overall, in thinking about CLV and the ways in which you can positively influence it, customer experience is key. All the way through from their first interaction to delivery and then post-sales follow-up. You must think about ways to ensure that your customers receive a first class, frictionless experience with your brand. From simple, hassle-free ordering to speedy customer service and from reliable delivery experiences to providing relevant and useful content via your website and social channels … When all is said and done, commitment to outstanding end-to-end customer experience is what will see your CLV skyrocket.
You can learn more about the critical aspects of customer experience for your company's growth here.
To wrap up
There's an important word to remember in the Customer Lifetime Value metric. And that's lifetime. Quite often, it can be easy to focus on the quick wins and the juiciest sounding statistics. But if a customer orders from you once and then quickly leaves, how much value have you really gained? Just consider the cost of losing your longest-serving loyal customer today against the gain of acquiring one new customer. It's fair to say, that one clearly eclipses the other in terms of its importance to your business.
The aim of the CLV approach is to increase the value of each customer in your funnel. So the real value will come from those who stick around, who are there through the lean times and who you can depend on time and time again for repeat orders. These customers are the foundations of your business. So develop a well-nurtured brand experience that your customers will always want to be a part of.
Give them a reason to stay for the long-haul and give them a reason to be your biggest brand advocate for years to come!
Download our AI whitepaper to get more tips on how to make your brand more personal!
 If you'd like to learn more about how we can help drive your digital commerce success to the next level then get in touch with us today!