Want to create a buzz about your brand or online store? Look no further than pop-up shops—a way to connect with your customers and experiment with new tech.
TABLE OF CONTENTS
Use Cases of Pop-Up Shops
If you're wondering how you can use the concept of pop-up shops in your unique business, keep reading for ideas. We follow up our ideas with examples from real-life stores that have used pop-up shops with immersive CX with successful and often surprising results!
Livestream Shopping
A virtual pop-up shop is a great chance to try Livestream shopping, a concept wherein a celebrity or an influencer hosts a "live" shopping experience that allows customers to interact and ask questions in real time. Brands and retailers typically use Livestream shopping on social media platforms, like Instagram and TikTok, ecommerce apps, and websites such as Amazon.
Related Reading: Livestream Ecommerce is the Future of Shopping
Custom Designs & Limited Edition
A pop-up shop provides an opportunity to launch custom designs and limited edition items that go hand-in-hand with a temporal pop-up shop. The pop-up store can carry a special theme, and the tech features you select can support the theme and product selection.
Unexpected Gifts and Prizes
Cultivate excitement for your pop-up shop with unexpected gifts and prizes. Make the experience interactive and allow customers to participate in games for a chance to win.
Loyalty Plays – Members Only
Try a private pop-up shop for your VIP customers. This gives you a chance to potentially do a "soft launch" of products and get quality feedback from loyal customers.
Collaboration Announcements and Surprise Product Lines
Try a pop-up shop when collaborating with another brand or announcing surprise product lines. Because a pop-up shop retains its own identity, two brands can blend concepts or create an entirely new creative idea to wow audiences.
Highlight the Heart of Your Company
Promote a good cause at your pop-up shop and highlight the heart of your company without humble bragging. Many brands and retailers share the percentage of sales from a specific collection or campaign that will be donated to a charitable event or cause. This is a fantastic way to give back, generate a buzz, and show your company values.
Related Reading: Sustainable Ecommerce–Future Proof Your Business
Examples of Successful Digital Pop-Up Shops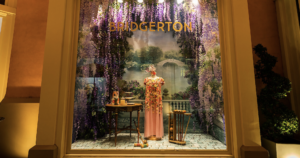 Netflix at the Grove
Streaming giant Netflix recently announced "Netflix at the Grove," its first multi-title immersive shopping experience. Netflix offers the experience for a limited time during the 2022 holiday season, making it a digital pop-up shop with limited-edition products from popular titles, including Stranger Things, Bridgerton, Squid Game, and more.
Netflix has already dipped a toe into the world of global live immersive experiences, with Stranger Things: The Experience, Stranger Things: The Store, The Queen's Ball: A Bridgerton Experience, Money Heist The Experience, Viva Las Vengeance: Army of the Dead and more.
Takeaway: By starting with live immersive experiences and moving to single-title immersive shopping experiences, and finally, multi-title shopping experiences, Netflix made slow steps to testing a new way of connecting with customers.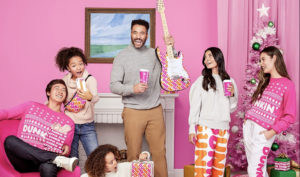 Dunkin' Donuts' Dunkin' Shop
Dunkin Donuts dove into the pop-up store arena in 2019 with a temporary merchandise collection in their aptly named "Dunkin' Shop" that included branded apparel, holiday items, and novelty products such as guitars. After overwhelming success with two pop-up shops, Dunkin opted to establish a permanent merchandise store, shopdunkin.com, that sells limited edition merchandise throughout the year.
The permanent shop offers customizable products, as well as collaborations with social media influencers and other brands. Dunkin' also gives back by donating proceeds from specific collaborations and collections.
Takeaway: A pop-up store is a great chance to try a new channel or promote new products without commitment. Gauge the customers' interest and reaction to your products or a new channel, and use the results to decide your ecommerce strategy.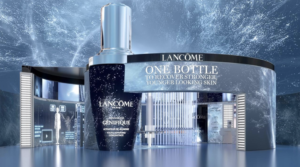 Lancôme's 3D Pop-Up Shop
In 2021, world-renowned makeup and skincare brand, Lancôme, created a virtual pop-up shop for the UK market. The pop-up shop included full-scale 3D product views and displays to evoke the physical experience of browsing in their store while letting shoppers interact with beauty and skincare influencers and professionals.
Takeaway: As online sales continue growing and the metaverse rises in popularity, big brands will keep investing in immersive CX and shopping experiences.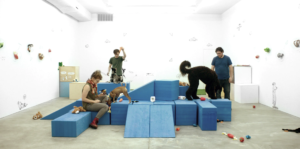 BarkShop's CX for Dogs (and Owners)
What's absolute heaven for a dog-obsessed generation of consumers? An in-store shopping experience for dogs, of course! Ecommerce brand, BarkShop, launched a temporary brick-and-mortar store for dog owners to bring their four-legged friends to let them "pick" their toys.
The pop-up included web-enabled vests for canine shoppers to track movement, measure size, and other data to help create personalized offers and product suggestions. To ensure a good experience for all, the pop-up was available by appointment and included an entry fee.
Takeaway: An online-only brand can use a physical pop-up store to connect with customers in person, showcase their brand, and generate publicity. Think of how to implement tech to make the in-store visit a memorable one. BarkShop's app ensured that the customer data was saved so the brand could provide relevant, meaningful, and highly personalized suggestions to its customers.
U.S. backpack company, GORUCK, uses a similar approach. As an online-only brand, the company will host pop-up shops at their sports events so customers can see their products in real life and experience the unique events and community tied to the brand.
How to Set Up a Successful Pop-Up Shop for Your Ecommerce Brand
Set a Goal for your Pop-Up Shop
Whether your objective is to introduce a new product, forge stronger connections with your customers, open a new channel, launch a collaboration, or try out new tech, you must set a clear goal. If you don't, your pop-up may cause confusion instead of a cohesive experience.
UX (User Experience)
First of all, don't lose sight of your UX (user experience); pop-ups should not be complicated or confusing. Ensure that you test all tech beforehand and map the user journey. Customers should be wowed by the experience without feeling frustrated about payment methods or confused by 3D visuals that don't work half the time.
Promote Your Pop-Up
You may have the coolest idea for a pop-up shop, but if no one knows about it, no one will show up. Make sure to aggressively market your pop-up via relevant channels, such as influencers on social media, creating and using hashtags, and circulating the news on relevant news outlets. Use social outlets most relevant to your brand, whether TikTok, Snapchat, or Meta.
Engage Your Audience
It's all right to use popular elements from your ecommerce site or physical store, but use your pop-up to show off your creative side and experiment with new features. Make your pop-up stand out and be memorable.
Bring Customers to Your Brand
Make sure new customers at your pop-up store can connect and access your permanent ecommerce store. The pop-up should be an introduction or a gateway for new customers to discover your brand, connect with your brand, and become loyal customers.
Talk to Customers
Consider Livestream and live-chat during your pop-up period to help field questions and concerns from new buyers.
Take Risks
Above all, use your pop-up store to distinguish yourself, and use the space to innovate and take risks. After all, it's temporary!
How Vaimo Can Help
We've helped ecommerce brands and retailers connect to their customers through immersive CX and UX for over 14 years. Whether you need to align your ecommerce strategy, figure out your tech stack, or implement a PIM system that works, Vaimo is here to help. Reach out to your local team of experts today.