It can be tempting to think of mountaineering as a purely physical pursuit. And of course, success is most certainly dependant on bucket loads of strength, stamina and endurance. But to reach the world's highest peak, the mental game is equally, if not more important, than physical prowess alone. And over the last week, Saray and her fellow climbers at Mount Everest have had to draw on every inch of their mental strength to overcome a number of external setbacks.
In last week's post, we reported on the unfavourable weather conditions which were hampering summit attempts. Unfortunately, this week has seen the weather deteriorate even further. Making landfall more than 900 km away, Cyclone Fani managed to wreak havoc at Everest with strong winds and snow storms. A total of roughly 20 tents were blown straight off the mountain at Everest's Camp 2 (C2) and down at Base Camp, climbers woke up to a thick blanket of snow covering tents and possessions.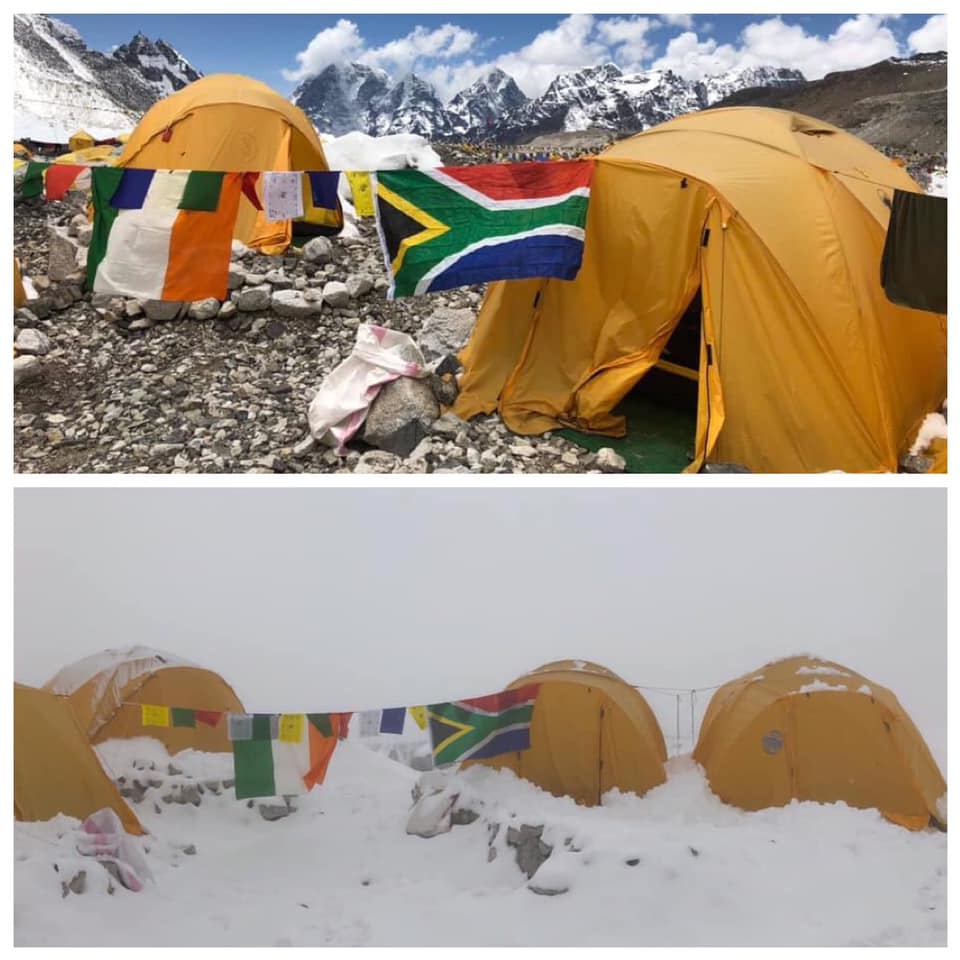 Base Camp before and after Cyclone Fani
Despite the weather's plans, we've heard from Saray that all is well and that her items at Base Camp and C2 are as they were! So now Saray just has the mentally draining job of waiting for that elusive weather window—where winds and snowfall are forecast light enough to allow for a summit attempt. Over the last week, and with the weather improving after the cyclone, Saray has managed to pop down to Gorak Shep for some internet access, have tea at other camps and relax.
Now it's just a case of waiting for the winds to die down and then Saray will be on her way! And let's not forget why Saray is pushing her body and soul to the limit—for others. Saray acts as a Mandela Libraries Ambassador, raising money to build libraries and inspire the next generation of leaders to pursue their dreams and goals. Saray is also supporting the Dr Thandi Ndlovu Foundation which helps to educate orphaned children at university level. You can donate to this worthy cause here!
We're extremely proud to be sponsoring Saray on this monumental achievement in the making and the causes it supports.
It's inspiring to see that even in the face of natural disasters and bleak conditions, Saray's spirit remains resilient, positive and intact—a lesson for us all.
You can do this Saray!