Twenty years ago, if you'd told your colleagues you were buying a car online, they'd have probably given you a puzzled look. Or laughed at you. Or both.
But what about now?
Since the 1980s, the automotive industry's sales model has remained relatively unchanged.
And while retail, digital communication and even B2B sales have been revolutionised by changes in technology, the automotive industry hasn't seen the same progress.
Until now that is.
Automotive Ecommerce Trends
The digital revolution is transforming product discovery and how we purchase goods and services. The Amazons of the world have come in and raised the bar for all retailers, brands and manufacturers. And when it comes to online purchases, modern-day consumers have a good memory. When they purchase a t-shirt from a retailer and get a personalised, seamless and engaging experience, they'll remember that, and expect it from their next purchase—no matter the product.
With the habits and behaviours of the average shopper changing at exponential rates, automotive manufacturers can no longer afford to stay static. Doing so will simply turn customers away to anywhere they can get a seamless digital experience.
By 2020, millennials will be the largest car-buying demographic. These are customers who have been brought up on social media, smartphones and purchasing on their own terms. And as time progresses and the demographic shifts, they'll make up the majority of the car-buying market. This poses big questions and challenges for automotive manufacturers.
Redefining the traditional automotive sales model
The traditional automotive sales model has been very much dealer based. Need specific information? Visit the dealer. Want a test drive? Visit the dealer. Arranging a finance plan? Visit the dealer. Want to collect your car? Visit the dealer. You get the idea. But the problem with this setup is that it's in conflict with the wishes of modern-day consumers—especially millennials and Gen Zs.
In 2020, customers crave autonomy and independence to purchase when and how they want. But to confuse things a little, they also want closer, more meaningful relationships with your brand. So forcing a customer to a traditional dealership on multiple occasions across the purchasing cycle isn't going to suit the majority. A lack of trust and transparency appear to be the key headings when it comes to purchasing in-store.
A study found that 87% of Americans dislike something about car shopping at dealerships and that 61% feel they're taken advantage of while there. And 52% of car shoppers feel anxious or uncomfortable at dealerships. Millennials lead the pack in their dislike, with 56% saying they'd rather clean their homes than negotiate with a car dealer.
But it's not just the purchase itself that businesses need to think about. It's research, too.
With the explosion of mobile technology, brochures are a thing of the past. Customers now have all the information they could ever need to inform a purchase in their back pockets. And that's information from a variety of sources. It might be an expert review, e.g. Top Gear's, a post on a forum like PistonHeads, Carbuyer's video reviews or simply posting a Facebook status asking your community if you should buy car X or car Y, and the reasons for doing so. Weve's Primary Automotive research Report found that 84% of UK consumers use their mobile phones to research a car. And this number is only likely to increase in the coming years.
We know then that customers have an appetite for online purchases, but what does the current situation look like? In the US, for example, automotive eCommerce generated an estimated $14.6 billion online sales in 2018. But this still only represented about 1% of U.S. total vehicle sales. So although there are some digital offerings out there, this is just the start for automotive eCommerce. And as more manufacturers reap the functionality of eCommerce to change their sales model, this number will skyrocket. Market Research Future forecasts a compound annual growth rate of 6.87% by 2023 in the global automotive eCommerce market thanks to the overall digital transformation of the industry.
Discover how we launched SC Motors' Mitsubishi Privatleasing where customers can visualise and configure their new car online through an easy-to-use purchasing funnel. 
Automotive eCommerce benefits
As we've discussed, it's changing customer expectations (fuelled by technological progress) that are reshaping the automotive industry.
But how does eCommerce help?
Benefits from a customer point of view
Firstly, from a customer point of view, eCommerce provides the functionality for the personalised, engaging and easy purchasing experience customers crave. It also allows customers to quickly dive between sales channels—both digital and physical—whenever they want. And if there's one thing we know about modern-day consumers, it's that they want the flexibility to shop and interact with your brand on their own terms, no matter location or time. An eCommerce site allows you to blend the realms of online and offline for a seamless omnichannel experience.
Benefits from a Manufacturer's point of view
Then from a manufacturer's perspective, the benefits of an eCommerce platform are endless. Not only can you now give your customers exactly what they want but it allows you to build stronger relationships with your customers. And by going direct to consumer (D2C) you have much greater control over your brand/pricing and can cut costs by removing any intermediaries.
That's not to say there aren't any challenges, though. Selling cars and/or parts online is a different ball game to selling, say, t-shirts. There's the huge cost difference and then the inherent complexity of cars and their parts. Auto parts sales are also usually triggered because of a critical need, i.e. a repair, but a t-shirt sale could be down to an Instagram ad, seeing it on a mannequin at the store or pure impulsion.
In our next article, we'll drill down further into some of the challenges around product complexity and logistics and how eCommerce can help you overcome these.
But whether it's selling/leasing cars or parts, eCommerce is truly coming into its own and transforming automotive sales. At Vaimo we've seen this first hand. Take NCG's site for pre-orders of the Jaguar I-PACE. In response to the huge demand for the concept of Jaguar's new vehicle, we delivered a conversion store where customers could register their interest in the vehicle. The solution allows customers to walk through four intuitive steps, inputting details about the car they would like to purchase—this calculates an overall price and leads to a final check-out page. The site commits customers to their choice with full transparency of visual details and pricing, giving them the feeling that they have pre-ordered the car.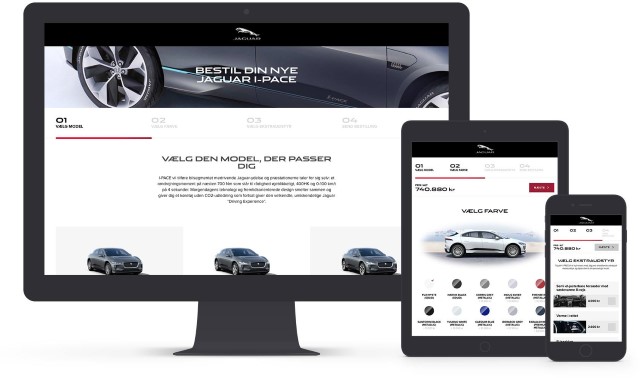 What's clear is that change is happening and it's going to continue happening at a faster rate as customer expectations continue to rise. Ecommerce has entered the stage to transform the automotive industry for customers and manufacturers alike. In our next automotive article, we'll be taking a detailed look at the role eCommerce can play in solving some of the industry's biggest challenges.