PIM
At Vaimo, we provide you with the most effective PIM solution based on your company's needs, preferences and budget—whether on the Akeneo or inRiver platform. Our expert team builds PIM solutions to help your business arrange complex product data, boosting operational efficiency in the process.
Get in touch
Product Information Management (PIM)
Gather all your product information in one single place, enrich it and publish it across different channels. Vaimo helps you keep your product information up-to-date across all channels to boost efficiency. Check out our blog post on 'What is PIM' to learn more about Product Information Management!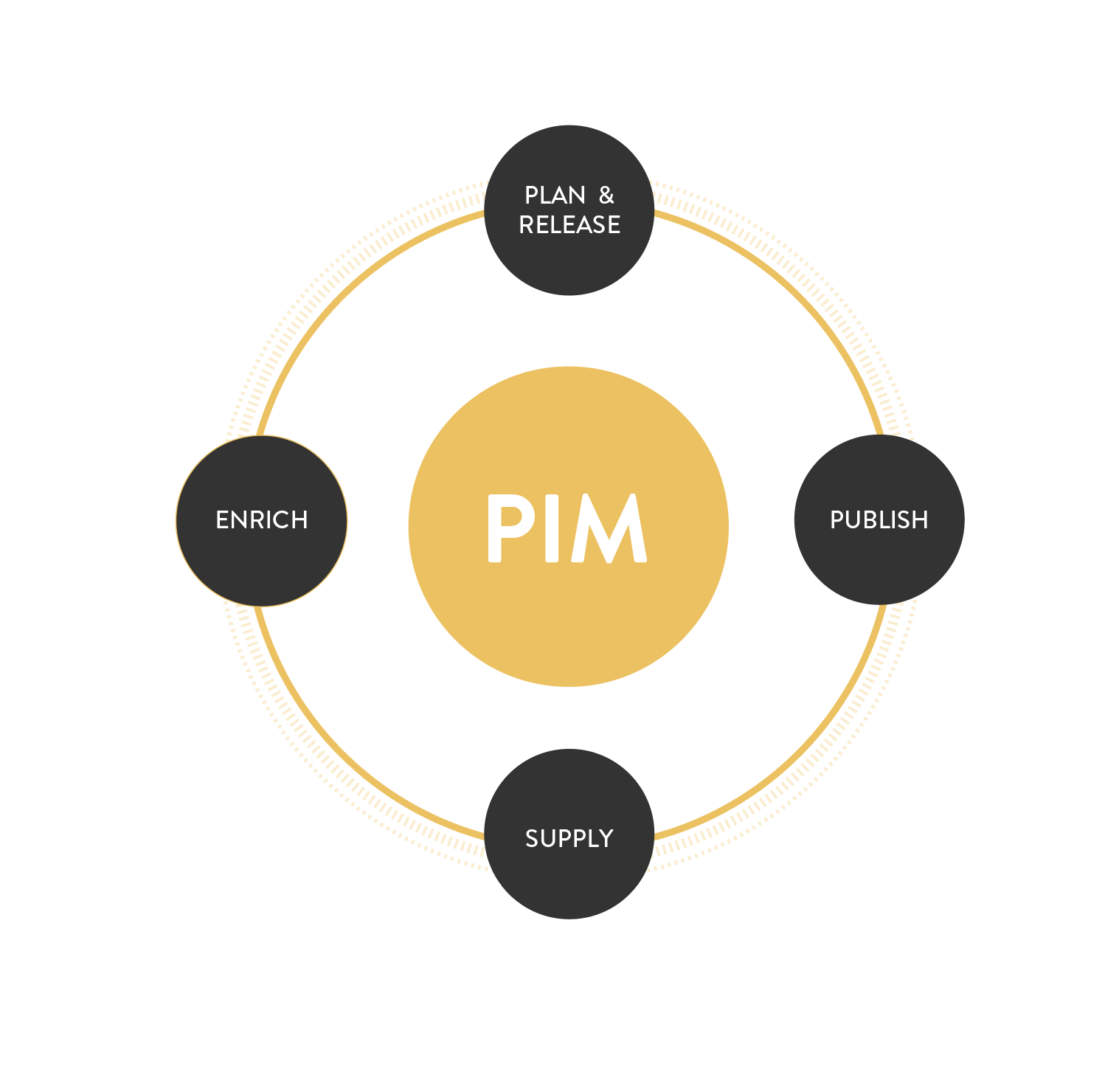 Our PIM platforms
What are the benefits of PIM?
A Single Source of Truth
Storing all product information in one place not only allows for frictionless purchasing experiences but also a transformation of your internal processes. Merging data into one location eradicates the risk of error and confusion.
Automatic Distribution
With a PIM, you only need to enter data about products once—it then automatically gets distributed to all your other systems.
Rich Product Data
PIM provides a whole host of benefits to both B2C and B2B businesses who are dealing with large and often complex product datasets with many product attributes.
How does the PIM solution work?
Supply
Automatically collect information about products from various sources/locations into your PIM solution.
Enrich
Edit and manage all your product information from one single PIM interface including product numbers, catalogues, SKU data, images, videos, translations and documentation.
Publish
Spread product data to your different channels such as your eCommerce website, mobile apps and point of sale.
Which PIM should you choose?
Platform independent
Vaimo's take on Product Information Management is a platform agnostic approach. We help you define your Product Information Management requirements and then select the best-suited platform with support during all the steps of the implementation.

Having partnered up with both inRiver and Akeneo, we can provide your business with the most effective solution depending on your challenges and aspirations. And since we have in-house experience with various eCommerce platforms and other backend systems, we can also take on PIM projects with the majority of leading eCommerce platforms. Our number one aim is to help merchants implement PIM solutions in a way that makes it the perfect fit for eCommerce growth.
What PIM connectors have we implemented?
Vaimo has PIM connectors for: Various ERP Systems, Amazon, GS1, InDesign and Zalando.
Vaimo M2 inRiver Connector
If you're operating on Magento 2 and are using the inRiver Product Marketing Cloud, Vaimo's Connector has the power to transform your business efficiencies and offer engaging digital experiences for customers. This feature is compatible with all Magento 2 versions and supports both Magento Commerce and Magento Open Source platforms to help you manage products easily. Once you import catalogue data in inRiver, you can simply push that data into your Magento 2 store. It works with simple, configurable and virtual types of products.
Our clients using PIM solutions
Svenska Kakel

Sweden

Kamasa Tools

Sweden

Monkey Sports

Sweden
Evaluate Your Company's need for PIM
Vaimo helps you keep your product information up-to-date across all channels to boost efficiency. Take a test on our PIMOMETER to get a detailed report of your site.
Test it here