A fresh eCommerce approach
Case study: Lantmännen
Vaimo developed a robust, scalable B2B solution with a keen focus on user experience.
Learn more
Driving success in digital commerce
Vaimo is a leading full-service omnichannel agency building digital experiences on the Magento Commerce and Adobe Experience Cloud platforms for clients across the globe. Our goal is to accelerate eCommerce sales for our B2B and B2C clients by delivering award-winning digital storefronts, solutions and mobile apps.
With us, you'll have the combined experience of our in-house team of more than 500 omnichannel and commerce experts at your disposal.
Hundreds of businesses have been partnering with Vaimo since 2008 to transform their digital capabilities and increase online sales through enhanced customer experiences.
Brands that love Vaimo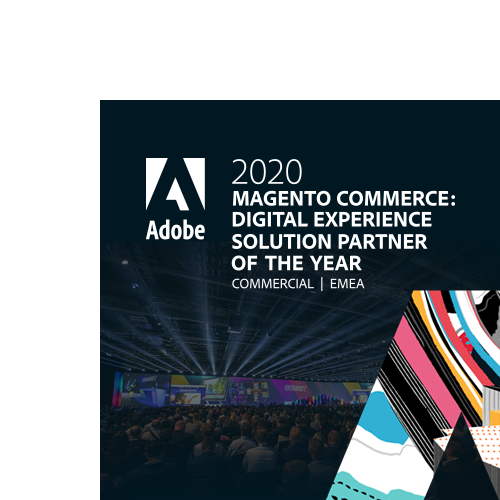 Expertise
We have everything you need for your store to excel. As a global Adobe Platinum partner, specialising in both B2B and B2C commerce, we combine the best in strategy, design, development and services to drive success in digital commerce. Learn more about how we draw on our expertise and experience to help your business succeed in the digital landscape.
Learn more
Services
We understand that no two projects are the same. That's why we work tirelessly to find the most effective strategic approach for you. We are not just a solution provider for your webshop, but a partner that continuously strives to ensure that every need of your digital business is catered to and ready for success.
Learn more
Work at
Vaimo
Make your mark on the industry to change the future of digital commerce and build your career surrounded by skilled, creative and passionate people.
Get in touch
We have consistently taught children that the process is greater than the product and that the journey is what makes the destination so sweet.

Knowledge

We spoke to Kevin Gorjan and Jani Maljanen, who work on PWAs at Vaimo. Kevin is the Technical Lead for PWA at Vaimo Global, and Jani is a Technical Manager at Vaimo Finland. They talk about the exciting world of Progressive Web Apps and how they manage to work closely together while based in different countries and working on different projects.

Our People

We spoke to Kevin Gorjan and Jani Maljanen, who work on PWAs at Vaimo. Kevin is the Technical Lead for PWA at Vaimo Global, and Jani is a Technical Manager at Vaimo Finland. They talk about the exciting world of Progressive Web Apps and how they manage to work closely together while based in different countries and working on different projects.

More and more merchants come to us with a need to improve their internal processes around Product Information Management Systems and to find a way to provide more consistent product information to end customers.

Knowledge