A fresh eCommerce approach
Case study: Lantmännen
Vaimo developed a robust, scalable B2B solution with a keen focus on user experience.
Learn more
Driving success in digital commerce
Vaimo is a leading full-service omnichannel agency building digital experiences for clients across the globe. Our goal is to accelerate sales for our B2B and B2C clients by delivering award-winning digital storefronts, solutions and mobile apps.
With us, you'll have the combined experience of our in-house team of more than 500 omnichannel and commerce experts at your disposal.
Over 400 businesses are partnering with Vaimo to transform their digital capabilities and increase online sales through enhanced customer experiences.
Brands that love Vaimo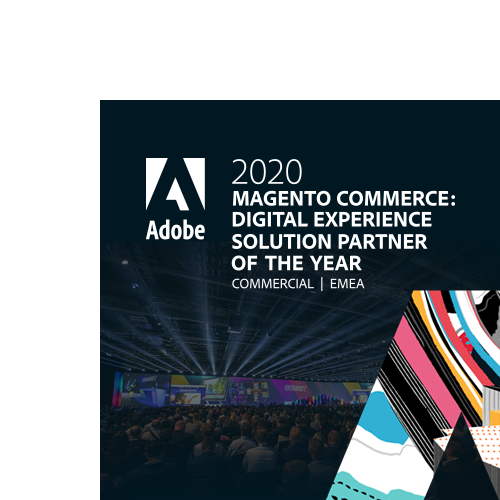 Expertise
We have everything you need for your store to excel. Specialising in both B2C and B2B commerce, we combine the best in strategy, design, development and services to drive success in digital commerce. Learn more about how we draw on our expertise and experience to help your business succeed in the digital landscape.
Learn more
Services
We understand that no two projects are the same. That's why we work tirelessly to find the most effective strategic approach for you. We are not just a solution provider for your webshop, but a partner that continuously strives to ensure that every need of your digital business is catered to and ready for success.
Learn more
What our clients say about us

"Vaimo has helped BAUHAUS bring the complexity of home improvement retail to the web in a simple and cost-efficient manner. They have delivered a stable advanced commerce platform through multiple projects that supports our growth and our business. Vaimo is a group of energetic people with a proven track record of delivering valuable solutions on a consistent basis."
Steen Hestehauge
eCommerce CEO of BAUHAUS AB
Work at
Vaimo
Make your mark on the industry to change the future of digital commerce and build your career surrounded by skilled, creative and passionate people.
Get in touch
On October 7th, Stephen Hill, Senior eCommerce Strategist at Vaimo, hosted a webinar to help you prove a top-notch user experience on Black Friday. In this article, we will summarise the main topics and take a sneak peek at some of Stephen's advice during the webinar.

Events

On October 7th, Stephen Hill, Senior eCommerce Strategist at Vaimo, hosted a webinar to help you prove a top-notch user experience on Black Friday. In this article, we will summarise the main topics and take a sneak peek at some of Stephen's advice during the webinar.

It can be tempting to think that data breaches only happen to Fortune 500 companies or global corporations. Switch on the news and you'll hear about cyber attacks on household names. 2020 has already seen the likes of Twitter, Zoom, Nintendo and EasyJet falling prey to hackers.

But does this paint the full picture? And is it only large, well-known corporations being targeted?

Knowledge

It can be tempting to think that data breaches only happen to Fortune 500 companies or global corporations. Switch on the news and you'll hear about cyber attacks on household names. 2020 has already seen the likes of Twitter, Zoom, Nintendo and EasyJet falling prey to hackers.

But does this paint the full picture? And is it only large, well-known corporations being targeted?

A pitter-patter of Slack messages foreshadows what we already know: the 2020 eCommerce peak sales season is almost here. Before sprinting into the holiday season, uncrumple your 2019 holiday to-do list and assess your successes and failures to improve your 2020 results.

Knowledge