Google Universal Analytics (UA) used to offer the option to create web + app and web properties for tracking, but this is no longer the case. Google has now transitioned what used to be web + app into Google Analytics 4 (GA4). GA4 was officially introduced in this blog post on October 14th, 2020, but it's actually been around in beta mode since July 2019. If you create a new property today, GA4 will be the new default, meaning you need to how the new Google Analytics will affect your ecommerce analytics strategy.
Google Universal Analytics and Google Analytics 4
So why the change? According to Google, the main idea is to "help you get better ROI from your marketing for the long term". UA was already able to give you answers to questions like "what are my best selling products". GA4 is supposedly enhanced further with machine learning, to serve you insights and give you a better understanding of your visitors—even across devices and platforms.
The latter is very interesting from a merchant perspective, as tracking customers across various devices has always been challenging. With UA, you could track websites and apps, but you had to do it separately: if a customer browsing your website on a desktop device then went on to their mobile device and placed an order through your app, it was difficult to tie them together. With GA4 setup, you can track a website, an app, or both simultaneously.
Main Changes in Google Analytics 4 (GA4) vs Google Universal Analytics (UA)
A New Look
The look and feel for GA4 has been updated: it is well-organised and looks more modern. Take, for example, the real-time report. In GA4, you get a full overview, compared to UA, where it was more siloed, and you had to click your way through multiple real-time screens.
Menu and Reports
The menu content has been restructured and currently has sections: Home, Real-time, Life-Cycle, User, Events, Explore, and Configure.
Home
The home page gives you a summary of what's interesting about your data: such as where, when, and how your site or app has been visited and how you are performing against your goals.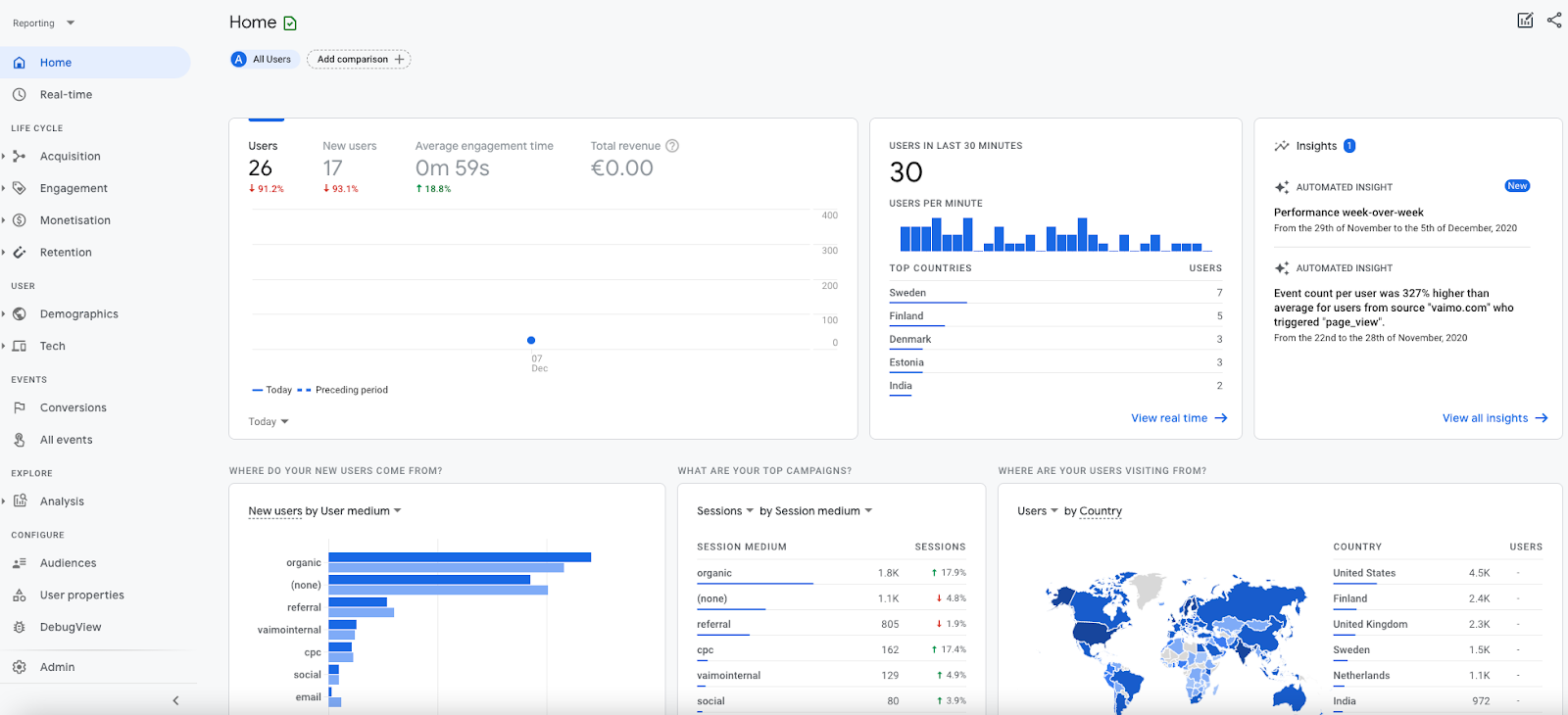 Real-time
The Real-time report allows you to monitor your user activity in real-time. You can track users who were active in the last 30 minutes: see where they came from, which pages they engaged with, and the events or goal conversions they connected with.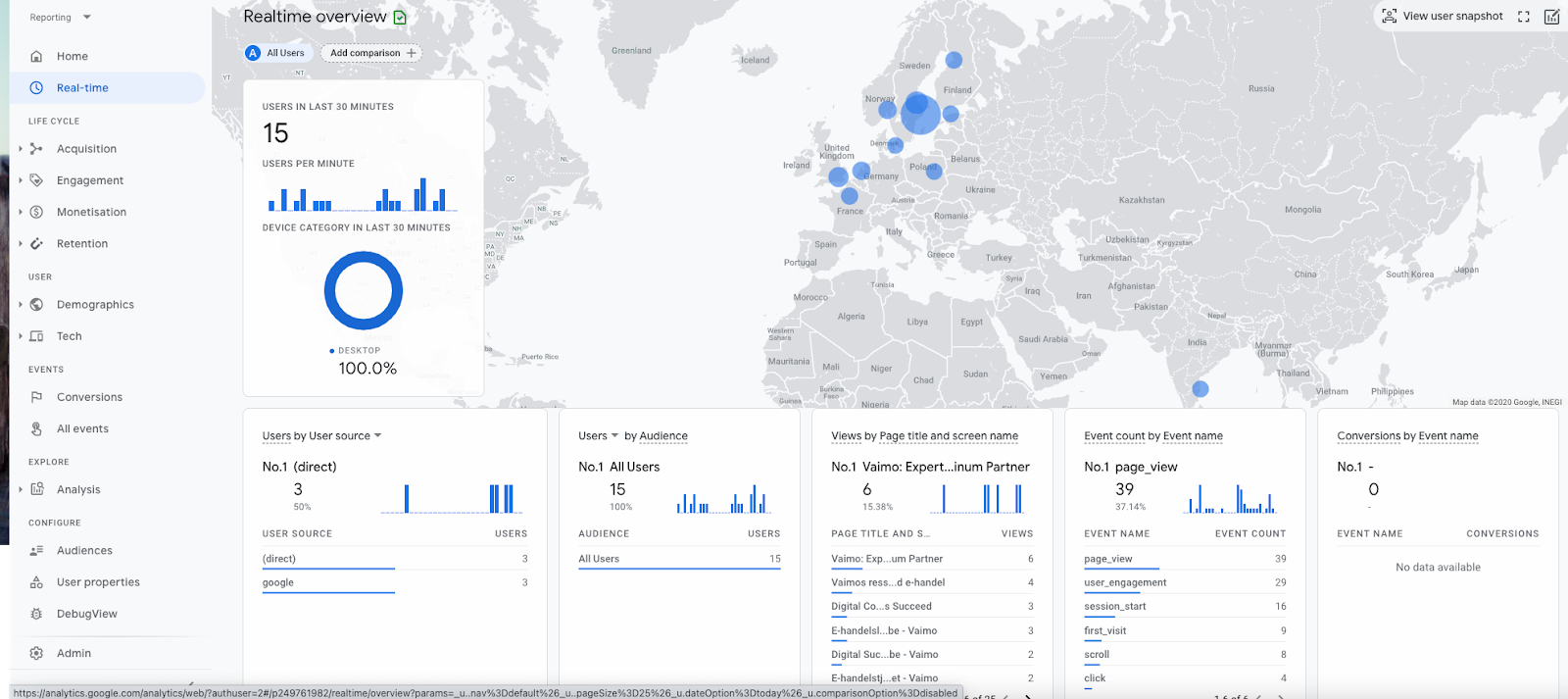 Life Cycle
In the Life Cycle section, you will find reports on:
Acquisition – how your users and traffic were acquired: the medium, source, and campaign
Engagement – how your users are engaging with your site or app: the time spent, pages or screens viewed, and events triggered
Monetisation – how your site is performing from an eCommerce perspective: metrics such as revenue, buyers, items bought, and in-app purchases
Retention – how new and returning users engage with your site and the user lifetime value they have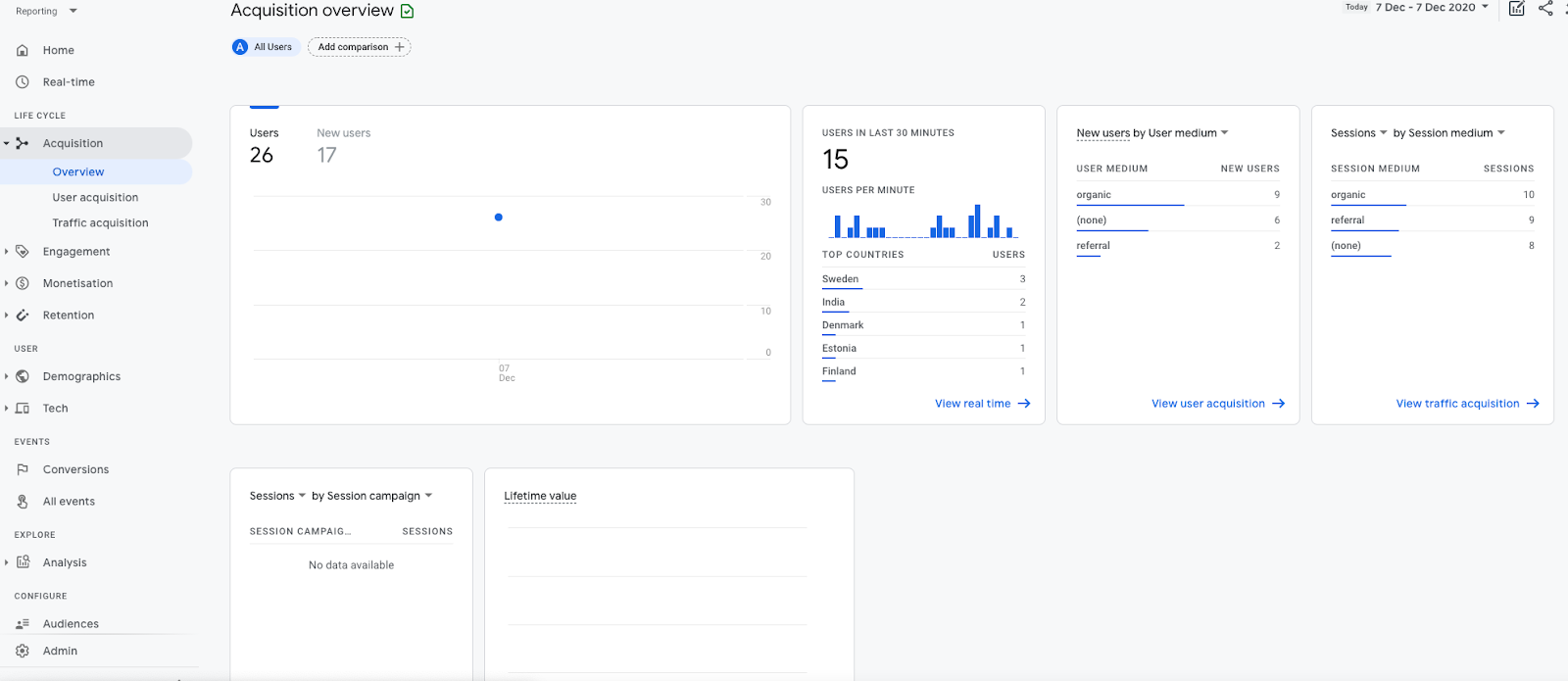 User
The User section has reports on:
Demographics – who your users are: their location, gender, interests, and language
Tech – what kind of technology your users use to access your site: their tech specs, thus platform, OS, device, browser, and screen resolution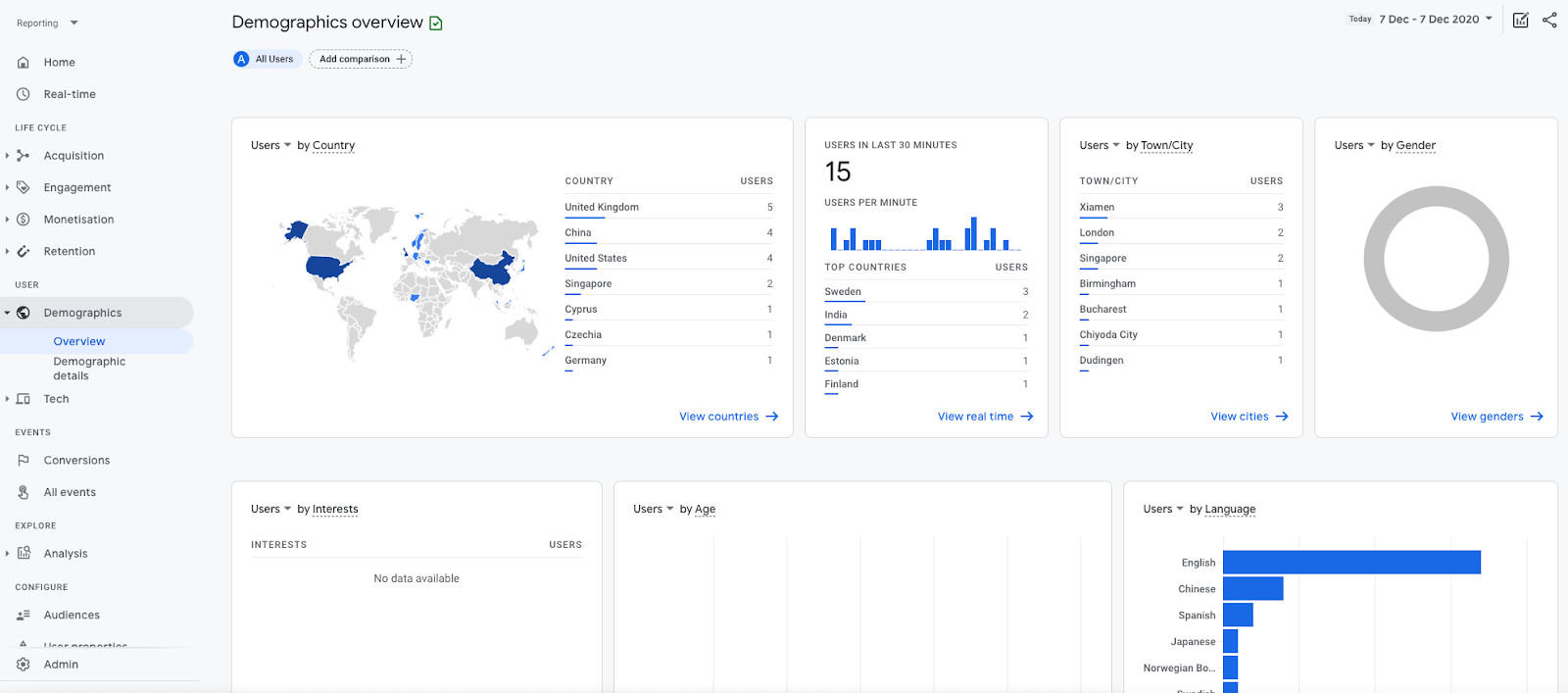 Events
The Events section does not have reports in the same way as the ones above. It lists your:
Conversions – the events that you have specified to qualify as conversions
All events – the events you have set up, such as click, scroll, or file downloads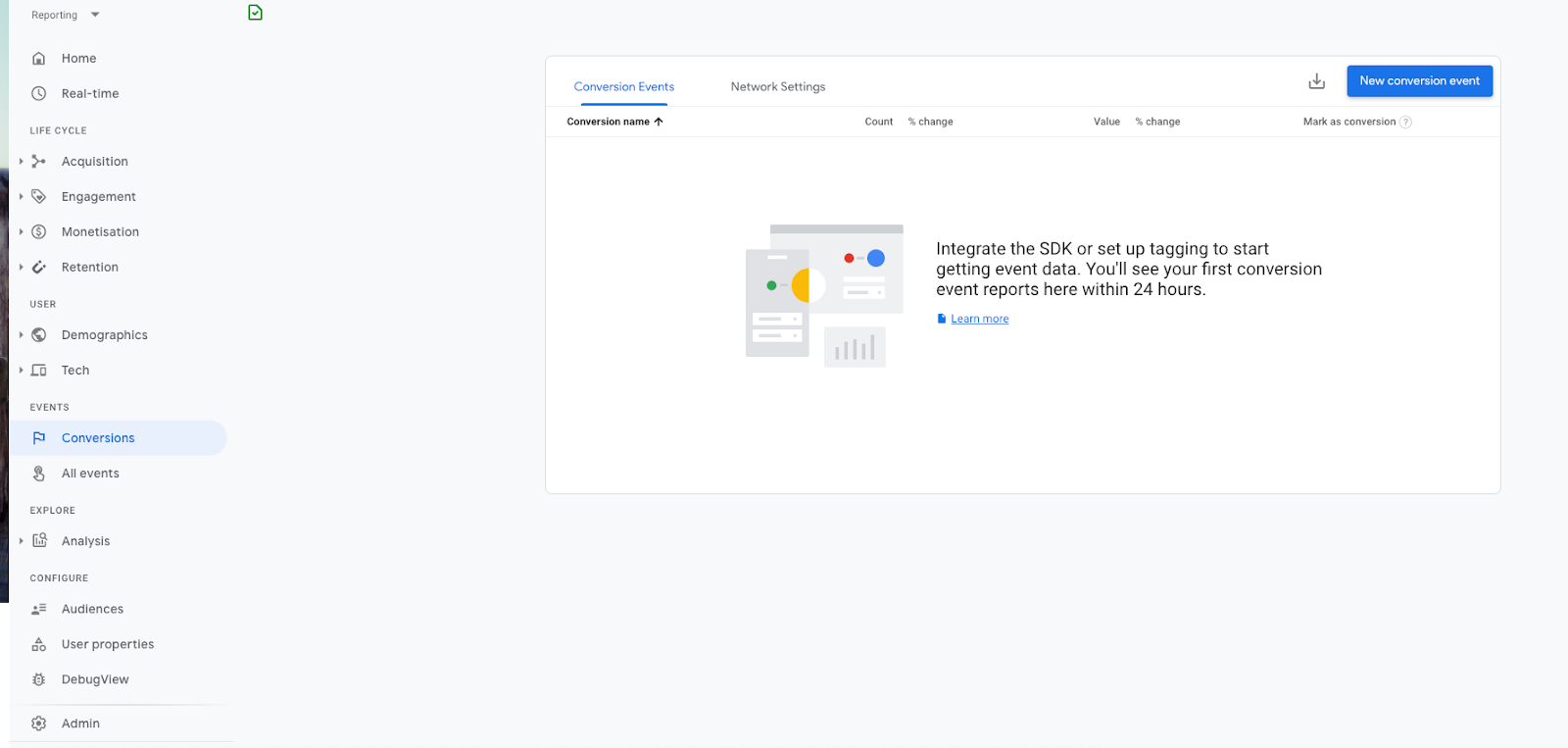 Explore
The Explore section gives you access to the analysis hub and template gallery. In UA, many of these reports were set up out of the box, but many of them were arguably not used. With GA4, you have to initiate them separately. You also have more flexibility with what dimensions, metrics, and visualisations you want. At the time of writing this, there are 12 reports available. Needless to say, this will continue to grow as GA4 gains more traction.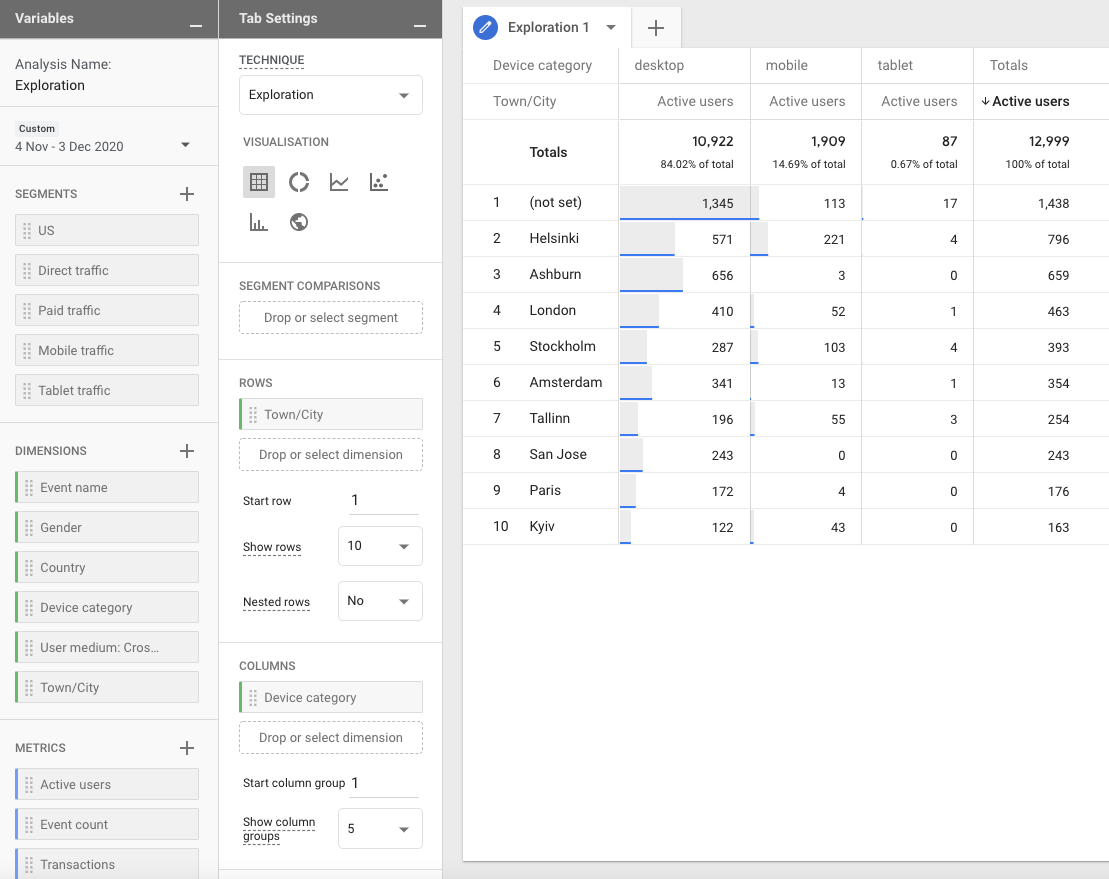 Configure
The Configure section allows you to arrange your users and access the DebugView:
Audiences – segment your users in a way that is meaningful to you. For example, you might want to track and address the users who have made a purchase vs those who have not.
User Properties – specify your users' different attributes, which then can be used as building blocks for your audiences. This could be their favourite brand, profession, or similar attribute. You can create up to 25 unique user properties.
DebugView – monitor your app's and/or website's events in real time. This can be especially useful for apps since analytics usage data is typically only pushed periodically to conserve network data and battery life.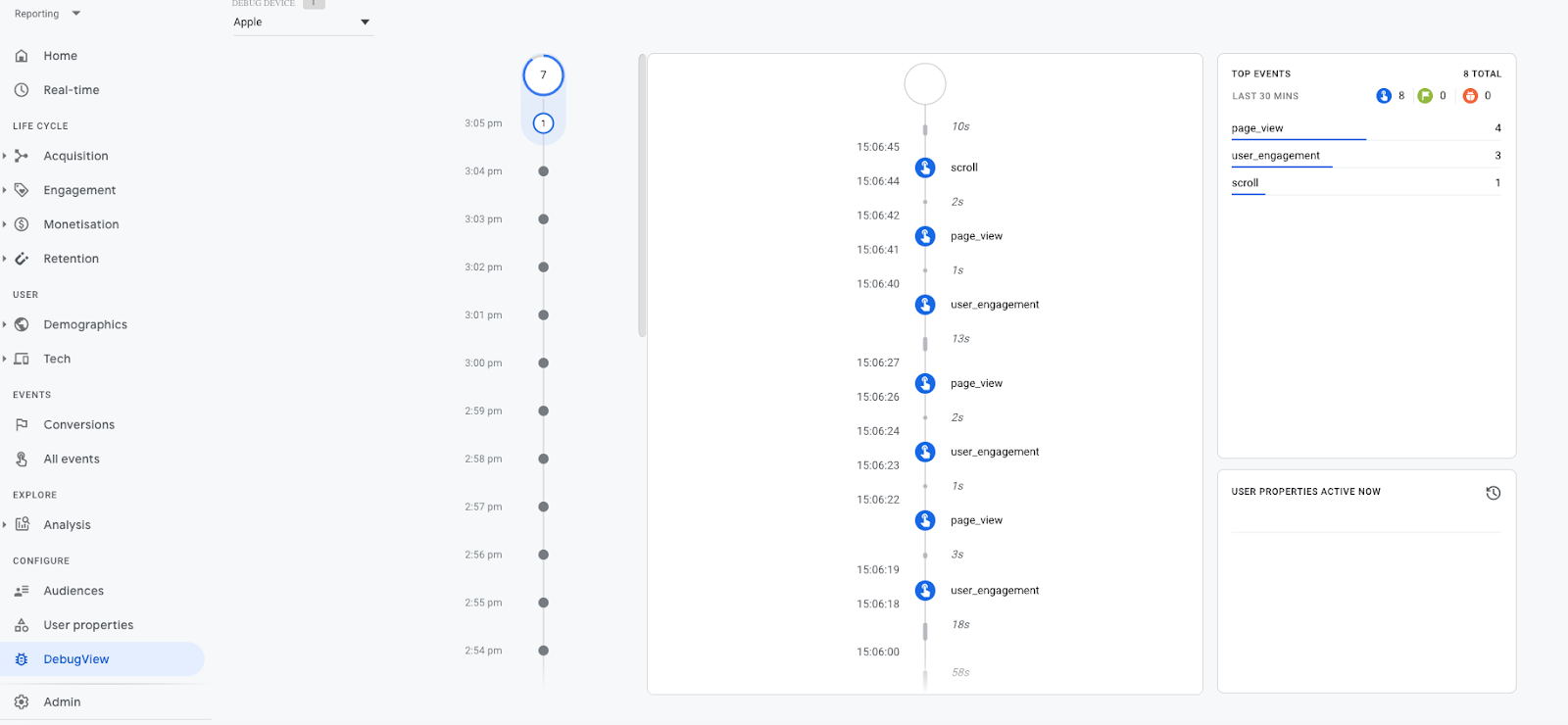 Views
With UA, you are accustomed to setting up views for your properties – such as Test, Raw, and Master views. With GA4, however, views are no more. Instead, you only have the property to care for.
Event Tracking
As mentioned in the GA4 beta introduction blog post, GA4 "introduces a flexible event-based model for collecting the unique interactions that users have with your content, allowing you to measure any custom event that you set up".
Google refers to this as enhanced measurement, meaning that some of the events that you had to code or otherwise introduce via, for example, GTM, can now be tracked out of the box. You now have out-of-the-box access to scrolls, file downloads, video engagement, site search, and outbound clicks.

Monetisation
Conversions – Ecommerce has been renamed as Monetisation in GA4. In UA, if you had Enhanced Ecommerce Reporting turned on, you had to send data to Google according to the Enhanced Ecommerce (UA) Developer Guide. The same is true for GA4, but the formatting has changed.
Google communicates the compatibility between UA and GA4 like this, making it somewhat confusing: "GA4 is compatible with the UA eCommerce schema, but the UA eCommerce schema is not compatible with the GA4 schema. If you have tagged your site for GA4 properties alongside UA, do not replace your older schemas with GA4 eCommerce data types."
In other words – the new format is similar to that of UA, and you can continue to use the UA data with a new GA4 property. For example, if you have your existing UA eCommerce events setup in GTM, you can add new GA4 events into that GTM container. You can then set the event parameters to use the values from the data layer, and viola—you have GA4 eCommerce events running. You can read more about the process of using GA4 for UA property here.
Once you make the full switch over to GA4, it is recommended that you update to the new format. And if you do, make sure that you do not have any UA property that relies on the old UA data schema.
Tracking User ID by Default
With UA, you could track users on different devices by implementing user ID. For it to work, you would have to create a new user ID view in GA and send Google a user ID originating from your system. How have things changed with GA4?
It hasn't, other than the fact that the default tracking method is "User ID and device" instead of "device only". You will still need to send GA the ID, and when you do, you will see benefits like more accurate user count, logged in users behaviour, and relationships between acquisitions, engagement, and conversions.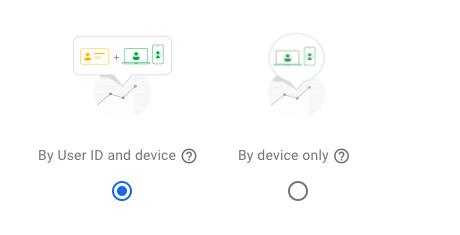 Setting up GA4
So, how do you get started with GA4? You have three options:
Set up a new GA4 installation as described here. Use this if you are setting up a new tracking property and don't need Universal Analytics.
Set up a new installation with both UA and GA4 as described here. As implied, this will give you tracking in UA and GA4 simultaneously and also sets up a link between them, so full migration over to GA4 is easier later on.
Upgrade an existing UA property to a GA4 property as described here. The word "upgrade" can be a bit misleading here, as the process actually creates an additional property under your account to live alongside the existing UA property. The good thing here is that the UA property is left unchanged and continues to collect data. So the risk of upgrading is virtually zero.
Final

 Summary
Here are some of the key features and changes with GA4:
Built with Google's Machine Learning at its core
Brings together data across web and app
Offers a future-focused experience which, when looking ahead, will work without cookies
Allows you to do event tracking without writing code
Allows you to rename events directly from within the UI
Has no views
Has renamed "Conversions – Ecommerce" to "Monetisation"
Is compatible with the UA eCommerce schema (meaning you can reuse your existing data layer events from UA)
Allows you to delete pieces of data using Data Deletion Feature
Vaimo is a full-service omnichannel agency and an Adobe Platinum Partner delivering digital commerce success to brands, retailers and manufacturers worldwide. Whether for personalisation, omnichannel strategy, or SEO help—we are your end-to-end agency.