So, you're looking to scale and grow your ecommerce business. But how do you know if you have the proper technical foundation for doing so, or if it's time to level up? The answer is by conducting a thorough ecommerce technology audit.
Now, we know that an audit is not always the most appealing and inspiring thing to do. Going through your current tech stack can sometimes feel like opening Pandora's box, but the harsh truth is that if you don't investigate, you'll never know.
And if you don't know what aspects of your current technology are working well, or even working at all, you risk painting yourself into a corner that can end up costing you more than you ever realized. A technology audit is simply a necessary first step when building out your strategy for scaling and growth.
Related Reading: 5 Things to Plan for in Global Ecommerce Development
What Does an Ecommerce Technology Audit Include?
The purpose of a tech audit is to understand what parts of your tech stack are worth keeping and building on, and what parts you'd be better off updating or replacing with something better.
A basic technology audit should cover the following points:
An inventory list of your current tech stack: platforms, software, SaaS licenses, and any other commitments
A diagram with all your existing integrations and a list of non-negotiable internal system integrations
A list of must-have features and functionality from both backend and customer-facing perspectives
A description of the front-end user experience and all user journeys
A visual chart of necessary upgrades and changes, and how they will – or won't – fit into your current tech stack
Mapping these points in detail will give you a valuable overview of your current situation and help you understand where you need to go from there.
It will become apparent if there are gaps in your tech stack, and you will be able to analyze your needs both holistically and on a granular level. Taking the time to thoroughly research what you have, before you start thinking about what to get next, will save you a lot of time and resources in the long run.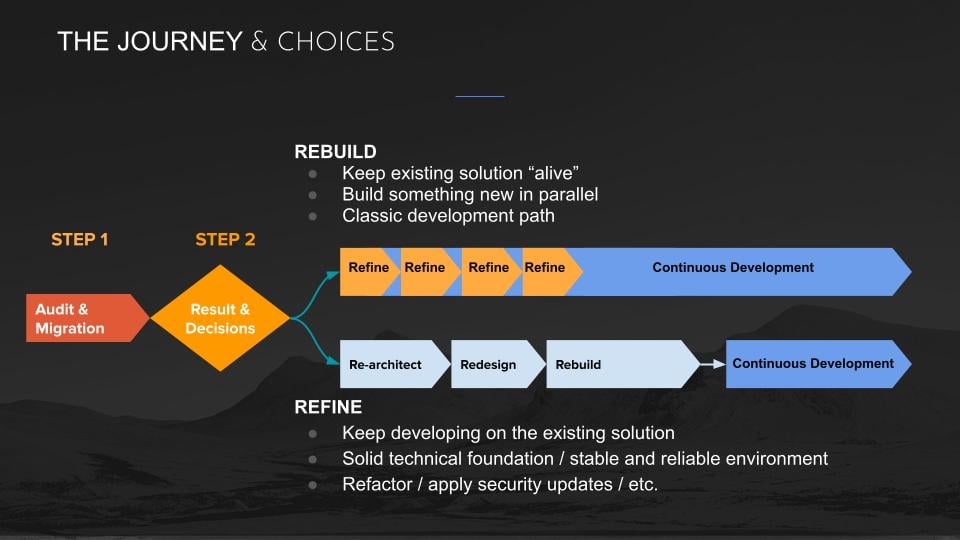 Identify Gaps to Build a Strong Foundation for Growth
At Vaimo, we're often asked to perform technical ecommerce audits for a few specific reasons.
A common challenge is that ecommerce businesses are held back by the limitations of their current platforms' capabilities. Many ecommerce companies sense that they could be performing better but are not sure what the reasons for the underperformance are.
This is where a technology audit can add immense value. Teaming up with an experienced technology agency that goes through your existing tools and solutions is often the best way to finally understand why things aren't moving as fast as you'd wish and what you can do to change that. Examples of problem areas that prompt our clients to turn to us for guidance and tech audits include:
Infrastructure and server issues
Integration failures
Dependency issues and bottlenecks
Reliability and redundancy issues
Customer experience failures
It's not uncommon to find problems with many or all of these areas once we start examining the code. Discovering these problem areas as early as possible saves businesses both time and money down the road.
The end goal is a fast, high-performing site that delivers outstanding customer experiences. This requires a robust platform, seamless integrations, and cutting-edge technology. It's perfectly achievable, and the more you know, the easier it will be to get there.
Related Reading: B2B Ecommerce Design & Development Trends 2021
There are three aspects that we consider in the audit that play a crucial role in ecommerce success. It's the foundation, the structure, and the experience of your ecommerce platform. Let's have a look at them all, one at a time.
1. The Foundation: Platform & Functionality
A technology audit can be compared to renovating a house. Just like when remodeling a house, the goal of the audit is to keep as much as possible of what's already there. But at the same time, you only want to keep the parts of the house that are safe, sound, and sturdy enough to build on. Because if the foundation is not stable, the whole house may very well collapse. And we don't want that.
For example, it's common that when you reach a certain size, your business simply outgrows your platform. Typical symptoms are problems related to traffic spikes, downtime, hosting issues, or customer data management. If these are pain points in your business, it's a clear indication that it's time for a technology audit to understand where your current platform is failing.
In some cases, the problem is fixable, and in others, it's time to find a new solution. Suppose you started your ecommerce business with a couple of hundred product listings but then grew it to thousands of products. In that case, you will often need a new set of tools to maintain the same high level of uptime, reliability, and security.
Want more advice on this topic?
2. The Structure: Architecture & Strategy
An ecommerce business is complex and contains many moving parts. Understanding how your architecture is set up is a key element in identifying the structural elements and aspects that are replaceable, as well as the foundational integrations that must remain. Understanding the system of tools and solutions often starts with your ERP or CRM system, but the ecosystem includes everything from finance and IT to legal and HR.
As companies grow, workarounds are often developed to bridge gaps where systems don't integrate. Understanding and mapping all of these customizations is essential before moving on to suggesting possible improvements. Once there is clarity around all touchpoints and integrations, it becomes possible to create a more streamlined and optimized approach leveraging open APIs and direct integrations.
Cleaning up and rebuilding ecommerce tech stacks is rewarding because the ROI is huge. But it's also complicated. After 500 integrations and 12+ years in this industry, Vaimo has most likely seen all possible combinations of tools and platforms. And yet, each configuration offers new challenges even to us. Every company is different, and the audit process allows insight into the particular challenges unique to each business.
Related reading: The Benefits of Kubernetes
3. The Experience: CX & Customer Journeys
The days when ecommerce competition was all about price are long gone. The true differentiator today is the customer experience. Creating seamless and enjoyable customer journeys, whenever and at whichever device your customer decides to interact with you, is key to ecommerce success.
Building and continuously developing outstanding customer experiences is an incremental process requiring a deep understanding of both where you are today – and where you're heading. By examining your technical foundation and choosing the best solutions, you maximize your ability to work in a modern, agile, and data-driven way–from the very first touchpoint to checkout and beyond. Delivering amazing customer experiences should be the most important goal of your tech audit.
Related Reading: Seamless Customer Experience: Why it Matters and How to Deliver
How Vaimo Can Help
At Vaimo, we've performed hundreds of technology audits, and we bring tried and tested playbooks to make the process smooth and efficient. We apply a holistic approach, considering both your technical needs and internal capabilities.
One focus is to determine if the platform you have, or the one you're evaluating, is the right one for your needs. The other focus is whether your team is comfortable with the interface and development language of the platform considered. If not, outsourcing parts of the operations to an external team or agency is also an option. We have clients who work in both ways.
Some companies are also opting for a hybrid model, using their internal team to keep things running and relying on us for innovation and strategy. Either way, having some in-house familiarity or willingness to learn a platform is essential.
At Vaimo, we work closely with our clients during the audit to understand not only their technology but also their business and needs. The following 5 steps describe the process:
We listen.
We take the time to listen carefully and workshop with your team to define your core business, future aspirations, and business objectives.
We investigate.
We migrate your codebase to allow our architecture team access to your platform, analytics, infrastructure, and code repository. And we spend significant time under the hood evaluating the code quality, structure, and standards. We check access points, user profiles, documentation, and we test every aspect of your platform thoroughly.
We compile our findings.
The technology audit results in a robust and elaborate report that our team delivers and presents to you in person. This document explains your challenges and opportunities and ranks them by weight of risk and disruption.
We offer advice.
Once the audit is complete, our strategists will review the audit team's work. Then they will advise you on how to plan and prioritize for maximum impact.
We iterate.
We hold your hand through the whole process and will not let you get in over your head. We help plan a realistic timeline and assist wherever needed to enable fast and smooth go-lives and incremental updates to your CX.
Reach out today to discuss a technology audit for your ecommerce business, or a consultation on how we can help you drive and scale your business.
At Vaimo we help brands, retailers, and manufacturers all over the world to drive success in digital commerce. Reach out to us if you want to hear more about how we can improve your customer experience strategy, go to market plan or explore how technology can enable success.