Due to the pandemic, B2B buyers have been forced to interact with B2B sellers in a wholly digital way. And as the dust begins to settle, B2B buyers are now demonstrating a preference for online interactions, with 70-80% of B2B decision-makers citing that they prefer remote human interactions or digital self-service options to in-person sales.
This trend is making it increasingly vital for B2B brands to rethink their online experiences. The following guide will outline current ecommerce design trends, including important concepts and practices to understand how to design and develop the best possible experience in a digital B2B environment.
Starting with Discovery
With the landscape of B2B changing to include a digital-first focus, B2B sellers should start their design and development journey through a discovery process.
By conducting a discovery workshop, you'll find the main pain points of your user's experience. The key here is to use qualitative research to understand where you are succeeding in your eCommerce strategy and where you are falling short, rather than assuming you know all of the pitfalls.
In many cases, this will involve conducting interviews with customer service as a starting point, since they do much of the heavy lifting.
For qualitative interviewing, extra tools can be implemented, we use Lookback.io, which allows us to interview users worldwide to find out how they are interacting with our clients' digital experience.
During the discovery phase, there are few main points you should try to understand:
A clear definition of customer personas who interact with your experience
And a clear understanding of the functionality of each persona
What Makes a Good Workshop?
A workshop is only successful if it is implemented well. The following are key components you'll want to look out for:
Great communication between your services and product teams: Clear communication will result in a deeper understanding of the full user journey.
Synergy in expertise across functions including customer service, business, and product: This is critical to ensure that the decisions made as a result of the workshop make sense for every stakeholder.
Quality and focused whiteboarding sessions: Whiteboarding exercises are important in that they tease out information to produce new features and requirements that aren't simply based on assumption. This helps you uncover new user journeys and features. For whiteboarding, we use tools such as Whimsical & Miro—that make remote collaboration more effective.
The conclusion of a good workshop yields a clear content map and information architecture. This is important because it frames the conversation going forward and helps define things in a more digestible, practical format.
Optimizing for Mobile
Traditionally, B2B sites were designed with a desktop-first approach as the assumption has been that most B2B users work from an office.
However, mobile-first designs are becoming increasingly important, particularly for B2B industries that work outdoors.
A great example of this is the agricultural industry, where farm owners are making decisions in the field about what inputs to order. Having a mobile-friendly interface allows these decision-makers to quickly order products as needed without requiring them to write down information and take it back to a physical office.
A great tool we use for mapping out design experiences is Marvel App, which accelerates our experience team's abilities to design better and more optimal mobile experiences.
Focusing on Engaging Experiences
B2B decision-makers are generally influenced in their purchasing decisions by cold hard facts. Will this product meet the needs of my business, and does it meet my pricing requirements? However, that does not mean that you should overlook the pleasure the B2B user gets during their experience. B2B sellers must focus on creating an engaging user experience across all platforms in the year ahead.
Content
Content should continue to remain informational for the user and should focus on presenting factual data on products. However, that does not mean that content needs to remain static or reminiscent of the old black and white catalogs.
Instead, B2B sellers should explore animations and interactions to make their content more engaging and pleasant for the users. Surfacing the right content in a meaningful way can dramatically improve the experience for B2B buyers.
Quick Carts
One of the benefits of handling B2B sales online is the convenience this can provide to the end-user.
For this reason, optimizing the checkout experience is key to creating a better eCommerce journey. Something as simple as adding a quick cart on the cart page can help close more sales.
A cart page is a natural place where a user should be able to quickly add a few more SKUs before completing the order, all without leaving the checkout funnel.
A great example of this is Boxxe's checkout experience, where additional products can be located from the checkout page and quickly added to the order.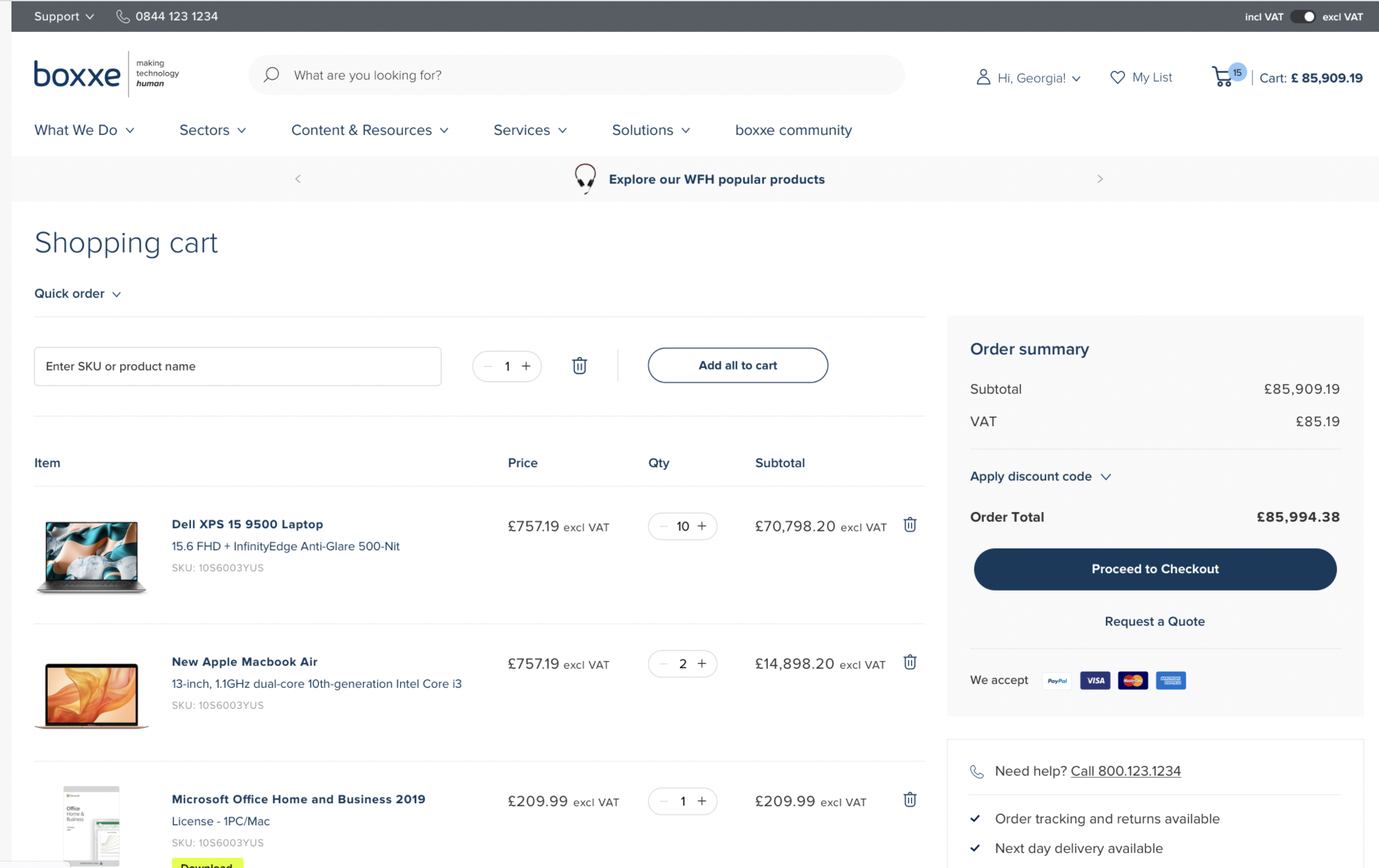 Enhanced Account Area
B2B users spend a large amount of time focused on the logistics of account management. Enhancing your online account area might involve showing users how much money they are saving, notifying them when subscriptions need to be renewed, and adding other critical information to this space.
The account area should be an easy-to-navigate dashboard where information is surfaced based on what the user needs to know.
Additionally, be sure to add clear and reliable contact details and support links to this area. Make it simple for users to reach you if they run into technical trouble or have doubts about the purchasing process. During COVID-19, B2B buyers have increased their digital interactions with sales reps dramatically. According to a study by McKinsey, video conferencing is up 41% in use, and online chat is up 23%.
For this reason, your online experience must make it easy for customers to connect through video or chat.
Visual Style for Product Photography
In the past, many B2B businesses have mistakenly believed that a visual style for product photography was only necessary for design-focused companies, such as fashion retail.
However, regardless of whether you sell tools or clothes, consumers learn best from visual style and begin to build brand identity through the right visual tools.
Creating a visual style for your product photography that reflects your brand's essence makes it easier for your customers to know that a product is being sold from your business, regardless of which channels, they are shopping. This helps to create a more cohesive brand image, leading to better brand recognition and loyalty.
Would you like to learn more about this topic?
Improving the Payment Process
Many brands recognize that payment methods are of critical importance in B2C commerce. Offering multiple payment options while reducing friction at checkout is key.
However, in B2B ecommerce, checkout and payment options are equally important, just in different ways. In B2B, multiple account types become central to the user experience, paired with multiple payment options.
Additionally, for B2B companies, the payment process involves more complexity, such as implementing invoicing, split billing, or having credit options available based on account type. Be sure to consider what will make the payment process more user-friendly as you optimize this portion of the eCommerce journey, taking into account how your customers have historically handled payment management.
For example, if your customers were accustomed to receiving physical invoices prior to a digital experience, each with detailed information about specific accounts held with your company, find a way to surface this same information in an easily digestible format through your online experience.
Increasing the Use of AI & AR
Most B2B companies are managing an incredible number of SKUs. Navigating this inventory through an online platform can be difficult and unwieldy at best.
Artificial Intelligence (AI) based search can play an increasingly important role in surfacing the right products to the right buyers. For B2B decision-makers, who generally are looking to repurchase the same SKUs, an intelligent search will increase the number of sales closed while also improving the customer experience through greater efficiency.
AR & 3D Images
Many of the first Artificial Reality (AR) applications and 3D images have been found in B2C sectors, primarily in fashion and other tactile-focused industries.
However, in the years ahead, the greatest impact of AR and 3D image use will be in B2B. Parts, diagrams, and other critical product information will be surfaced to buyers in a more digestible format than via old paper catalogs. Companies like Threekit, a web-based visualization platform, allows customers to visualize unique product designs, then tilt, pan, rotate, and spin them to have the best possible understanding of that manufactured part.
Additionally, with the shift to remote events rather than in-person trade shows, the landscape is prime for AR applications. Imagine hosting an online event where customers can interact with products in a tactile way, similar to how they would have during a trade show. The beauty of this approach is that while physical events required attendees to be present in a specific geographic area, online events paired with AR and 3D images can tap into a whole new global market for B2B sellers.
Examples of Trends in Action
It is easy to see how quickly B2B ecommerce development is changing. The landscape has been heavily influenced by the pandemic, with 70% of B2B decision-makers saying that they are now open to making new, fully self-serve, or remote purchases in excess of $50,000.
Businesses that wish to tap into this new global, digital market are taking note and changing their strategy.
Here are a handful of forward-thinking companies we feel are setting the trends in their respective spaces.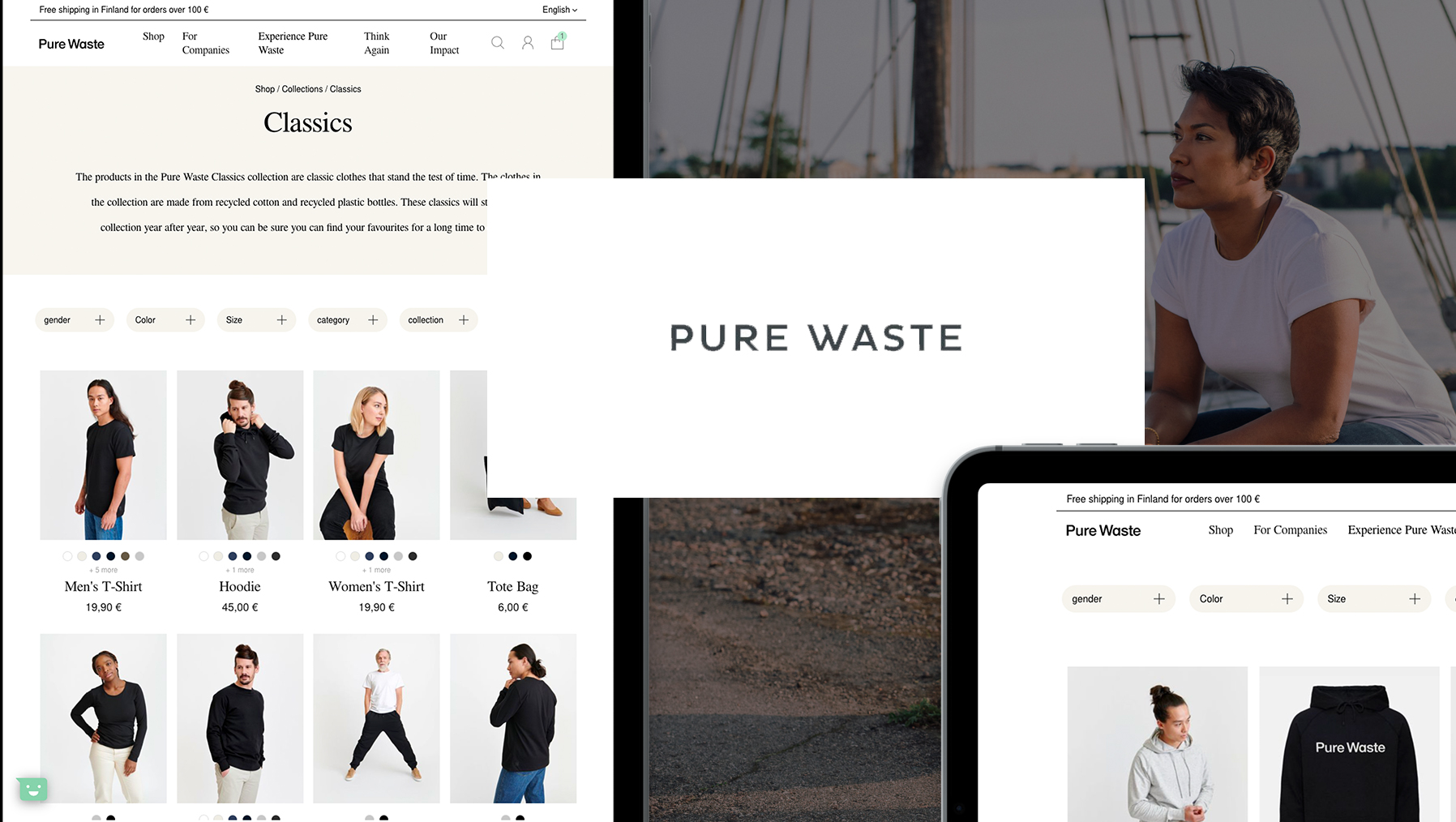 Pure Waste is taking an environmentally-friendly approach to its eCommerce offering. This brand integrates eco-features, such as a Carbon and Water Footprint Report that calculates carbon and water footprints at checkout and on product pages. This report indicates how much the shopper has impacted the environment through their purchase. This feature helps B2B buyers include a more data-driven assessment of how they affect their stakeholders. Additionally, these items allow Pure Waste to involve the shopper in their journey to change the textile industry, creating long-term brand loyalty.
"What is really important for us is that we have someone telling us what to do next and how to structure our future site. It's important not to have a partner who doesn't just say yes, thinking about getting the most billable hours. Vaimo thinks about what's reasonable for us."
NOORA ALHAINEN, PROJECT MANAGER, PURE WASTE TEXTILES
Royal Unibrew is taking mobile optimization to heart. This brand offers a mobile-friendly solution for shoppers with personalized prices and an efficient ordering process. Since Royal Unibrew's eCommerce solution is intuitive, easy to use, and covers all of the customer's essential needs, they can now close more sales with less effort from their team.
"Vaimo really stepped up were the toughest and showed a lot of agility and flexibility in helping us deliver the website we needed. We managed to launch on time, which was of crucial importance to us, and that is a success we celebrate."
MARTIN HALLING ØRBY, HEAD OF ECOMMERCE DK, ROYAL UNIBREW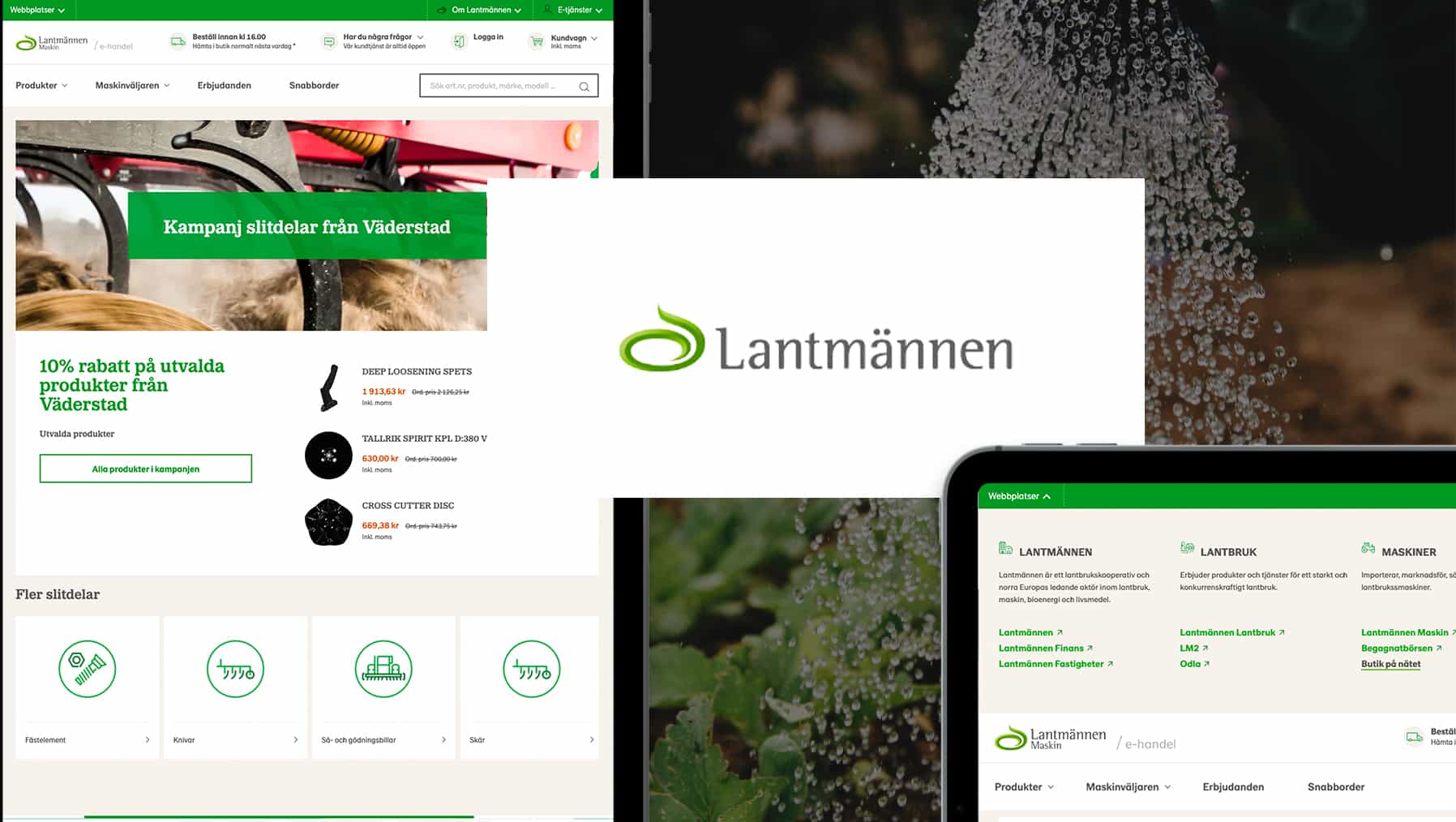 Lantmännen's focus on search functionality and the connection between spare parts and the customers' machines have transformed their on-site experience. Through their improved search functionality, they can now reach more customers—both farmers and other target groups—in a way that was not possible before. They are a prime example of how implementing the right AI into search can have a meaningful effect on total sales.
"Vaimo has worked so well with our team and has been extremely responsive to our needs. Together, we've developed a great working partnership in finding the right technical solutions to drive the success of this eCommerce project."
EMILIA NILSSON, SOLUTION LEAD, LANTMÄNNEN
Embrace the Shift in B2B Ecommerce Trends
In the year ahead, B2B selling will involve an increased focus on the eCommerce experience. Adapting to the latest B2B eCommerce development and design trends will help ensure your brand is set up for long-term success.
At Vaimo, we recognize that everything from setting up a quality workshop to implementing new design and development practices takes time and expertise. We are here to assist businesses with everything from qualitative research to data-backed strategies for optimizing the purchase journey for your customers.
Talk to us today about how your B2B company can prepare for the digital landscape ahead.