Leverage the power of composable commerce with Vaimo's new microservice, the Vaimo Product Information Management (PIM) Connector for Akeneo and commercetools, to easily migrate data between Akeneo and commercetools, two of the fastest-growing systems on the market.

Digital vendors used to spend hours updating their product information. The Vaimo PIM Connector for Akeneo and commercetools revolutionizes the process by cutting down the manual labor to the push of a button. It empowers businesses to migrate their product data automatically, within minutes, and prevents the need for custom-built integrations.
To deliver excellent customer experiences, each channel and touchpoint requires the replication of copious amounts of product data. Until now, digital commerce businesses imported data and logic from individual systems into their commerce engine, and only then did the platform use the data.
Migrating data manually between a PIM system and a digital commerce platform can take several hundred hours, depending on the volume of information. The manual process also carries the risk of human error.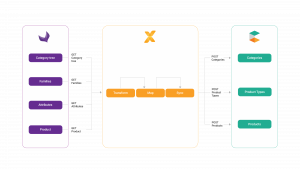 The Vaimo PIM Connector for Akeneo and commercetools is available for purchase now at the Akeneo App Store. Click the button below:
Vaimo and MACH
An easily-accessible set of microservices allows vendors to tailor their systems and applications to their needs.
Vaimo's first MACH alliance microservice, the Vaimo PIM Connector, joins Akeneo PIM with the commercetools platform for a seamless product data migration. Digital merchants can use this as the keystone to composing and it's as easy as joining two building blocks.
Connect, Map, and Load
The Vaimo PIM Connector allows you to fully reuse your Akeneo PIM data model, and migrate both your model structure and content in one go to save you many hours of manual work.
Simply connect Akeneo PIM and commercetools using API keys and adaptor logs. Then, watch your product data flow seamlessly from the PIM source to commercetools.
Map out your key attributes and choose either a live connection with delta updates or an early proof of concept (POC) to investigate the possibility of composable commerce. The best part is that the connector creates all specified family attributes dynamically in commercetools.
With the push of a button, the adapter converts your PIM data model into a commercetools project where product data will be available within minutes.* The Vaimo PIM Connector is ready-to-use for your storefront, social media, dashboards, and any applications in your existing and future composable landscape.
The Vaimo PIM Connector allows you to:
Leverage the easy-to-use UI and automation in Akeneo to populate large and complex product catalogs quickly and easily–directly sync these to commercetools as product types, products, categories, and attributes
Use localization features in Akeneo for conversion of measurements or translation of content to be passed to each storefront in the commercetools environment allowing you to easily expand where you can sell your products around the world
Save time and effort by bulk updating or using multi-select features in Akeneo and then populating those changes in commercetools
Tailor the way product data is passed to sales channels to suit their specific requirements using Akeneo's channels feature
Set up specific user roles down to a category level, and set approval flows and processes in order to protect the integrity of ecommerce environments and prevent costly errors
Gain actionable insights into the quality of product data and where it needs to be improved to boost conversions on commercetools sites and any other sales channels
Take data from any source including other ecommerce platforms, enrich it in Akeneo and then publish directly to commercetools to make re-platforming simple and speed up time-to-market
Case Study
As a long-time Akeneo PIM user, Vaimo's client used easy product enrichment to achieve a leading position in the fashion industry. With relevant information supplied to customers at every touchpoint, and accurate product information across platforms, the client's conversion rate skyrocketed. But the immense growth placed considerable pressure on the firm's long-time digital commerce engine.
The client's digital commerce solution reached the absolute maximum of 7 orders per second. A hard limit on growth negatively affected stock price, especially when indicators showed that the market would allow for 3 times the orders above their current limit. However, re-platforming at this point seemed like a major risk.
The Vaimo PIM Connector allowed the client to migrate their entire product catalog from Akeneo PIM to the commercetools platform. This enabled the business to keep running its commerce engine while opening the door to the composable world. Additionally, the digital business enjoyed commercetools' 60-day free trial to determine whether the new set-up would allow for more load and thereby, increase revenue.
Pro tip: Don't allow your digital solution to limit your revenue stream.
*Depending on your Akeneo catalog size, a full migration can take several hours, but you´ll be delighted to see those first products show up in the commercetools data model within minutes.
Related terms
Composable Commerce: Anything is Possible
The concept of composable commerce allows you to select the best-of-breed tools, features, and functionality to meet your individual business needs. Think of composable commerce as building blocks with endless possibilities and flexibility. Composable commerce allows you to tailor your customer experiences and scale while avoiding a commitment to a single platform's ecosystem.
The composable approach supports a flexible, light, and agile architecture that allows you to adapt your business to new market opportunities, stay open to future developments, and scale without limits. The results allow you to reduce costs, future-proof your business, and elevate your customer experiences.
The best part is that there are tools specifically made for merchants moving into a more composable way of managing their digital commerce needs.
Related Reading: Composable Commerce
MACH Alliance Microservices
Digital businesses need tangible, reliable tools to make composable commerce a reality that drives customer value. The concept of MACH architecture is based on the idea that digital businesses today need a great deal of agility and control to meet the changing needs of users.
MACH stands for Microservices-based, API-first, Cloud-native, and Headless. These principles together support a flexible and modular ecosystem that enables a business to add and subtract components like building blocks. Microservices themselves are small, independently deployable components or services that are loosely coupled.
Microservices-based
The microservices architecture approach joins loosely coupled services to form an individual, more complex application. Microservices empower applications to deliver faster responses, enable increased deployment capabilities and perform consistently and reliably.
With the freedom to develop, launch and individually manage these ready-made digital building blocks, end users can enjoy quicker updates and faster access to new features. Microservices infuse modern digital commerce architecture with flexibility, scalability, and modularity.
API-first
APIs ensure a quick and secure exchange of data between users in many modern applications. In digital commerce, APIs offer the opportunity to develop functionalities separately from front end devices. APIs perform consistently and reliably, with in-depth documentation. APIs provide unrivaled flexibility in the connection to front end solutions and third-party applications.
Cloud-native
As opposed to solutions that are simply hosted within a virtual environment, cloud-native applications provide better scalability, faster development, and improved flexibility. Cloud-native also opens the door for pay-per-use and freedom from maintaining personal servers.
Headless
Headless commerce refers to the decoupling of the front end and back end solutions. This approach allows digital vendors to update either "end" of their solution independently, resulting in more freedom when making changes to their system.
Want to learn more and see the Vaimo PIM Connector in action? Sign up for our webinar here.
The Vaimo PIM Connector is now available in the Akeneo App Store.
Read more about the Vaimo PIM Connector here.
About our partners
Akeneo: The power of PIM
Vaimo builds solutions on the Akeneo PIM platforms for B2C, B2B, and D2C businesses. Akeneo PIM solutions empower businesses with a robust, efficient, and scalable foundation to manage and enrich their product experiences across channels. Ensure that your customers receive the best possible interaction with your products with the most complete and relevant data—anywhere, anytime.
commercetools: A composable frontend platform for a new age
commercetools build the leading commerce platform using the MACH principles as guides. The resulting platform allows you to work with the commerce engine to tailor your customer experiences to fit the needs of your business and customers. The API-first commerce solution links to all frontends and third-party applications for a high level of flexibility.