More and more merchants come to us with a need to improve their internal processes around product information management systems and to find a way to provide more consistent product information to end customers.
In this blog post we will dive into the following PIM-related topics:
What is Product Information Management (PIM)?

When do you need to implement a Product Information Management solution?

What are the advantages and benefits of Product Information Management?

Does a Product Information Management System integrate with Magento? 

Why should you consider Vaimo as your Product Information Management Solution partner?
WHAT IS Product Information Management?
PIM stands for Product Information Management, or the central management of product information needed for various external and internal channels, like online stores, ERP systems, printed catalogues, and more. PIM systems support the complete process of creation, enrichment, planning, and the release of product information in all necessary channels.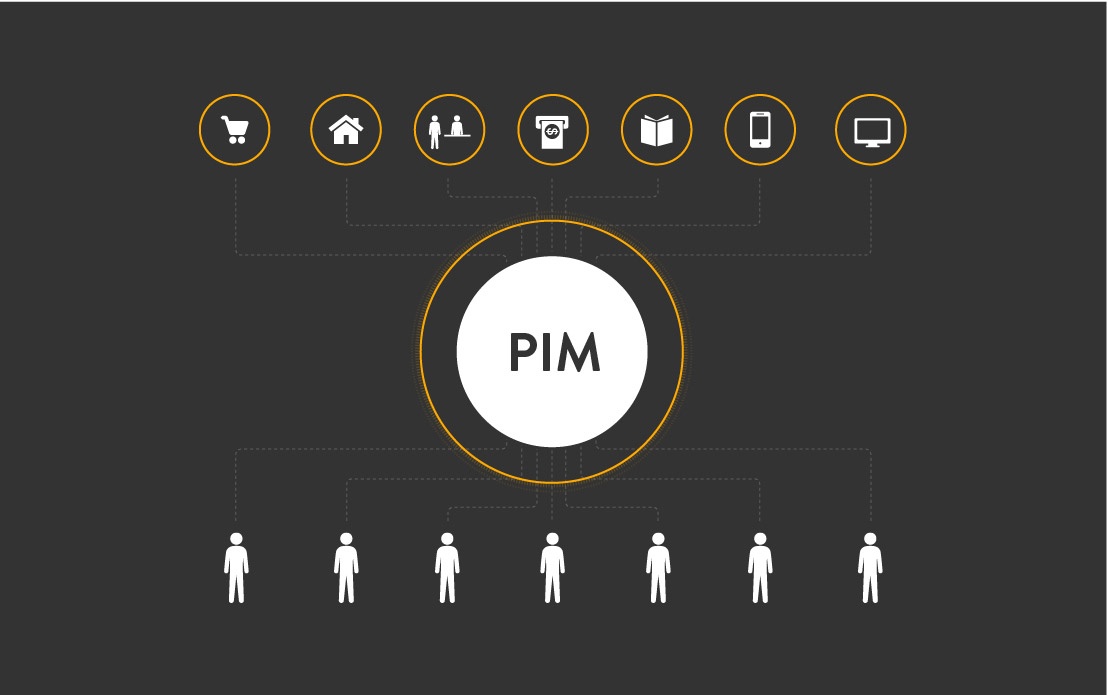 HOW DOES A PIM SYSTEM FIT INTO THE MANAGEMENT OF YOUR PRODUCT INFORMATION DATA? 
With an entire list of eCommerce systems in existence, it can be tough to understand where PIM fits in, understanding the role of product information data is key to your digital future.
Let's explore the difference between various tools and systems related to your product information. Here's what we'll be looking at:
PDM — Product Data Management
ERP — Enterprise Resource Planning
DAM — Digital Asset Management
PIM — Product Information Management
Let's compare each one of these systems to PIM to understand the difference.
PIM vs DAM – a DAM help you to manage digital assets while a PIM stores, manages, and distributes these assets along with other product information.
PIM vs PDM – they might look similar but they have some big differences. A PDM optimises the product development stage through the availability of technical data while a PIM takes this data and runs with it. It gives sales, marketing, and other teams centralised, relevant product information (not just data) to put in front of customers.
PIM vs ERP – ERPs organise your key business functions but doesn't while include detailed information about the products. And that's where PIM comes in—it takes data from the ERP and combines it with product descriptions. As a result, your customers are given compelling and consistent product stories, no matter the channel or device.
WHEN SHOULD YOU CONSIDER A PIM system?

If you have a complex product information setup with thousands of products and/or attributes and need immense manpower to organise the enrichment and quality of it. 

If you want to speed up the launch of new products to the market. 

If you sell globally and want to process different products in different languages and/or markets. 

If you want to enrich your customer experience, reduce customer complaints, have fewer product returns and exchange of products. 

If you want to deliver higher quality product information and avoid inconsistency between channels. 

If you want to support brand awareness and harmony along with different channels and promotions. 

If you want to manage different sales channels and select which products will be released in each channel. 

If you want to improve governance and compliance processes and comply with the appropriate regulations in every country. 
If you want a "single source of truth" to your product information.

THE MAIN BENEFITS OF USING a PIM System

A Product Information Management system offers:
a single point of storage for all of your product information, which you can use across different platforms, mobile applications, point of sales, and any other system within your infrastructure.

a good integration that will update your eCommerce platform with product data, with the added bonus of freeing up your eCommerce platform's resources. 

a great advantage to an omnichannel merchant that sells products with different types of data (specifications like sizes, colours, technical details, etc). 

a more user-friendly environment than a typical eCommerce platform can provide for content management teams. 

the opportunity to enter product data into your PIM system only once; you don't have to repeat the process with your other systems, as every platform in your infrastructure will use the same information.
WHO BENEFITS FROM USING A PIM System? 
Of course, your whole organisation will benefit from adding a PIM, but there are a few departments and specific employees that will witness the powerful effects of a PIM system:
Sales teams that need both accurate and updated product data at all times.
Ecommerce managers that need to provide the latest content updates and ensure a consistent and quality UX all while increasing conversion rates.
Marketing teams that need to create and modify campaigns across multiple channels.
Your potential customers, who can buy, knowing that they are receiving updated and descriptive product information for your brand.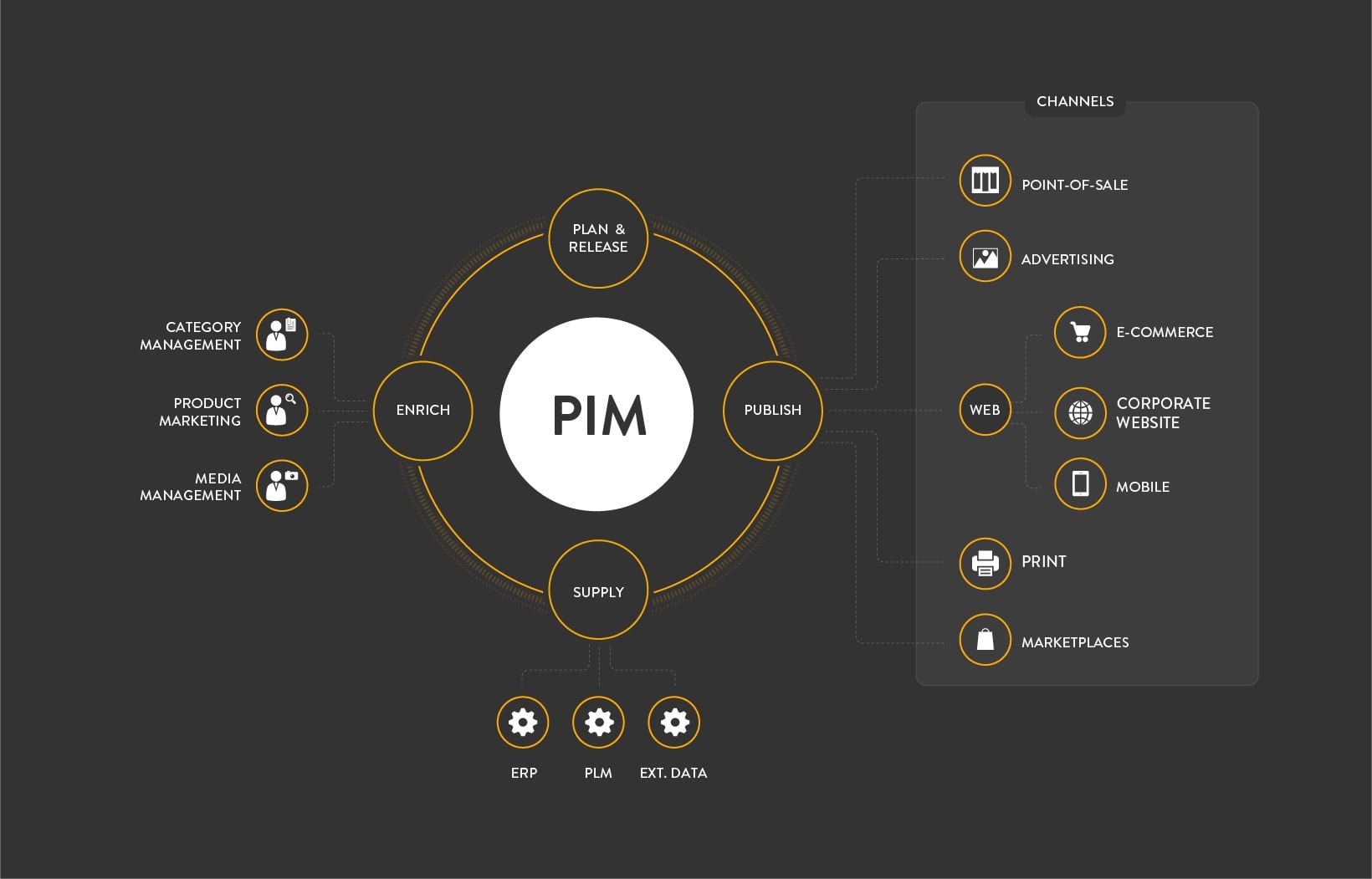 WHAT TYPES OF COMPANIES SHOULD IMPLEMENT A PIM SYSTEM? 
Companies of varying sizes can benefit from using a Product Information Management system. Vaimo has integrated a number of PIM systems into various businesses. In 2020, we even implemented a PIM system at the University of Gothenburg. Your company will see the benefits of a PIM system if you are undertaking the follow activities or have these characteristics:
Handles complex product content and relationships.
Has a high number of SKUs.
Sells products through many channels.
Collects data from multiple suppliers.
Requires accurate product information for use by multiple teams.
Struggles with an abundance of manual tasks.
Expands or updates product offering multiple times a year.
WHAT CAN YOU DO WITH A PIM?
Your employees will use the PIM system for these tasks:
Link images, documents, and media to products.
Both centralise and sanitise product data.
Enrich product descriptions and specifications.
Track progress and product completion.
Categorise products and files.
Manage relationships between products.
Create and publish product sheets.
Manage and prepare data for sales channels.
Build custom product feeds.
PIM AND Adobe COMMERCE INTEGRATION
Making Adobe Commerce work with PIM requires extra effort and investment, but it will give merchants flexibility and usability of data across different platforms. Installing a PIM solution is mainly an integration and a process project; more specifically, it's a specialised integration that must work in a specific way and support efficient workflows.
The most challenging aspect of an integration is to ensure that the data in the PIM system not only looks good but is structured in a way that makes it easy to extract and that it's usable and easily manageable in the target systems (like print, digital customer channels, digital internal channels, source systems (ERP, data warehouses, etc). When it comes to target systems, however, there is always an issue with directing the data to the system properly, as the data structure is not meant to fill out the minimum requirements the system imposes. For example, a PIM system would not know what configuration attributes are and how to tweak them. That's why an expert integration is needed to secure the right communication between a PIM system and target systems.
At Vaimo, we have broad experience in integrating product information management systems with your eCommerce platform. Our expert teams deploy integrations across industries in both the B2B and B2C arenas. Learn more about how integrations have the power to transform your digital capabilities.

WHY Choose VAIMO as your PIM solution partner?
Vaimo is an Adobe Platinum Partner and has a strategic partnership with inRiver and Akeneo, market leaders for PIM software and cross-channel commerce solutions, which enables us to implement both the inRiver Product Marketing Cloud and Akeneo Open-Source Solution to merchants around the globe.
Several Vaimo clients are using the inRiver Product Marketing Cloud or Akeneo Open-Source solution to improve efficiency and grow sales. See our client product information management case studies here.
Having partnered up with both inRiver and Akeneo, we can provide merchants with the best PIM solution depending on their needs, preferences and budget—whether it's the open-source Akeneo platform or inRiver Marketing Cloud enterprise platform. And since we have in-house experience with various eCommerce platforms and other backend systems, we can also take on PIM projects with merchants with eCommerce platforms like Demandware, Shopify Plus, Oracle ATM, IBM Websphere, etc. We want to help merchants implement PIM solutions in a way that guarantees the benefits of product information management for your eCommerce site.