Are you curious about what a PIM system can do for your ecommerce business? More and more merchants come to us with a need to improve their internal processes around product information management systems and to find a way to provide more consistent product information to end customers.
In our think piece, we will cover the following:
What is Product Information Management (PIM)?
When should you consider a PIM system?
What are the benefits of a PIM system?
Who benefits from using a PIM system?
What types of companies should implement a PIM system?
What can you do with a PIM system?
How does a PIM system work?
Does a PIM system integrate with Adobe Commerce?
Does a PIM system integrate with commercetools?
Why do I need an expert to build my PIM integration?
Why should you consider Vaimo as your PIM Solution partner?
What is Product Information Management (PIM)?
PIM stands for Product Information Management, or the central management of product information needed for various external and internal channels, like online stores, ERP systems, printed catalogs, etc. PIM systems support the complete process of creation, enrichment, planning, and release of product information in all necessary channels.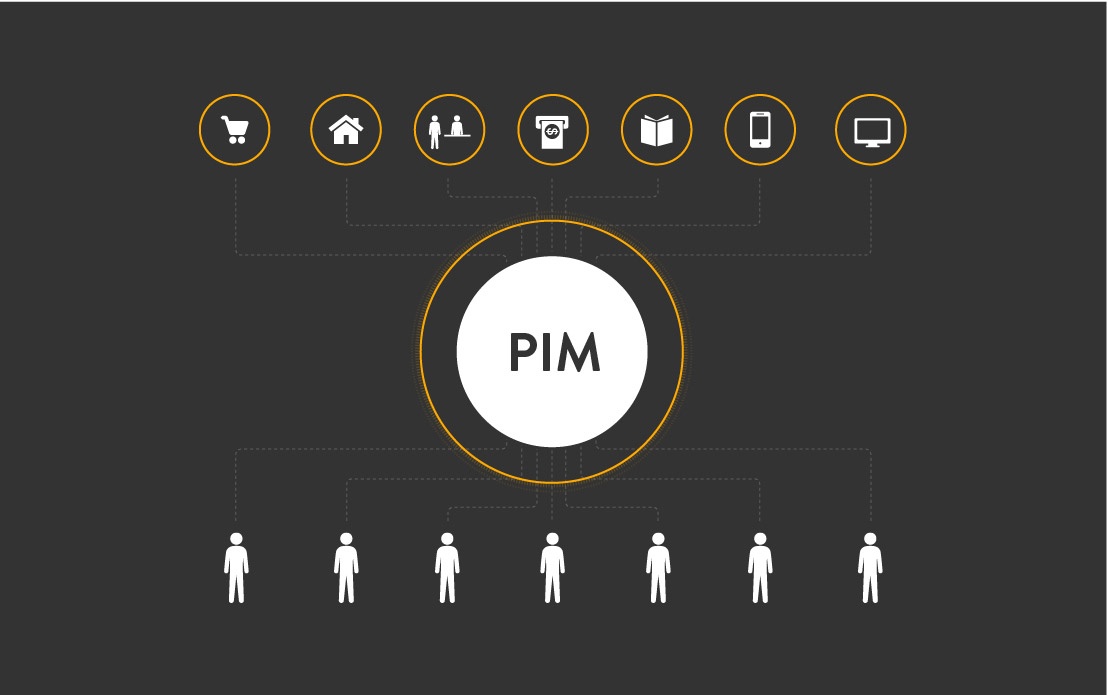 When should you consider a PIM system?
If you have complex product information with thousands of products and attributes, and you require immense human resources to organize the enrichment and quality.
If you want to speed up the launch of new products to the market.
If you sell globally and want to process different products in multiple languages and markets.
If you want to enrich your customer experience, reduce customer complaints, and decrease product returns/exchanges.
If you want to deliver higher quality product information and avoid inconsistency between channels.
If you want to support brand awareness and harmony along with different channels and promotions.
If you want to manage different sales channels, and select specific products to release in each channel.
If you want to improve governance and compliance processes and comply with the appropriate regulations in every country.
If you want a "single source of truth" to your product information.
What are the benefits of a PIM system?
A PIM system offers
A single point of storage for all of your product information that can be used across different platforms, mobile applications, point of sales, and any other system within your infrastructure
A solid integration that will update your ecommerce platform with product data, with the bonus of freeing up your ecommerce platform's resources
A great advantage to an omnichannel merchant that sells products with different types of data (specifications like sizes, colors, technical details, and more)
A more user-friendly environment than a typical ecommerce platform can provide for content management teams
The opportunity to enter product data into your PIM system only once; it's not necessary to repeat the process with other systems, as every platform in your infrastructure will use the same data
Who benefits from using a PIM system?
While your whole organization will benefit from adding a PIM system, a few departments and specific employees will particularly witness the powerful effects of a PIM system:
Sales teams that need both accurate and updated product data at all times
Ecommerce managers that need to provide the latest content updates and ensure a consistent and quality UX, all while increasing conversion rates
Marketing teams that need to create and modify campaigns across multiple channels
Your shoppers who want up-to-date and descriptive product information
What types of companies should implement a PIM system?
Companies of varying sizes can benefit from using a PIM system. Vaimo has integrated many PIM systems for businesses from diverse backgrounds and industries. Check out our clients' stories who opted for a PIM system integration:
Your company and a PIM system were made for each other if you relate to the following:
You handle complex product content and product relationships
You have a high number of stock-keeping units (SKUs)
You sell products and services through multiple channels
You collect data from multiple suppliers
You require accurate product information for use by multiple teams
Your teams face an abundance of repetitive or manual tasks
You expand or update product offerings several times per year
What can you do with a PIM system?
Your employees can use a PIM system to:
Link images, documents, and media to products
Centralize and sanitize product data
Enrich product descriptions and specifications
Track progress and product completion
Build business rules with IF and THEN statements
Categorize products and files
Manage relationships between products
Create and publish product sheets
Manage and prepare data for sales channels
Build custom product feeds
How does a PIM system work?
The way a PIM works in practice can be broken down into four simple parts:
Integrate and process data: The PIM system integrates data from your PLM, CRM, ERP, and other systems. The PIM system processes the data simultaneously and eliminates the need to enter or update information manually. This decreases errors and redundant tasks.
Import data: The PIM imports data through XLSX and CSV files and pre-built connectors.
Onboard product: Your product data is onboarded directly from suppliers in your format.
Connect: The PIM connects to DAM systems for images, videos, and documents.
Your staff then distributes your product information into catalogs and connects the catalogs to channels. From there, your staff organizes the data in a manner that various departments can easily digest. This helps your teams obtain the product information as fast as possible. This also boosts productivity by decreasing bottlenecks and eliminating data silos.
A working PIM setup empowers your product marketing teams to generate more immersive content. With up-to-date data at their fingertips, sales teams have no limits. Your product teams can utilize the information to extend product offerings to match consumer behaviors and market trends.
Finally, a PIM integration provides a deeper connection between your customers and your products, leading to customer satisfaction and brand loyalty.
Does a PIM system integrate with Adobe Commerce?
Not only does a PIM system integrate with Adobe Commerce, but it also provides you with the flexibility and usability of data across different systems. Installing a PIM solution is essentially an integration and a process project. This means that it's a specialized integration that supports efficient workflows.
A PIM integration aims to:
Ensure that the data within the PIM system is structured in a way that makes it easy to extract
Ensure that the data is highly usable
Ensure that the data is easily manageable in the target systems, such as print, digital customer channels, digital internal channels, and source systems like ERP and data warehouses
Vaimo has worked with the Adobe Commerce platform for over 14 years. We possess a deep knowledge of the platform, the history, and the processes to build a rock-solid integration that suits your unique business needs.
Does a PIM system integrate with commercetools?
A PIM system goes together with commercetools like butter on a roll. Vaimo built a microservice to simplify this integration – the Vaimo PIM Connector for Akeneo and commercetools.
With Vaimo´s new microservice, brands with an existing Akeneo PIM installation can migrate the model structure and content with the push of a button. With the Vaimo PIM Connector, you can immediately set up a complete catalog from an empty commercetools instance.
Once the connection is established, the microservice uses Akeneo's event-based API to ensure that product data changes get immediately pushed to the commercetools Composable Commerce solution.
Vaimo partners with Akeneo and commercetools to bring digital commerce businesses the best-of-breed platforms and tools. The new Vaimo PIM Connector microservice ensures a seamless experience for companies using services by Akeneo and commercetools.
Related Reading: The Vaimo PIM Connector Webinar
Why do I need an expert to build my PIM integration?
An expert integration is needed to secure the proper communication between a PIM system and target systems. Directing data to your target systems is an exact science because the data structure differs across systems. This means that the raw data from various systems does not fulfill the minimum requirements of a PIM system.
A PIM system does not recognize configuration attributes, nor does it possess the ability to tweak them. An expert integration ensures that your PIM system speaks the same language as all your other systems that feed it data.
At Vaimo, we have broad experience integrating PIM systems with your ecommerce platform. Our expert teams deploy integrations across industries in the B2B, D2C, and B2C arenas.
That leads us to the last question.
Why should you consider Vaimo as your PIM Solution partner?
Vaimo is an Adobe Platinum Partner and has a strategic partnership with inRiver and Akeneo, market leaders for PIM software and cross-channel commerce solutions. This allows us to implement the inRiver Product Marketing Cloud and Akeneo Open-Source Solution to merchants around the globe.
Many Vaimo clients use the inRiver Product Marketing Cloud or Akeneo PIM to improve efficiency and grow sales. See our client product information management case studies here.
We can provide merchants with the best PIM solution depending on their needs, preferences, and budget—whether the open-source Akeneo platform or the inRiver Marketing Cloud enterprise platform. Our in-house experience with various ecommerce platforms and other backend systems means we can take on PIM projects with merchants with platforms like Demandware, Shopify Plus, Oracle ATM, IBM Websphere, and more.
We want to help you implement a PIM solution in a way that guarantees benefits for your digital commerce solution. Let's discuss how we can make a PIM system work for your business!