Need help to keep your site secure?
Cybersecurity should be a priority for any ecommerce business, especially in a COVID-19 world and with the holiday season nearly upon us. Failing to invest in adequate security can lead to breaches which ultimately lead to regulatory fines. Whether you're just starting out on arming your business or are updating your security, we've got the information you need.
Popular Cyber Security Myths busted
I have a firewall, so I'm safe from attacks
I use HTTPS, so my site is secure
Security isn't my concern when I'm hosting my website on someone else's hosting space
If a computer is not connected to a network or the Internet, it cannot be attacked by viruses
Small or medium-sized businesses do not make a worthwhile target
Interested in learning more? Download our infographic to get more insights into cybersecurity.
Our easy-to-use tool detects data breaches in real-time and on your behalf—saving your business from long-lasting breaches, irreversible reputation damage and lost revenue.
Reduce data breach detection times from days, weeks or months to just minutes
Eliminate threats immediately after detection
Comply with national and international legislation
Safeguard your reputation and your customers' trust
Use the tool with any ecommerce website, no matter the ecommerce platform used
Easy to set up
Simply book a call with our dedicated Data Breach Monitoring team:
Want to run Vaimo's Data Breach Monitoring to protect your business and customers from the world's most threatening security breaches?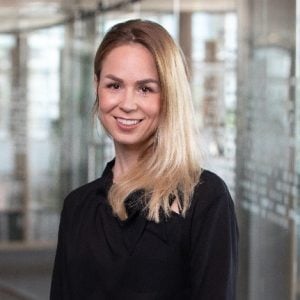 Olga Gutenko
Business Development Manager for Security
Have any questions? Feel free to reach out to me directly! E: [email protected]