Magento, Nosto, Vaimo and dotmailer banded together Wednesday, May 31, 2017 in Scalateatern, Stockholm, Sweden to unite solution providers, functionality vendors, and merchants to share success stories at an event called "Capturing the Unicorn Customer." A "unicorn customer" in this scenario is a customer for life; an elusive creature in today's eCommerce world indeed. The art of nabbing customers for the long-term consists of providing an extraordinary customer experience from online all the way to in-store. With an unlimited buffet of online shopping, customers face more choices than ever before; which also means they expect nothing but the best from retailers. Still, global brands face challenges with utilising the right strategies and tools to engage and retain their customers, and this event aimed to arm retailers with a metaphorical compass in the rough seas of eCommerce.
Vaimo's Sales Manager, Peder Alenius, means serious business at the event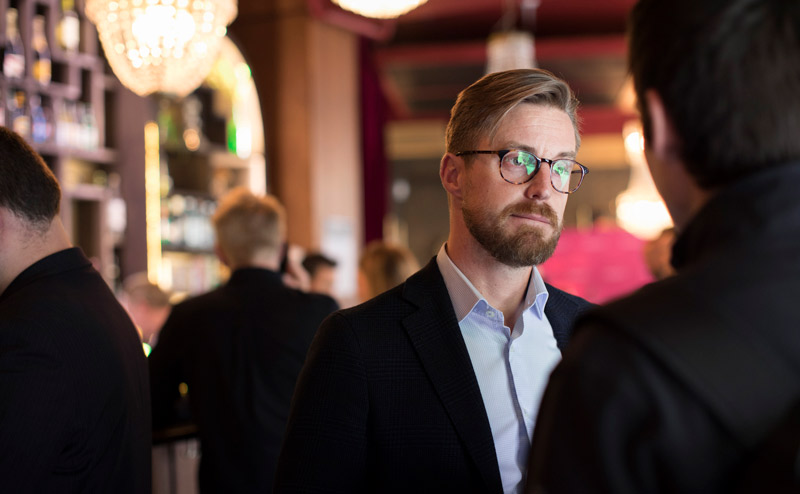 As a sponsor and a presenter of the event, we were able to contribute and also benefit from a bevy of knowledgable speakers, such as…
Peder Ålenius, Sales Manager at Vaimo, spoke about the current state of eCommerce in the Nordic countries where Vaimo sees three major trends affecting the success of eRetail today: Omnichannel, Mobile and Content. These topics have been spoken about many times during the last year, but companies still have a mountain of work to do in order to deliver a smooth customer journey, and thereby secure continuous traffic and increased conversion. Peder accounted for bad examples, but also successful initiatives carried out by Vaimo clients such as Filippa K, BAUHAUS, and Stellar Equipment.
Daniel Lindström, eCommerce Manager at Gymgrossisten, shared several beneficial ways of boosting the Customer Lifetime Value, and stressed the importance of data: "In God we trust; all others bring data."
David Wise, Director of Channel Sales EMEA at Magento, explained how a brand can use a great customer experience to draw customers to shop directly from them, instead of large internet retailers such as Amazon.
Erik Bergström, Founder & CEO at Grand Frank, stressed the importance of listening to the customer and working with content. He instructed merchants and retailers to always ask themselves, "Who do we do it for, where do we do it, and why do we do it?" He also spoke about the personal importance of v-commerce, a means by which Grand Frank is able to offer quality at a much lower cost when compared to traditional fashion manufacturers.
Hannah Bennett, Ecommerce Project Manager at Paul Smith, held a interview-based presentation with Paul Smith staff members, and explored Paul Smith's Magento 2 plans along with their email marketing strategy involving active sales. Paul Smith has experienced huge success with their socks subscription, where customers can enjoy a new pair of Paul Smith's socks delivered to their door once a month. An interesting aspect about this brand is their dedication to making every physical store unique, thereby ensuring every customer's experience with Paul Smith is special.
The presentations ended with a retailer panel Q&A, after which the crowd moved outside for networking and refreshments in the form of a taco truck (sign us up for more of that!).
We were pleased to partake in an event that provided attendees with the necessary tools to hunt down their own personal "unicorn customers" in the wild world of eCommerce. Stay tuned with more similar events in the near future from Vaimo, Magento, dotmailer and Nosto. Don't hesitate to contact us if you want to find out more about how Vaimo and our partners like Nosto and dotmailer can help you capture and keep that unicorn customer!