Well, that's a wrap, folks—IRCE 2018 is officially in the books! Members of Vaimo were at the conference to get the low-down on all the latest developments and discoveries in the world of retail. With over 10,000 attendees and featuring 200 expert speakers and 600 of the biggest commerce vendors, IRCE 2018 was quite simply THE place to be for all eCommerce enthusiasts and professionals.
And as always, the event attracted a stellar line-up of keynote speakers who delighted and dazzled the morning audiences with their expertise and hands-on business experience. IRCE 2018 featured Dave Gilboa (Co-CEO of Warby Parker), Seth Godin (author of numerous bestsellers including 'All Marketers are Liars'), Mariah Chase (CEO of Eloquii) and Alon Cohen (President and Co-Founder of Houzz).
This year, sessions spanned a raft of retail and eCommerce topics, which provided inspiration and food for thought at every turn. In this article, we'll dive headfirst into our key takeaways and themes from this year's event. And for those that weren't able to get to IRCE 2018 this year, then fret not! Here's a recap of what you missed:
1. Customer experience is the only experience that counts
Your customers don't necessarily care about the number of channels your business is operating in or the latest applications you might have added to your eCommerce site. Plain and simple, customers have one concern in today's market—and that is their relationship with your brand across certain touch points. This was the stance put forward by Dave Gilboa of Warby Parker when detailing the brand's journey from an apartment living room to what it is today—a multi-billion dollar global entity. After all, this is a company that has seamlessly blended on and offline channels to reach a net promoter score of 86—far outweighing their competitors and even surpassing the biggest names in retail (Amazon, Apple, Netflix and Costco). And the reason they were able to achieve such results? Simply by putting the needs of their customers at the forefront of their decision-making.
This was a theme echoed across many other sessions at IRCE. Alon Cohen of Houzz pointed to a number of examples of where customer suggestions were acted upon to better the overall experience. This included expanding into the Scandinavian market and developing new technologies so that customers could find matching items of furniture through the Houzz app. And elsewhere, David Bakey of Harry's showed how the company has adopted user-testing to sharpen and fine-tune the purchasing journey on their site.
The message from these highly successful brands was clear—customers can no longer just be treated as an afterthought. They need to be at the epicentre of your strategy and their views must inform and shape how you develop your brand and user-journey!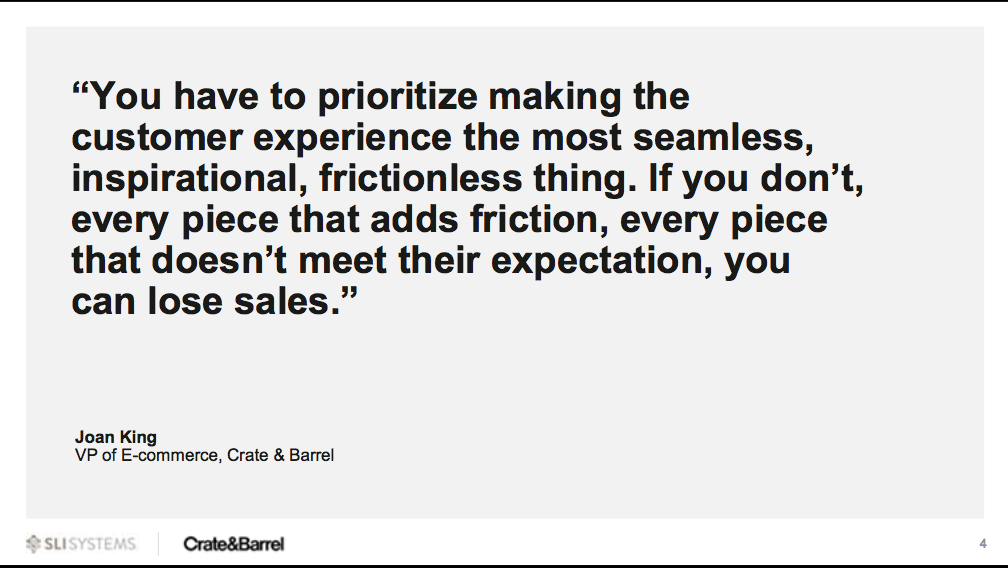 2. Content, content, content
If you didn't know already, then you do now—the power of content, notably user-generated content (UGC) is unquestionable. Compared to your company's own product descriptions or editorial content, UGC touches on the hardwired psychological phenomenon of social proof and is thus a more trustworthy source of information for your customers. As was noted in the talk by Jenson USA, 65% of shoppers believe that UGC is more interesting than content created by the brand and 53% perceive UGC as either extremely or very influential in their decision-making.
And as if that wasn't enough, UGC is effectively a free source of publicity and content for your brand. By allowing your customers to craft content around your brand, and then showcase it—you're able to build a story and a community around the products and services you offer. This kind of marketing is invaluable.
Chris Davis of Loot Crate explained how they have integrated UGC into their brand's overall meaning to drive authenticity and growth. Through the sharing of fan videos, incentivised photo contests and various other social competitions, Loot Crate has managed to establish a community of loyal and passionate fans (over 2.5 million on Facebook)—the sort of brand advocates every business yearns for.
Whether it's adding customer pictures to your product description pages, sharing an unboxing of one of your products or simply reposting the opinions of your customers, the message at IRCE was clear—homegrown content is the best promoter you can get and is integral to building a community of fans. So start using it now.
Image source: Yotpo
Learn how Vaimo worked with our partner, Yotpo, to increase Helly Hansen's traffic and sales with UGC.
3. Let's get personal
If you were to revisit the IRCE18 hashtag on Twitter for this year's event, there's a high chance that 'personalisation' would be a trending term. But there's good reason it's such a hot topic in retail and commerce today.
As was seen earlier, customer experience is everything. In today's market, customers are expecting (read: demanding) smoother, quicker, easier and more pleasurable purchasing journeys. All of which, personalisation has the power to make possible. By creating relevant and individualised interactions, personalisation has the means to greatly improve the experience of a customer.
And the potential for personalisation is huge. As was reported by the research firm, Gartner, at IRCE:

But whilst the benefits of personalisation are undeniable, businesses must not just launch into a personalisation initiative without preparation as it may do more harm than good. Drawing on their own experiences, Sue Beckett of Lovesac highlighted the need to get your data house in order first and to build a single source of truth for your entire business before doing anything else. And Heather Gassman (Crate & Barrel) advised that businesses cannot just start a programme of personalisation, leave it running in the background and expect it to work from the off. Rather, it needs constant testing, monitoring and fine-tuning to ensure that you're making the most of its functionality.
4. Build your tribe
In his keynote, Seth Godin really did set the tone for a theme which was to recur across many other IRCE talks.
In assessing what led to businesses succeeding in today's noise-filled, digital world, Godin said:
"If you're making something for everyone, then it's going to be average because everyone will need to like it."
And that:
"Mass is not your friend and average is your enemy."
In moving away from appealing to the mass market, Godin saw more value in establishing what he termed 'tribes'. It is these smaller subsets of consumers that businesses can build more meaningful and deeper relationships with. Godin argued that businesses are better off establishing these smaller threads of interest and then amplifying them to the greatest extent possible.
A number of brands at IRCE reiterated the value of building a cohesive and loyal tribe of fans and brand advocates. Jana Francis (Steals.com) advised that using such an approach to develop deeper customer relationships had ultimately led to her brand's success. Through personally writing to customers, to hand delivering products and from running customer meet-up events to regular live streaming sessions, Steals.com truly embody the 'tribe' principle and have seen success as a result.
5. The Amazon Effect
Amazonification is real, and it's not going away. In 2017, Amazon accounted for nearly 44% of all online retail sales. And it doesn't look like this trend is losing pace anytime soon.
For vendors new on the scene, the presence of Amazon can appear somewhat daunting. Indeed, this is a brand that can undercut almost anyone on price and that has set the bar in terms of customer service and delivery times.
It's crucial, therefore, that merchants look to differentiate themselves in terms of what they offer and focus on the relationships they hold with their customers.
Throughout IRCE 2018, a great deal of attention was placed on how to stand out and succeed on Amazon's Marketplace. Here are some key points that came up:
The majority of Amazon sales are coming from mobile devices. So you must ensure that both images and copy are both fully optimised for mobile. Test, test and test again!
SEO and keywords matter in driving organic traffic, so pay particular attention to these. It might just be the thing that gets you one step closer to the top of the search results.
Use all available resources in Seller Central to stand out and differentiate your brand
Sign-up to Amazon Brand Registry—this gives you extra opportunities to differentiate your brand using rich media formats with product descriptions
Use Amazon storefront to introduce shoppers to your brand and provide customised content to potential customers
Consider paid traffic options to get your products in front of the people you want to target!
To learn more about Vaimo and how we drive digital commerce success for our B2B and B2C clients around the world, get in touch with our expert team today—we'll be pleased to hear about your company's digital aspirations and will find a solution tailored to your needs!
Cover Image: IRCE