The second day began explosively as expected, as the Wynn Hotel's colossal conference room filled up fast with over 2,500 eager attendees. World explorer, entrepreneur, and co-founder of liveouthere.com, Jamie Clarke, returned this year to host the keynote. Jamie, like last year, brought exuberance and panache to the early morning opening session, and infused attendees with energy. Jamie spoke about the struggles and anxieties of running a business, and compared the experience to an expedition he went on in Alaska that featured whiteout conditions.
"Doing the hard thing comes with a great deal of stress. Doing the hard thing comes with a great deal of resistance. If you don't feel that, you are probably not pushing the envelope."
"Build your community, and your network. Knowledge is power, and sharing knowledge is the most powerful force on earth."
Magento Commerce CEO Mark Lavelle took the stage next and looked back over Magento's commerce launches over the last year. According to Mark, Enterprise Cloud Edition is the fastest growing product, and he praised solution and technology partners for rocking it. Mark acknowledged that change is difficult for developers, but celebrated the fact that the Magento community has embraced and adopted new functionality and technology.
Mark spoke briefly about what is currently shaping digital innovation, and that customers want perfect information, engagement, and instant delivery. According to Mark, there are four basic things that Magento clients should do to drive success in their digital business:
Be bold with your brand, be different
Embrace digital first
Build flexibility into business
Innovate through human ingenuity
Next up was Andrea Ward, CMO of Magento Commerce, introduced a video about Canon Australia's journey with Magento, and welcomed Senior Manager of Digital Commerce at Canon Australia, Aman Bhalla on stage. Aman said that Canon began their journey by asking the question – why would consumers want to buy directly from you? Aman reasoned that the more value you add to the customer journey, and the simpler you make it, the more likely it is that customers will be loyal to your brand and will want to return to your online shop. Aman stated that success is measured by sales growth and customer engagement. Canon Australia is currently working on the B2B side of their web shop.
The next customer success story on video was an exciting one for our team to watch; our client, Helly Hansen, a global sports and work textile and gear brand, shared their ground-breaking digital story. The video features Chris Hammond, Global Digital Director at Helly Hansen, and our CCO and Co-Founder, PJ Utsi, discussing the many firsts that made this eCommerce solution one of the largest and most complex projects that Vaimo has carried out; it's the first large solution on Magento 2, the first solution on Enterprise Cloud Edition, and it utilises MCOM. The solution features 18000 products, 19 markets, 50 countries, 6 languages and over 50 stores on Magento 2. Keep an eye out to watch the full video either in our blog or social media channels in the coming days!
Next, Juan Benitez, General Manager at Braintree, talked innovation, and used an example of a project Braintree carried out that combined Uber services with Facebook messenger. Juan stressed the importance of listening to your customers instead of telling them things.
To end the morning session, Stella & Dot CEO and Founder, Jessica Herrin, spoke about what it's like to have the mindset of an entrepreneur and and how to cultivate that mindset. According to Jessica, it's about being positive and seeing opportunities instead of obstacles, and also about productivity, or getting it done. The encouraging presenter urged budding entrepreneurs in the audience to never be too tired to try, and to never expect a road without obstacles ahead.
Then it was time for the day's sessions…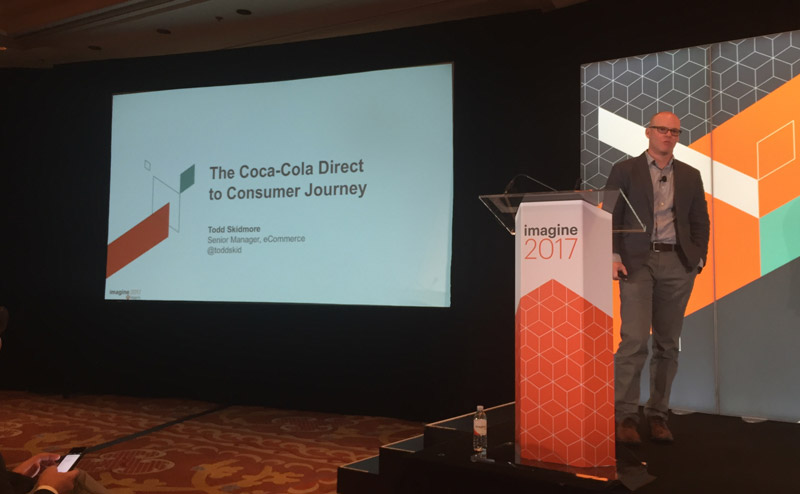 The Coca Cola Direct to Consumer Journey with Todd Skidmore, Sr. Manager, eCommerce, The Coca-Cola Company
Todd talked about Coca Cola's journey with its "Share A Coke" campaign, a venture into a very personal relationship with their customers. The campaign allows customers to order coke bottles with the name or message of their choice, which satisfies the consumer's desire to connect with the brand. The campaign required sophisticated order management and fulfillment, along with continuous innovation, such as logos on bottles. Todd emphasized that brands thrive when they allow customers to connect with your brand on a personal level via digital channels.
Todd's points of success are:
Choosing a great platform and a great partner agency are paramount
Become experts in your field and direct marketers
Direct access to consumers
eCommerce is a commitment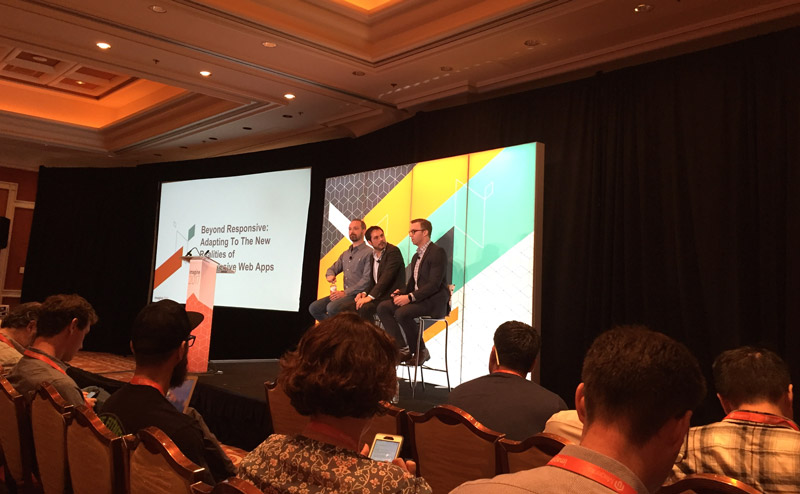 Beyond Responsive: Adapting to the New Realities of Progressive Web Apps with Adam Brown, Executive Creative Director, Gorilla Group, and Peter McLachlan, CPO & Co-Founder, Mobify
This interesting session began by conveying that while mobile is your busiest storefront, it's not the one that converts well at the moment; but for leaders, mobile revenue will surpass desktop revenue during the 2017 holiday season. Progressive web apps are user experiences that have the reach of the web and are:
Reliable (load instantly and never show the dinosaur that signals uncertain network conditions)
Fast (respond quickly to user interactions)
Engaging (feels like a natural app)
Mobile-first
If customers get a bad experience on mobile, they will not go and buy on desktop; they will leave altogether. Note that when you enhance your mobile experience, you will experience incremental revenue gains, but remember: mobile isn't a channel, it's way of life.
When it comes to web apps must-haves:
Must support the mobile user's context
Must use mobile-first design metaphors and react instantly
Must retain everything that's great about the web
The presenters urged merchants to consider the home screen icon, full screen view, and offline mode to further create an app-like feel.
Shinola Detroit: Building a Modern Mobile Customer Experience with Tristan Hall, Technical Architect and Ryan Shaltry, Senior Technical Architect from Shinola Detroit
Shinola Detroit is a watch company and factory that aims to bring back American manufacturing in Detroit, Michigan, through high-quality, handcrafted watches and other products. Mobile became a priority for the brand as the company progressed on its digital journey, and enhancing Shinola's digital presence involved a balancing act between eCommerce and storytelling. The project's requirements included:
A completely new, mobile-first UX
Maintaining existing functionality
Creating a gender-specific catalog hierarchy
The preservation of SEO
A soft launch
The technical architects stressed that adopting a mobile-first mindset is sometimes a bigger hurdle than expected, and that its best to prioritize your efforts based on your sales funnel. The guys encouraged listeners to utilize user interaction feedback and to always consider SEO.
Making B2B eCommerce Work for You with Andy Hoar, VP, Principal Analyst, Forrester
Andy spoke about Dri-Eaz, a B2B 60-70M company outside of Washington, and about how their ecosystem has grown over the last few years. Andy shared that B2B buyers today want a similar online experience to Amazon, but sellers are not ready, which is a shame, as B2B has no ceiling for online growth, when compared to B2C. Amazon is currently the top products search engine in the world; 82% B2B buyers have used Amazon to make a purchase for work.
By going digital, merchants can lower their cost to serve and obtain higher incremental revenue, as people spend more time online than offline, and also higher customer satisfaction. As a merchant, when you approach digital transformation, anticipate what your customers want and your growth objectives.
Strategize about how you will achieve your business goals, and consider what and how you will utilise technology to your advantage. As a B2B merchant, you need to deliver market-leading personalisation capabilities, along with leveraging a proven and powerful platform.
Growing and Automating 50% of Revenue With Email with Ben Staveley, VP of Operations, dotmailer
Ben shared that the customer journey is not a straight line; customers can enter and exit at any point in the journey. Ben offered tips on email marketing:
Always send a welcome email to introduce yourself to the client and to get to know the client
Only the 5th to 6th email should be offer-focused
Abandonment emails
Post-purchase emails, for example, ask about the shopping experience
Product replenishment
Customer retention program: send a reminder to the client that they need to continue using the products
Recommendations and Up-sell programs
Lost customer programs
Data-driven programs
Personalisation is very important; send one-on-one emails rather than email blasts
Global eCommerce Challenge in Big Enterprises with Bruno Alfaro, eCommerce Project Manager, Mars Inc., Mathieu Delpuech, Global eCommerce Program Manager, Mars Inc., Eugen Gitin, Head of Magento Delivery, CGI digital commerce, and Mike Oliver Schuller, Director Consulting Services, CGI digital commerce
The presenters from Mars Inc. talked about how they developed a global program for the whole organisation, with 6 different business sections. Their challenge was to provide the best in class direct eCommerce capabilities. The question 3 years ago was whether to create one shop per brand/country or one platform to cover everything; Mars Inc. chose the latter. With the platform approach and the global project implementation, the panelists advised:
Don't push the brands (business units) to join the central platform; convince them about the benefits One platform does not fit all
One single platform does not mean lack of agility nor flexibility
Technology is not all; governance and market engagement are key for success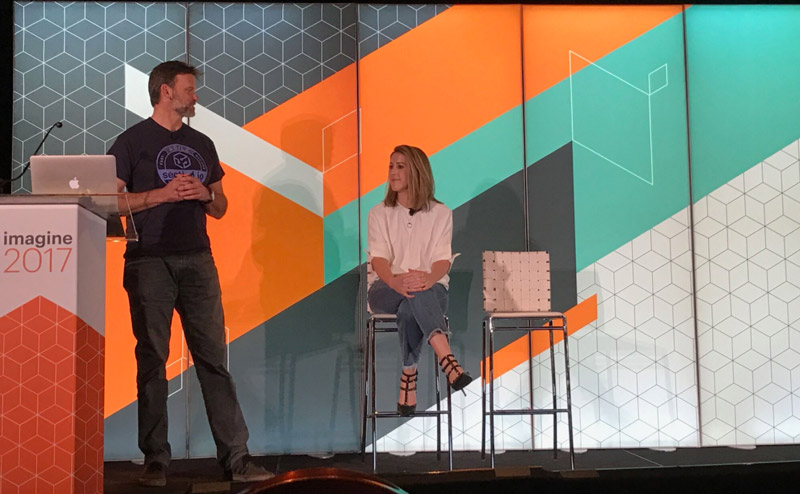 Ongoing Adventures in Conversion Optimization with Stewart McGrath, CEO & Founder, section.io and Kate Morris, CEO & Founder, Adore Beauty
Adore Beauty went online 17 years ago with 15,000 products and 70 different brands, and have re-platformed 3 times. Kate emphasized a strong focus on user experience, and encouraged listeners to test every aspect of the website and to evaluate your value proposition (how you communicate with your customers, shipping, personalisation). She also highlighted the value of testing to understand how customers approach the sites, via data collection, GA surveys, and heat maps. Kate also advised to identify the biggest pain points and to think of how to maximise your audience.
Stewart from Section worked with Adore Beauty to improve the performance of their site. Stewart shared a few nuggets of knowledge from the performance improvement journey with the audience:
Image optimization
Manage 3rd party JavaScript (Optimizely, Google Tag Manager)
Remove unnecessary CSS code
Jamie opened the evening's event, and Andrea soon joined him on stage to present the Excellence Awards which celebrate merchants with achievements in certain fields and the Trailblazer Awards, which showcase exceptional digital leaders. We accepted the Trailblazer Award on behalf of Helly Hansen's CMO, Erik Burbank.
Magento Evangelist Ben Marks and Magento Community Manager Sherrie Rohde presented the Magento Masters Awards, which highlight key influential individuals in the Magento community that are creating an impact.
Andrea interviewed the evening's keynote speaker, international tennis star Serena Williams, about the story behind her success. The night closed with a huge bash at the Encore Beach Club, featuring live music and a huge area surrounding pools for attendees to eat, drink, dance, and mingle.
Interested in learning more about Vaimo? Get in touch with us!