In 2017, Vaimo started delivering omni-channel solutions to merchants and brands in all three BeNeLux countries. Today, we're thrilled to announce that Vaimo BeNeLux has outgrown its previous office and has relocated to a brand new office in Genk!
Vaimo Benelux is growing fast
In 2017 Breght Evens, Country Manager of Vaimo Benelux, took the challenge to start the business for Vaimo in BeNeLux.
"We had the opportunity to work for great clients and managed to exceed the ambitious target set at the beginning. Together with our current 50 committed BeNeLux unit colleagues, we're striving every day to drive success in digital commerce for our clients." 
Vaimo strategically chose to settle in Genk, as this is the heart of Belgium, Netherlands and Luxembourg. That way, we can serve our clients both locally and personally.
How it all started
Vaimo was founded in 2008 in Sweden and has organically grown from a 3 person start-up to a global full-service commerce solutions provider with over 450 employees in 21 offices across 15 countries. From day one, we've been 100% focused on eCommerce and have become one of the most trusted commerce experts and long-term strategic partners for B2B and B2C businesses. Our one and only purpose on a day to day basis is to drive success in digital commerce. It's what excites us and gets Vaimoers up each and every morning. We strive to find new and better ways to help our clients excel in commerce, transform their businesses and reach their full potential.
Our values: fun, open, teamwork and excellence
Vaimo is all about openness, honesty and transparency. We connect people through communication, socialising, sharing and collaborating. During the week, you can find us doing different activities, from sharing breakfast together to playing Playstation over lunch! We enjoy each other's company and everyone contributes to making our office a second home, a place where we love working and sharing our successes.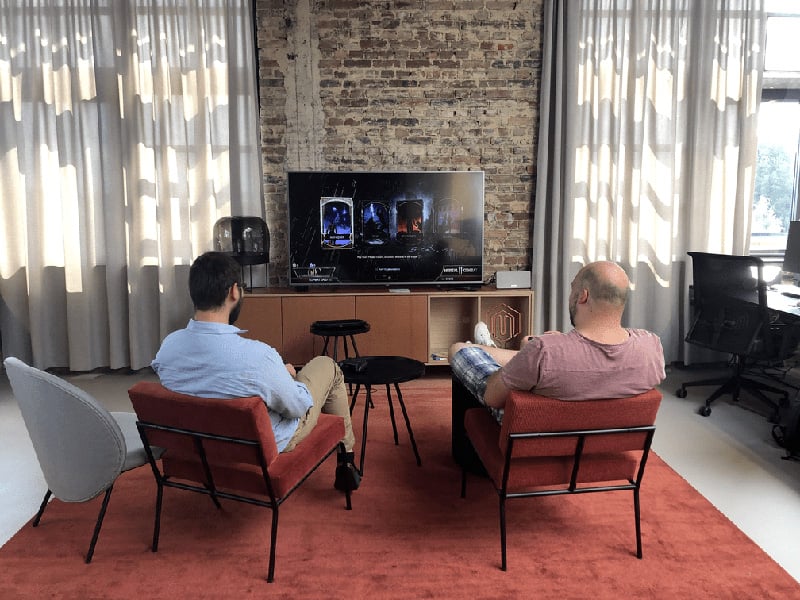 Join us! 
As we are growing, we are still in the look for motivated, enthusiastic people to join us! Ready to work with world-famous brands across sectors and international markets, cementing their paths to success along with yours? Check out our latest vacancies in Genk:
…or simply submit your CV and our team will get in touch with you when a position you desire becomes available.
articles in the local press about our new office: