Our clients have brought home the gold this Black Friday, with results that are truly astounding compared to last year.
Our data is based on 24 clients selected by our various Vaimo country-based teams, and the data being compared is Friday, November 24th, 2017 with Friday, November 25th, 2016. While many of our clients started their Black Friday sales on Thursday or even at the beginning of the week, we compared only one day for a fair reading. Across our top 24 client,s in terms of online revenue and online visitors, we maintained a 99.99 % uptime during Black Friday.
Please note that we cannot name any of these clients for privacy reasons.
REVENUE UP 72%
Our top 24 clients together transacted over 59,000 orders on Black Friday this year; considering the days before and after Black Friday, we're positive the fulfillment for many of our clients has been in overdrive. In general, our clients across the board have increased KPI's in areas such as traffic, revenue, conversion rate, and average order value.

REVENUE TOP 10
Our top client in terms of revenue this year doubled their 2016 revenue amount with over 2 million euros in transactions!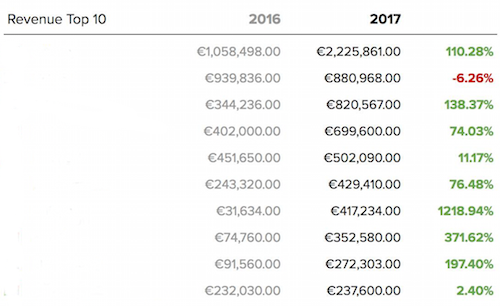 ORDERS TOP 5
Our top performer in this category managed to drive over 10,000 transactions on Black Friday alone. If we include Thursday into this equation, this retailer exceeded 16,000 orders in just two days!
One of our clients from this category went live on Magento 2 just 2 weeks prior to Black Friday. This retailer managed to power through the sales bonanza with an increase in their revenue conversion rate and average order value!

BEST GROWTH TOP 5
Our top retailer in this category generated 1,798 orders with a high revenue growth. Another client snagged the highest conversion rate of 9.9% (up from 3.35% when compared to 2016).

INSIGHTS
On Black Friday, customers tended to checkout on desktop more than usual. Mobile was still a significant traffic driver, but both tablet and mobile conversion rate and revenue percentages were down.
Do Black Friday sales leave the rest of November slow in terms of sales? Not so, according to our statistics. About 3-4 days before Black Friday, we did find a general decrease of sales of about 20-30% (within the group of 24 clients) for the week leading up to Black Friday. However, sales returned to normal the week after.
We also discovered that email marketing was an essential driver for traffic and revenue, with social traffic on an upward trend.
Is Black Friday profitable? To do the math, you need to know the Customer Lifetime Value, so you can match the potential investment on Black Friday with the possible long term gain. That's why we're encouraging our clients to implement Magento Business Intelligence, so we can provide a more in-depth insight and understanding to drive data maturity.
WHAT TO EXPECT IN 2018?
Black Friday will certainly remain a staple with consumers, who enjoy "flash sales." We will definitely see new tactics and trends emerge ahead of Black Friday 2018, which is why we plan to be on our toes and prepare ourselves and our clients for these massive campaigns.
Congratulations to all our clients for another successful Black Friday!
Want to work with us? Contact us today! Book a demo to start seeing growth on your sales too: