What a journey it's been so far, helping our clients to transform their online presence and drive eCommerce success with Magento and Adobe.
It all started when Vaimo was established in 2008. Thanks to our teams and tech partners, we're continuing to leverage the power of the Magento and Adobe Commerce platform to help our clients increase online sales, grow brand loyalty and transform their digital experiences.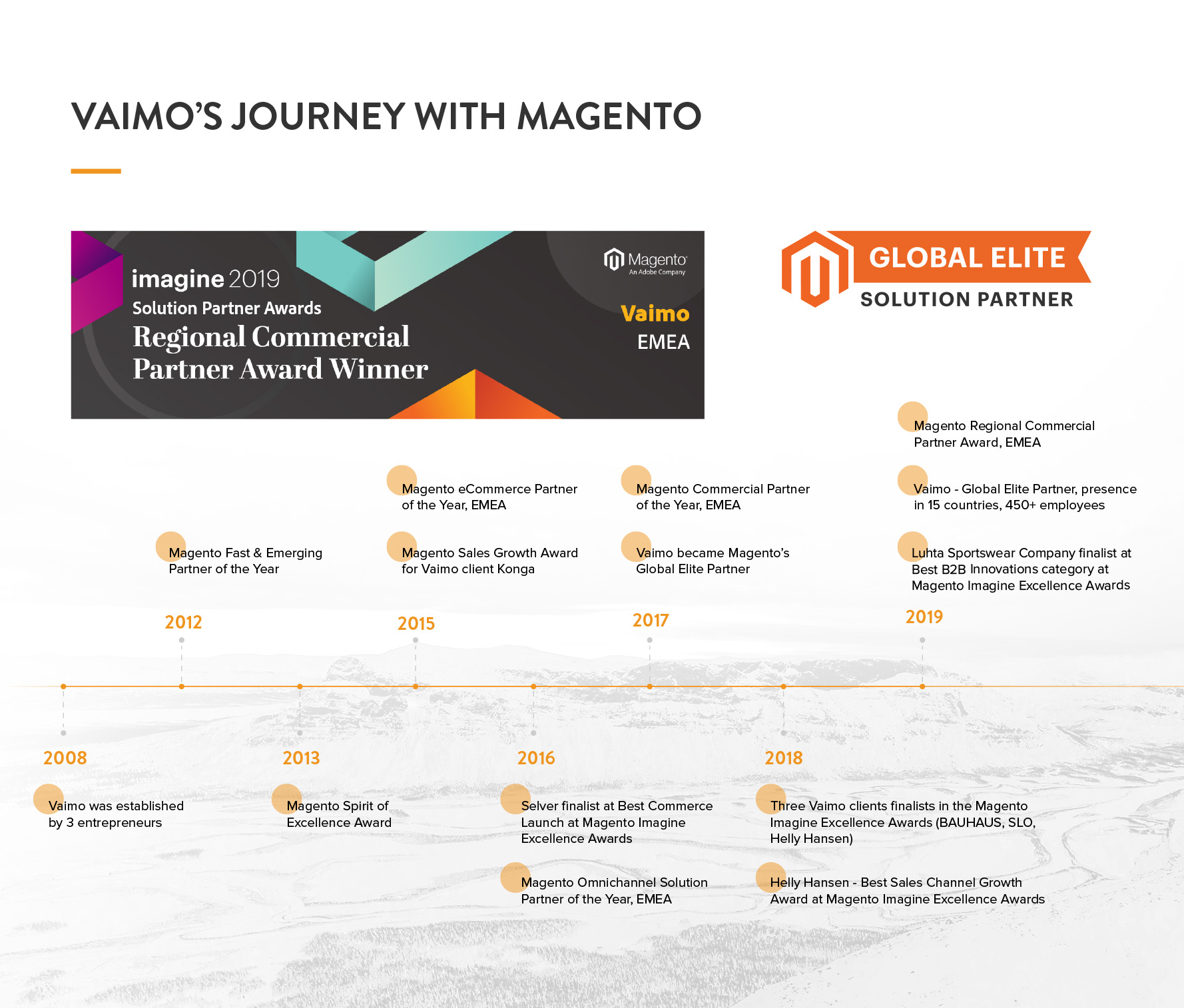 Magento and Adobe
In 2018 when Adobe acquired Magento, we added Adobe Experience Manager products to our portfolio to equip our clients with more tools to deliver engaging digital experiences. Then in 2019, we were happy to see our client Helly Hansen receive an Adobe Experience Maker Award for 'Best Commerce Experience.'
This was followed up in 2020 with an award for Adobe Digital Experience Solution Partner of the Year. The Adobe Digital Experience Solution Partner of the Year Awards are given to partners who demonstrate an outstanding contribution to customers' successful digital transformations.
We've come so far already, but together we can go even further, helping more clients to reach success on the Magento, Adobe Commerce Cloud, and Adobe Experience Cloud.
Since Magento launched Magento 2 in August 2015, we have delivered more than 140 Magento 2 projects globally to B2C and B2B brands, retailers and manufacturers. We also hold the highest Magento 2 developer certification level in the world.
We look forward to continuing our strong partnership with Magento and Adobe and are excited to see what we can achieve together! Most recently, we announced our Quick Launch Accelerator to help businesses launch a new site in just 6 weeks using leading tools and best practices—all on the Magento eCommerce platform.
Our Accelerator program takes a building block approach so that you can launch quickly, expand and then scale. Supercharge your business growth today with our new Quick Launch Accelerator.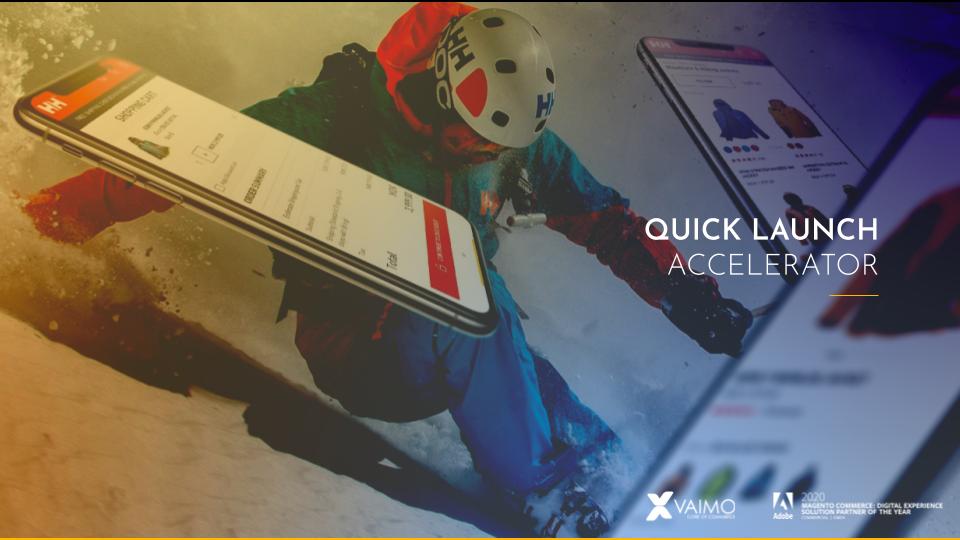 About Magento
---
2007 – First Magento beta version was launched, developed by Varien
2008 – Magento Community Edition released
2009 – Magento Enterprise launched
2010 – eBay acquired Magento
2015 – Magento 2.0 released and Permira took ownership of Magento Commerce
2016 – Magento Commerce Cloud and Magento Order Management launch
2017 – Magento launched advanced B2B features on Magento 2.2 plus Magento BI and Magento Shipping
2018 – Adobe acquired Magento
2019 – Magento 2.3 launch
---

About Vaimo
Vaimo is one of the world's most respected experts in digital commerce on the Magento and Adobe Commerce Cloud platform. As a full-service omnichannel agency, we deliver strategy, design, development and managed services to brands, retailers and manufacturers all over the world.
Our sharp focus, broad experience and deep expertise within B2B, B2C, PIM, Order Management and ERP integrations makes us a key partner for driving success in digital commerce. Our 10+ year track record of technical excellence coupled with our proven results in helping our clients succeed with business development, digital strategy and customer experience design is proudly manifested in our status as a Magento Global Elite Partner and Adobe Platinum Partner.
With local offices in 15+ markets across the US, EMEA, and APAC and over 450 employees, we provide an international presence that allows us to cultivate close, long-term relationships with our clients.