Magento released a new edition of Magento Commerce and Magento Open Source 2.4 on July 28th. The update includes features for B2B sellers, a new media gallery, more customer payment and pickup options, as well as performance and security updates.
For B2B Sellers
Spending Control
Magento modified their approval workflows to help merchants follow their clients' purchasing policies. A typical challenge for your client are the rules for purchasing policies outside of their control. For example, a manager might have distinct spending limits, requiring approval to bypass them. With approval workflows, the gatekeepers receive emails immediately when the manager needs their approval. If the manager has specific rules, they can add them to the workflow to streamline orders and get all the necessary information sent to the right people.  As a result, B2B buyers now have a more straightforward pre-purchase approval workflow and a process that adheres to spending controls while ordering online.
Sales and Customer Service
You can now maintain customer satisfaction with the seller-assisted shopping update. B2B sellers can access the buyer experience and help customers through the purchasing process. For example, you can log in for the client and solve specific issues. If necessary, you can even place their order and provide a closer customer experience.
Performance and Efficiency
With Magento, speed is always a priority. Below are a few updates that impact performance and efficiency for you and your customers:
50% faster repeat purchases on large orders, and the quick order add-to-cart functionality is 30% faster.
11% quicker process for adding configurable products to the cart.
Optimised Redis, a caching method that increases both backend and frontend speed, to provide further scalability and ability to serve a large volume of site visitors without decreased performance.
Improvements helped pages load 43% faster in high-traffic periods.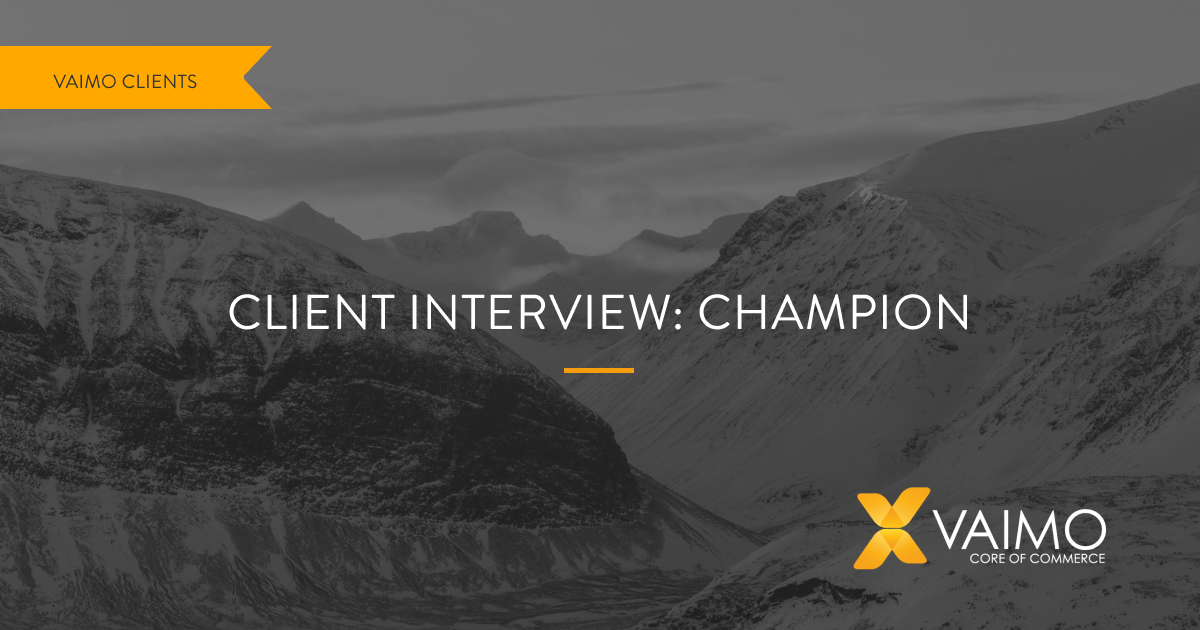 How can you adjust in today's eCommerce climate? Champion's 100-year-old brand stepped into the future with their recent launch. Read more here.
A New Media Gallery
You can access the new media gallery through Admin navigation, and your team can easily search through the gallery using ACL (Access Control List). Of course, when using a gallery, you are flicking through images, sometimes by the hundreds, looking for a specific one. Luckily, Magento released a new 10x faster search functionality. Users can now filter images by name or other details like where and how often the images are used. Lastly, Adobe updated the ability to license, search and preview images from Adobe Stock.
In-store Pickup and New Customer Payment Options
Magento added in-store pickup also called BOPIS fulfilment. In the administrative settings, you can set the locations and hours for pickup. Other new updates include choosing a pick-up location during checkout and, subsequently, sending customers an email notification.
The Braintree Vendor Bundled Extension (VBE) now works with Magento to give your costumers more payment options. The advent of wearables and mobile technology allows people to use a diverse range of payment methods. For this reason, Magento added Braintree VBE with Google Pay, Venmo, Apple Pay, among others. VBE provides frequent Braintree updates for various parts of the payment system and long-term compliance with PCI/PSD2.
More Support for PWA
As Vaimo CEO, David Holender, noted in January 2020, progessive web apps (PWAs) are taking over:
"With native apps, you have to go through the process of searching for an app, downloading it and setting it up—all before you can really start using it. With PWA, a customer just clicks one link and, hey presto, it's ready to use."
Making PWA development faster, Magento added new functions with PWA 7.0.0. Now, you can use the new Venia landing page created with Page Builder to form new content types along with a better workflow for cart and checkout.
Magento also created a new framework to customise and extend the PWA capabilities in PWA Studio.
Updates for Security and Compliance
Magento made 30+ improvements and fixes and updated components like MySQL, MariaDB, and the Laminas Project to ensure security across the platform. Besides general fixes, Magento made two-factor authentication (2FA) a default setting on Magento Admin. 2FA boosts your security when entering Magento Admin UI through protection against skimming attacks. You can choose from various authenticators to use 2FA and further strengthen your security.
Magento improved platform quality in the 2.4 update. The Composer Update Plugin now automates a few more steps and performs site updates faster. Magento further expanded use of GraphQL API, an alternative web API. Also, to guarantee compliance and better performance, Magento is offering support for the tech stack components: ElasticSearch 7 and PHP .74.
If you'd like to learn more about the recent update. Find more information here to learn about the new Magento 2.4 release.
At Vaimo we have over 10 years' integration experience, connecting Magento to industry-leading platforms to benefit our B2B and B2C clients. Contact us today if you'd like to learn how we can accelerate your online sales!