In today's fast-paced digital landscape, businesses must constantly strive for efficiency and optimization to remain competitive. This is especially true in the world of ecommerce, where even minor improvements can have a significant impact on overall revenue. In this pursuit of efficiency, companies must consider all systems and processes, not just the ecommerce platform itself.
One key solution to this challenge is implementing a Product Information Management (PIM) system. A PIM system can significantly boost key performance indicators (KPIs) by streamlining and automating product information processes. In this article, we'll explore the main KPI boosters that a PIM implementation should aim to improve.
TABLE OF CONTENTS
Faster time to market
Getting products to the market faster means more selling days over a product life cycle. More selling days means more revenue. And for reselling companies, being early on the market may not only drive sales on the new product but may also be a great traffic driver for the rest of the assortment.
But…
At the same time, end customers demand more information than ever regarding the products to hit the buy button. Naturally, this challenges the ecommerce teams to keep up with the ever-increasing information demand needed to keep online sales and conversion targets. Publishing incomplete or even less information than competitors may cause the conversion rate to drop.
If the only system support is spreadsheets, there is an obvious risk of overload and potential errors, causing conversion rates to drop to a point where it is more costly to enrich the products than the sales value.
The PIM system enables your marketing team to set up a standardized cross-channel/cross-market enrichment process. This process can be measured and thereby improved over time. The PIM gives system support for cross-user role collaboration. The level of completeness for all products will be visually accessible for all contributors or by query. For example, "Show me all products where the hero image is missing." This enables marketing teams to dramatically increase efficiency by always knowing what gaps must be filled.
This KPI can be broken down per supplier to indicate what suppliers need to provide better product data quality so the marketing team can get the products out on target time.
Increased automation
Increasing automation aims to automate manual tasks. Modern PIM systems have logical rules engines and can be configured to execute rule-based operations to free up marketeers' time. For example, automated image scaling per channel creates consistent product names out of attributes or categorizes products based on rules.
The most significant impact of automation is building connectors to supply systems such as ERP, PLM, DAM, and all downstream consuming channels, E-com, Print, POS, and Marketplaces. In addition, the PIM system can be set up to automate both inbound and outbound file streams fully. Enterprise PIM systems also can standardize the inbound data towards one unified data model using rules and logic.
No one should have to upload and standardize data anymore manually. This is way too much work and will impact any attempt to scale the business; data must be able to flow from suppliers, go through the internal enrichment process, and be published with as little manual effort as possible. This makes it easy to scale the business without increasing the marketing team.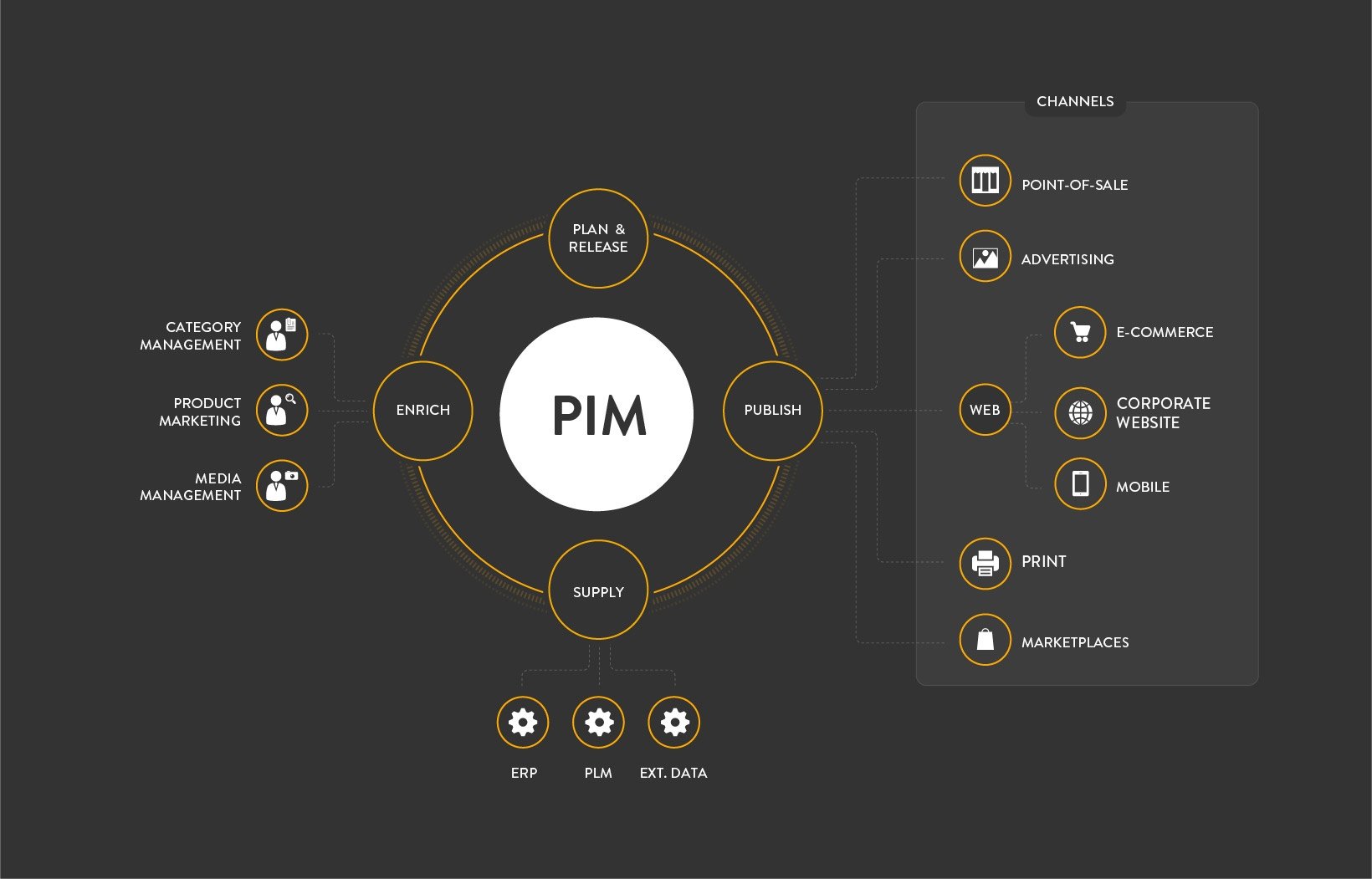 Increased conversion
Technically, increased conversion is about turning visitors into buyers. This KPI should be closely monitored as it not only impacts the success of your online commerce but also adds value to all traffic-driving campaigns. Traffic is irrelevant if clients do not buy the products once they land in your store. This ties back to the enrichment process. You need to have all product information attributes in place to make sure that customers are able to:
Find
High-level information for customers to find the right product; this includes relevant search words, filters, and categorization to enable clients to easily navigate to find what they need
Understand
Long and short product descriptions, images, product stories for context, USPs, technical information, and descriptive videos on how to use the product
Trust
Customer reviews, videos, certificates, brand information, warranties, and return policies
A PIM system also enables marketing teams to modify the communication aspect of the KPI easily. For example, if conversion drops, it will be easy to change the communication around the product to ensure that it stays relevant. By making the edit in PIM, it will automatically update all downstream channels.
A PIM system also allows for different communication towards different target groups like age and gender, or A/B testing, and still keeps product information fully centralized.
Summary
The value of rich, accurate product information has never been higher. System support is needed to scale any online business to handle more product information on more channels and markets. Just imagine being able to create syndication to a new marketplace and a new audience in an afternoon. How would that affect your online sales performance? The time when all eggs are put on your ecommerce page is long gone. As long as you centralize the enrichment, you will enable your market team to be flexible and make sure that your products can be bought on different marketplaces going forward.
Do you know your PIM needs? Take the PIMometer quiz and find out!