For our launch story, we look at our recent delivery for Elon, the top Nordic retailer in home appliances with 400 stores across Sweden. Elon sought a solutions partner to take their company's rebranding to the digital sphere. With an omnichannel approach, Elon replicated the comfort of their in-person shopping experience in their eCommerce store.
Launching A site during COVID-19
As Elon unveiled its new brand and eCommerce site, COVID-19 began to radically transform consumer behaviour. Since physical locations saw a decrease in shoppers during the pandemic, the eCommerce experience became the front line for Elon's interaction with potential customers. Older customers increasingly have turned to Elon's online store for both research and purchases. Customers also use the eCommerce site for the click and collect which helps the physical stores receive more visitors. Luckily, Elon's new omnichannel approach didn't disappoint. Sales increased by 50% and June 2020 sales outperformed Black Friday targets all while customers shopped safely from home.
What the go-live achieved:
Overall sales grew 50% compared to 2019
June 2020 sales exceeded Black Friday sales
Ecommerce sales increased by 100% compared to 2019
Both conversions & online traffic have increased
Online traffic led to more in-store purchases 
What were Elon's challenges?
As part of their rebranding strategy, Elon needed a new eCommerce platform. Their channels required a new brand concept with a modern in-person and online user experience.
Elon also saw a declining conversion rate online and had to put more focus on converting the customers in its digital commerce channels.
What was The Solution?
For B2C clients, Elon's new omnichannel solutions drive high client engagement and complement their 400 Swedish stores with an intuitive shopping experience. When the customer shifts in between the in-person store and the eCommerce store, they receive the same high-quality experience that the Elon brand guarantees.
The eCommerce solution has a personal touch, extending the comfortable atmosphere available in all 400 physical stores into the digital space. As part of the in-store rebranding, the concept of dividing the stores into rooms has been implemented into the online store, helping the digital to reflect the in-person experience.
The Elon site welcomed countless visitors prior to the new site launch but struggled to convert them to customers. To handle the challenge of increasing conversions, Elon improved its on-site navigation and later saw a 100% increase in eCommerce sales.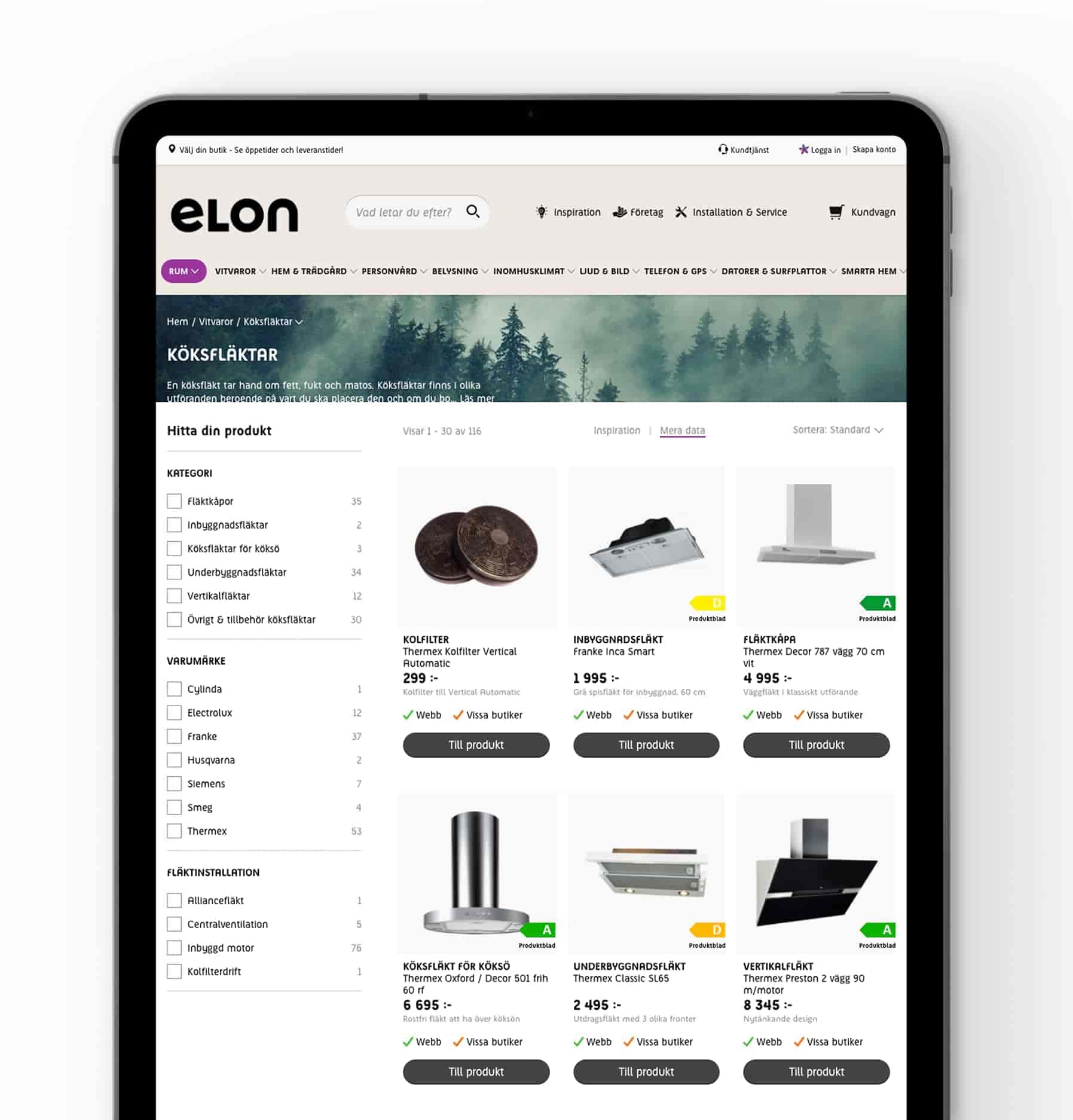 Why Magento?
Magento offered extensive opportunities for customisation and a robust foundation and formed the perfect eCommerce platform for Elon's digital enablement. Elon also has a focus in services, installation and aftermarket care. Magento helps Elon's focus by ensuring their customers can seek help regardless of time or place. But to ensure a successful rebrand, Elon also needed an expert solutions integration partner. To complete the task, they selected Vaimo.
Why Vaimo?
"We chose Vaimo for their long experience of eCommerce solutions and Magento, and we've had a fantastic collaboration with the team. What we have accomplished together, and the result after launch is something we are extremely proud of."
Jakob Dahlner, eCommerce Manager Elon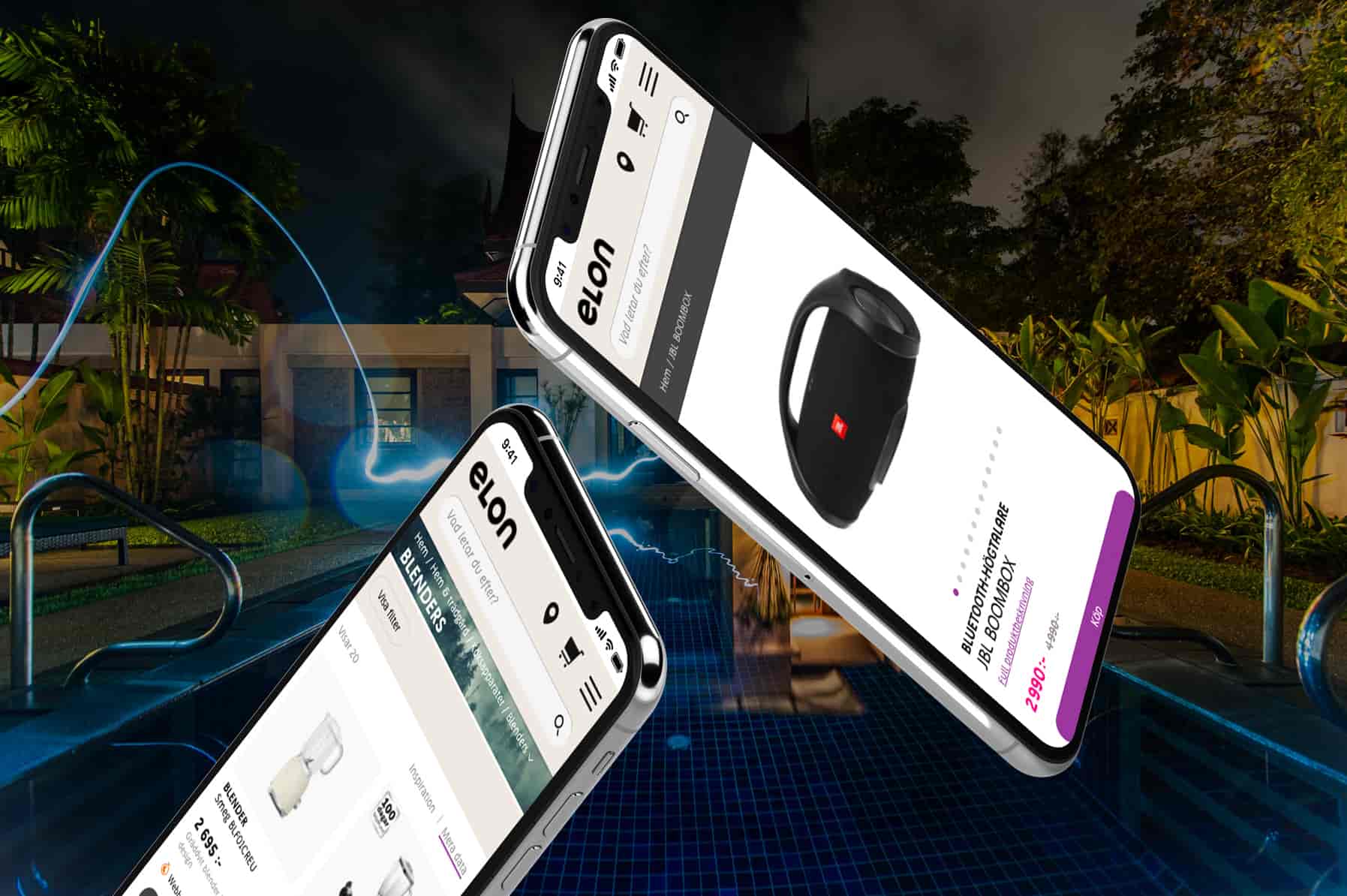 The Future
With their sales growing 50% and June 2020 sales beating Black Friday numbers, Elon has seen great success after launching their eCommerce store. In the long-term, Elon plans to continue increasing their eCommerce sales. One avenue they plan to develop is to expand its merchandise offer to include other home appliances such as audio and video devices. The newfound momentum of eCommerce has pushed Elon to consider new possibilities available with Vaimo and Magento.
 If you'd like to learn more about how we can take your digital commerce success to the next level then view our latest case studies and get in touch with us today!