Shoppable content is on the rise and should be part of every optimized ecommerce strategy. Shoppable content turns everyday digital experiences into shopping opportunities, allowing consumers to make purchases without leaving the platform they're currently using. It reduces friction in the buyer journey and increases the number of low-funnel touchpoints for digital brands and retailers.
Related reading: 5 Keys To Building An Exceptional Ecommerce Customer Experience
SHOPPABLE CONTENT EXPLAINED
Before we further look at what different brands are doing in the realm of shoppable content, let's define what it is. Shoppable content is basically any digital asset – such as social media posts, images, videos, or ads, that consumers can click directly at to make a purchase.
Sometimes the customer may have to complete their transaction and checkout process on the brand's own website. But, increasingly, shoppable content is enabling the whole transaction to happen in one place. Platforms like Facebook, Instagram, or TikTok are the pioneers of shoppable content and they form the backbone of social shopping.
THE BENEFITS OF SHOPPABLE CONTENT
The shift from physical to social and online shopping has been going on for many years. But the pandemic is estimated to have accelerated this development by around five years. And shoppable content is one of the newest and most promising additions to the social shopping toolbox.
Shoppable content allows brands to do all of the following things:
Build a social presence and brand personality
Offer inspirational and aspirational images and stories
Inspire consumers to make impulse purchases
Build and increase brand loyalty
Drive conversions and increase sales
Gather valuable consumer data
Brands have everything to gain from taking advantage of this trend, and turning their products into shoppable, social-friendly content. In the U.S. alone, the total volume of social sales is predicted to reach $100 million by 2023.
Related reading: Social Commerce In 2021 And Beyond
THE 5 MAIN TYPES OF SHOPPABLE CONTENT
Shoppable content comes in many formats, and the social platforms and media houses are continuously innovating to create new revenue streams for themselves and their publishers.
Today, the main types of shoppable content include:
Shoppable social posts
Shoppable video
Shoppable UGC (User-Generated Content)
Shoppable articles
Shoppable ads
As new platforms emerge, and traditional media increasingly merges with ecommerce and advertising, new formats will keep evolving.
CONNECTING CONTENT TO CONVERSIONS
From an advertising and marketing perspective, shoppable content almost feels too good to be true. Before, content marketers often struggled to make a clear connection between their content and sales, but shoppable content simply eliminates the middleman. It turns content into the ideal conduit for driving conversions.
Unsurprisingly, many D2C and B2C ecommerce brands are interested in this emerging trend, and in this article, we'll look at how shoppable content works in the real world. We'll list the brands that are currently trailblazers in this arena, and we'll share practical and actionable insights for businesses ready to implement this powerful strategy to drive more digital sales.
SHOPPABLE CONTENT TURNS EMOTIONS INTO ACTIONS
The appeal of shoppable content is easy to understand. Shoppable content allows consumers to see products presented in different actual scenarios and used by real people, for example, in Instagram posts or YouTube videos. And not only that, they get to see the items being used or worn by influencers they trust and look up to.
This evokes emotion and creates desire on a whole different level than anonymous product pictures on a brand website. With shoppable content, consumers can then go from that emotion to action in an instant. The power of shoppable content lies in the fact that it allows people to act on their whims and make purchases – with just one single click.
Also, if a customer is not entirely convinced, they can quickly and instantly share the content with trusted friends to get their feedback. Previously, when shopping was done in the physical world, two friends would often go to the mall together. They would browse the stores, try on clothes together, pop out of the fitting room, and ask each other for input and advice.
And as anyone who's ever worked retail knows, this conversation and process are actually essential in closing sales. Humans are social animals by nature, and if your friend's advice is "no," you're probably not going to go ahead with that purchase. Shoppable content facilitates the same human behavior but in a digital realm. Once again, consumers are able to engage in this exact manner, even when they're physically far apart from each other.
For example, let's say Susan spots a dress she likes on an Instagram post. The influencer wearing the dress has a figure and style similar to hers. But she's not quite ready to press "buy." She needs some reassurance. So, she quickly shares the post with her friend, with a quick message, "WDYT? Could I pull this off?" In seconds, Kade responds: "👍🔥." That means the deal is done, and two seconds later, Susan has already purchased the dress.
Shoppable content is remarkably a powerful customer experience tool, as it manages to integrate physical realities with the digital world.
Related reading: What Is A Phygital Experience? 6 Real-World Examples
AT THE INTERSECTION OF INFORMATION AND INSPIRATION
Customers today don't turn to webshops to look for inspiration. Instead, social media is the turf where brands are competing for their attention. Social media is where everyone goes to find everything from education and information to inspiration. Shoppable content allows brands to pair inspiration and aspirational images and stories with meaningful product information, and meet their customers where they are.
And consumers seem to approve. According to a study by Popsugar, 67% of millennial females say they would like access to the benefits of shoppable content and be able to instantly purchase the products they discover in digital content like articles, photo galleries, social media, or videos.
Essentially, shoppable content is about taking an activity that consumers are already engaging in and adding a "Buy Now" button to everything. This means potential customers don't even have to "go shopping" to stumble upon the perfect pair of sneakers. Instead, those sneakers magically appear at the ideal time in their feed, and with one click, they're on their way to their doorstep.
While some social-savvy brands have been pushing this trend for some time now, many others are just starting to dip their toes in it. But this is a booming business, and the social platforms are thriving on it. TikTok, one of the world's most downloaded apps with global downloads reaching beyond 2 billion, generated $115.3 million from in-app user spending in 2019. And yet only around 4% of U.S. social media marketers were using the platform at that time. This shows the potential for brands who hurry up and embrace this trend and ensure they get a headstart.
With the surge in popularity of relatively new social platforms like TikTok and Roblox, there will without a doubt be more innovations happening in shoppable content that we can't even imagine today.
Below, we've rounded up five examples of brands that are charting the waters with innovative ideas – and amazing results.
RALPH LAUREN: BUILDING A VIRTUAL EXPERIENCE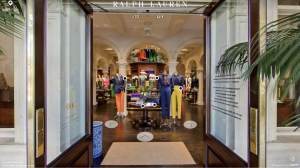 This meticulously designed site allows customers to enter through the Ralph Lauren retail store's virtual front doors to be surrounded by a perfectly curated shopping experience of beautifully displayed clothing and upbeat music. Add to this the ability to use a finger or mouse to glide through the awe-inspiring architecture to get a sense of the level of interaction. Each virtual storeroom is fitted with items in a carefully selected series of complementary colors. Shoppers can hover over specific products to get product details or click to add them to their wishlist, cart, or to "buy now."
In the same environment, shoppers can create whole outfits, buy baby gifts, or simply replace their staple items with just a click while being inspired and tempted by the complementary pieces.
WARBY PARKER: TAKING ADVANTAGE OF UGC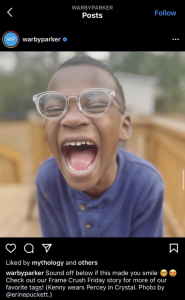 This genius concept by Warby Parker allows for the use of UGC (User Generated Content) to highlight photos and posts where customers feature their products.
Kenny, pictured above, is the subject of their ongoing "Frame Crush Friday," most likely because his mom posted this photo on social media. And being a socially savvy brand, Warby Parker used social listening to discover the post and jump on the opportunity.
In this scenario, the customer is actually doing the content creation for the brand, which is then re-posting the content with product details and links straight to their ecommerce site, shopping cart, or wishlist. Execution at this level requires a well-conceived digital customer experience, and when done well, it can be very compelling.
MOGU: LEVERAGING LIVESTREAMING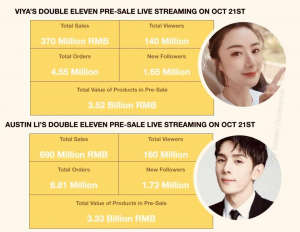 Fashion brand Mogu was named the Number 1 High-Tech Fashion Startup in China when it hit the NYSE. Mogu pioneered the so-called shoppertainment movement with live video broadcasting and short-form fashion video content. This industry has grown to the point that livestreamer is now considered a formal job title, according to the Chinese employment and labor laws. Livestreaming influencers today account for more than $60B in retail sales in China alone.
For example, the Chinese social lifestyle platform, Little Red Book, employs a whole group of influencer stars who together are driving the consumption of typically female products — from cosmetics to mother and child supplies — all through livestream shoppable content.
TED BAKER: CREATING EXPERIENCES THROUGH VIDEO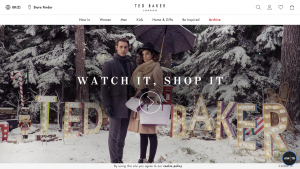 "No need for frantic shopping sprees or hours spent online — simply watch Ted's fantastical film, filled with shoppable gifts."
Ted Baker has taken advantage of their creative team's extreme attention to quality details, high-end luxury feel, and flippant humorous side to create a series of shoppable videos that are just as entertaining as they are effective.
The viewer can choose to hover over hotspots in the video series to see product information, and if they have questions, they can turn to the live chat. Hotspots make it easy and intuitive for viewers to "buy now."
"No need for frantic shopping sprees or hours spent online — simply watch Ted's fantastical film, filled with shoppable gifts."
These video pieces are an effective way for Ted Baker to express its unique brand identity and provide new and inspiring ways for customers to interact with and purchase their products.
EPIC GAMES: GIVEAWAY INCENTIVES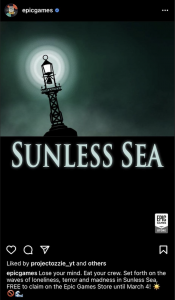 Similar to other game companies, Epic Games offers giveaways and incentives on social media to gain reach and promote shares, likes, and interactions among gamers and their social media feed.
Once people take advantage of the offer, it immediately unlocks other digital offers, such as additional games, merch, and different partner or affiliate offers.
The ability to sell within a gaming platform is further facilitated by the fact that they already hold the user's credit card information so purchases can be made with very little friction. No shopping cart is required, making conversions super quick and easy.
MAKING SHOPPING FUN, EASY, AND SEAMLESS
Ecommerce merchants are always looking for ways to create seamless shopping experiences, and shoppable content is a powerful method for achieving precisely that.
From the consumers' perspective, shoppable content is easy and fun to interact with. And not only that, it is also the perfect blend between the physical world and the virtual world.
Related reading: What is a Phygital Experience? 6 Real-World Examples
CREATING A BRAND STRATEGY AROUND SHOPPABLE CONTENT
From the brand's point of view, shoppable content holds much promise but can be challenging to implement. The content has to be part of a cohesive overall digital strategy that truly puts consumer experience at the center of everything.
Brands that manage to execute shoppable content well will see a very positive impact on sales and brand loyalty. However, poor execution, or even worse, execution without a solid strategy, is likely to have the opposite effect on the omnichannel experience.
Shoppable content is an example of a powerful equation:
Content + Commerce + Community = Increased Conversions and Customer Loyalty
At Vaimo, we help ecommerce brands re-envision their customer journey, optimizing the experience of shopping through multiple channels. And we don't stop there. Building on data and 13+ years of ecommerce expertise, we help our clients build robust strategies for seamless omnichannel customer experiences.
If your brand is interested in implementing or exploring shoppable content as part of your ecommerce strategy, talk to our team today. We're happy to help you navigate this new and exciting landscape to determine the right approach for your brand.