For many brands, Google is a prime location for selling products. Here, via Google Shopping ads and listings, brands have the chance to showcase their products to a highly targeted audience. And, in many cases, those who are browsing Google Shopping listings are well on their way toward making a purchase.
For this reason, it is critical to convert these warm leads through compelling imagery and copy. This is where optimizing your Google Shopping product titles is a must. Not only that, but Google Shopping titles are a key to being seen by potential buyers. Today, we'll take a look at practical tactics for improving your Google Shopping product titles that can help you boost your conversion rates.
The Importance of Product Titles for Search
Product titles can seem like a no-brainer. A potential customer needs to be able to find your product via a search based on its title. But creating a product title goes a lot deeper than that in the Google-fueled world of ecommerce.
Google uses your product title to determine whether or not your product is relevant to a specific search query. In today's world, there is little, if anything, that is more important than how you write your product title.
Ignoring the importance of optimizing your product titles to closely match the terms that your potential customers are searching for will cause you to miss out on key sales opportunities on an ongoing basis. Without a strategic approach, your titles can cause your listings to be shown less or to be a point of confusion for your customer.
Think of your product titles as an important foundational piece of your overall product information management strategy.
Related Reading: What is PIM? The Benefits of Product Information Management
The Baseline Rules for Titles
As you begin to write your product titles for Google Shopping, the best place to begin is with Google itself. Google can guide you on the basics of product titles, including:
    Maximum length
    Use of capitals and exclamations
    Distinguishing between product variants
    Use of grammatically correct language
    Avoiding promotional text
Following Google's rules is a great place to begin as it will keep you from getting ignored if not banned. However, the real trick to maximizing your search relevance is in the details.
Understanding what you can include beyond a product name, brand, and attribute can make the difference between showing up on the first page, 9th, or the 99th.
It all starts with building the right title length.
Title length has long been a debatable attribute because the number of characters Google shows on its product results page is constantly changing. While this debate remains active at all times, current best practices would suggest that a mix of informational attributes ranked in order from most important to least important along with the product name and brand are key.
Since Google will allow up to 150 characters in a product title, it makes sense to use as many keywords as possible, knowing only the first four or five may show up in a shopping search.
Visually: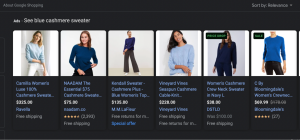 While any or all of these sweaters shown in the image above may have Google attributes listed as "Seaspun Cashmere Cable Knit Crewneck Women Classic Luxe Medium-weight Hem Breathable Imported 100% Cashmere Fall Versatile Colors Layering Staple," the user will only see the first few characters. This makes it wise to make good use of that space with appropriate white space, lack of crowding or symbols, capitalized words, and clean text.
In essence, if a shopper were to use the search term "Layering 100% cashmere crewneck sweater", they would hit all of the keywords in the Vineyard Vines title, though only the first set would show up in the image above. This way allows the seller to take advantage of the other 100 or so characters as searchable but not visible keywords.
Important Tactics To Consider When Establishing Your Title Strategy
Beyond the basics, a few practical tactics can help you boost your ability to rank well while simultaneously increasing your conversion rates. These tips are easy to enact, and when you approach your Google Shopping strategy consistently, you can steadily improve your overall search presence.
Use Numbers, Save Space
Because of character limitations, your goal is to make the most of the space available. For this reason, use numbers when possible rather than spelling out digits.
Use SKUs When Appropriate
While SKUs can take up valuable character count, there are situations where including them is wise. SKUs become an important part of product titles if your brand sells to buyers who are accustomed to searching for highly specific products via SKU. This is often the case for B2B sellers or brands selling product parts. The key here is to know your audience and understand their search intent and user journey as part of the overall customer experience.
Aim for Average Title Lengths
When creating product titles, try to remain consistent in your approach. Aim to stick to average title lengths, between 70-100 characters for every product.
Choose Keywords Based on Research
If you haven't done so already, spend time investing in professional keyword research. These keywords should not only be the backbone of your product titles, but they are also imperative to putting together your site structure. You need to know what people are searching for versus what they are actually buying.
Take a Consistent Keyword Approach
Once you have a research-based keyword strategy in place, re-use important keywords across all your products.
To own a keyword in SEO, you can re-use a specific keyword to heavily associate your products across your catalog offering. Tools like SEMRush Keyword Magic Tool will show you all the possible search queries that contain the keywords you choose.
Nike showcases a great example of this approach. Nike uses the type of shoe in every listing early in their keyword list so that more of their products are listed when that particular keyword is entered.
For instance, if you enter into the search "basketball shoe," you'll see the following results from Nike, each using the word "basketball shoe" in the product title:
    Nike Air Zoom G.T. Run Basketball Shoes
    Zoom Freak 3 Basketball Shoes
    Nike Air Max Impact 2 Basketball Shoes
    Nike Air Max Impact 3 Basketball Shoe
    Kyrie Flytrap 4 Basketball Shoes
    Kyrie Low 4 Basketball Shoes
Without even selecting the brand, the search results on basketball shoes are consistently Nike because Nike consistently uses the same keyword in their product title(s).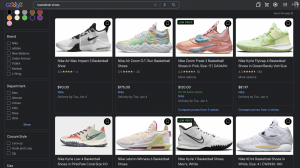 Lululemon is another great example of this. Lululemon has included the keyword "leggings" in so many product titles, both current and historical, that when you search the term, they own more than half of the real estate on the first page.
Explore the Nuances
Experts in Google Shopping title optimization will tell you that a formulaic approach can cover your bases when it comes to title structure.
But beyond the basics, the nuances are endless and offer unlimited opportunities for running your own test. Almost every formula, such as BRAND + PRODUCT + SPEC + SIZE, leaves room for personal interpretation in at least one area.
For instance, when referring to spec, the seller can add any spec they feel is important to the searcher's intent, such as "organic," "slimming," or "for insider members only." The beauty of writing product titles is that you will almost always have space for the information you are trying to get across to your target audience. Don't hesitate to explore and test out what might speak to your customer base.
Continue To Optimize
Product optimization can seem like an ever-changing daunting task, especially if you have thousands of items. And while it may feel as if the rules for optimization are constantly in flux, with the abandonment rate of shopping carts so high based on customer experience today, brands can't afford to ignore title optimization.
Not only that, but data shows that this effort is well worth the return. In one example alone, a brand that invested in product title optimization increased click-through rates by 250%.
The key is to make optimization an ongoing part of your ecommerce strategy. This is not a set-it-and-forget-it situation, but rather, it requires you to return to the basics again and again.
Related Reading: An Optimized Google Data Feed Means More Revenue
Run A/B Tests
Once you have gone through the initial exercise of optimizing your Google Shopping titles, you can move on to running A/B tests. These tests can be applied over a 30-day, 60-day, or 90-day period and can help guide you to other optimization tactics, such as optimized pricing, including modifiers, and making other data-based improvements.
Related Reading: The Consumer Journey: Why Product Data Matters
Learn More About Google Shopping Title Optimization With Vaimo
Once you have a successful product listing structure in place, you can allow your customer experience to take over making the final purchase conversion for you. But the first step will always lie in getting a shopper to your site. Unless your product is extremely niche and exclusive to your site, showing up through product title optimization is an important part of your ecommerce strategy.
As is true with much of the ecommerce world, Google Shopping title optimization is a job never finished. At Vaimo, we understand how daunting it can be to upload product data to Google's shopping feed and ensure that titles are optimized in such a way that you show up and increase conversion rates.
Our team has years of experience helping brands improve their Google Shopping strategy. Through the use of industry-leading platforms, we help brands take a holistic approach to their ecommerce strategy, allowing for less duplicate work and better product data management.
Reach out to our team to learn more about how we can help you transform your ecommerce strategy.