In January 2018, The Estonian Chamber of Commerce and Vaimo co-hosted an event entitled "How to Go Digital with B2B," at the Estonian Chamber of Commerce premises in Tallinn's historic Old Town. The event offered B2B merchants insight into current B2B e-commerce trends, reasons to get their business online, and how to choose the right digital solution partner.
The event began with a preface from the Estonian Chamber of Commerce and a short introduction by all participants stating what they would like to get out of this event. Brendan Peo, Chief Operating Officer at Vaimo, took the stage first to talk about "B2B E-Commerce Trends & Why You Need to Go Digital."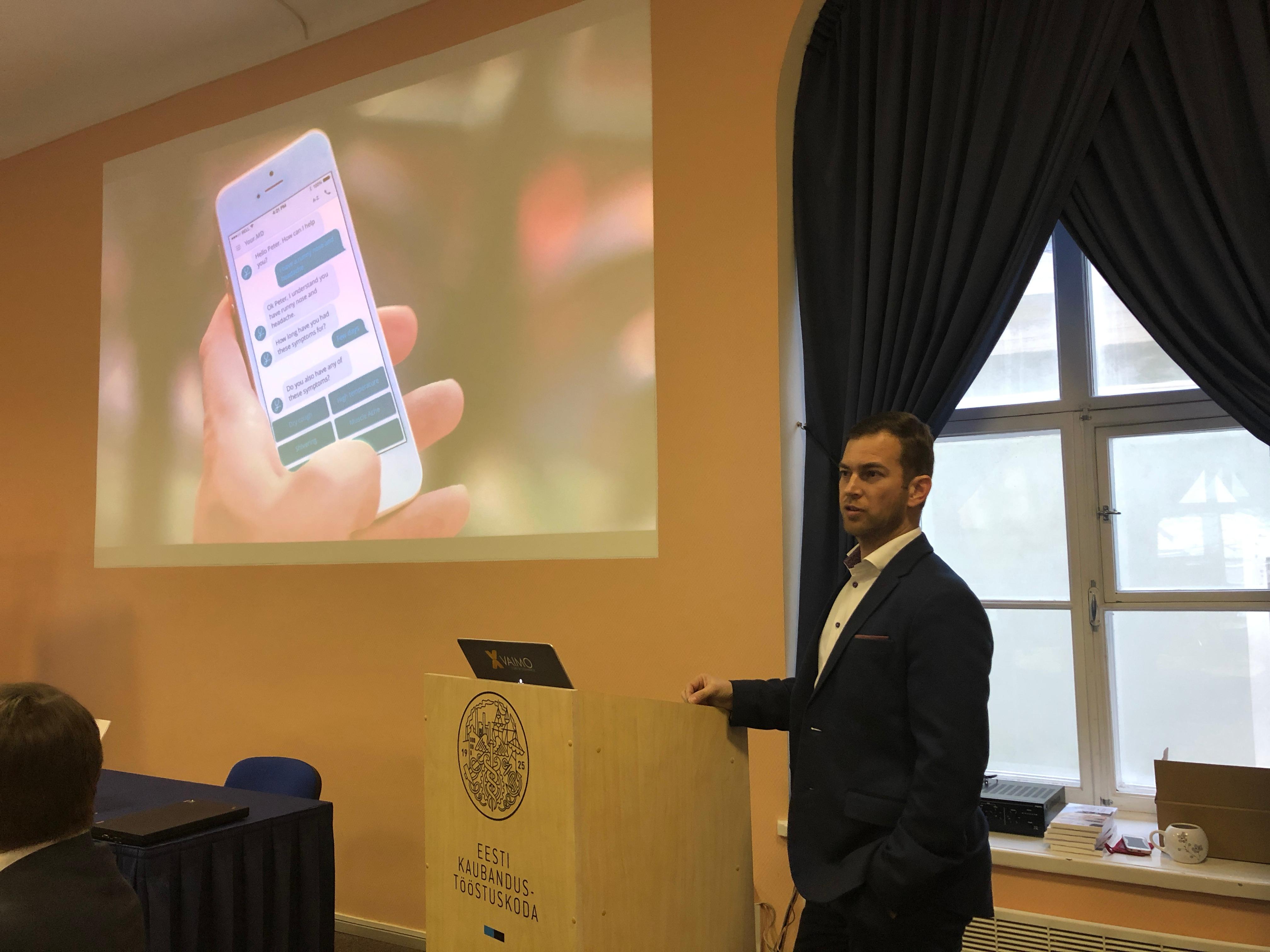 Brendan explained that B2B brands must be visible online, and create a direct connection to the consumer, as Vaimo's B2B/B2C client, Jack Daniel's did in the UK. Since Vaimo's establishment in 2008, the first 7 years were largely spent working with B2C merchants, while the last 3 have ushered in the era of B2B, with about 80% of Vaimo's efforts going to B2B merchants' projects.
B2C has heavily influenced how consumers shop, and B2B customers want to receive their products fast with as little effort as possible put into the purchasing process, just like their B2C counterparts. Uber is a great example of a frictionless experience – customers get in and out of the car, without having to touch their wallets to reach for a card or cash for payment, as the whole process is tied to their credit card and completely automated. Brendan shared that 41% of adults in the US are using voice-based search, which illustrates an example of how B2B shoppers want to shop. Search that's regulated by artificial intelligence helps merchants to better understand their customers and makes sure the customers see other relevant products. Merchants that use smart search don't need to waste time trying to enrich their products with different product information and key words, because the A.I. does it for them.
Brendan also touched on the upcoming generation of millennials, who are now in the age range of 27-29 years old, with between 5-7 years of career experience. Millennials don't tolerate slow sites, or shops that don't provide instant results. Millennials are currently entering the business world, and if they can't get what they want how they want it (digitally), and when they want it, they will dump the B2B merchant and move on to the next one. In other words, "if it isn't online, it doesn't exist."
63% – B2B buyers research half or more of their work purchases online
53% – B2B buyers will make half or more of their work purchases online
61% – B2B buyers research work purchases on their smartphones
 Forrester/Internet Retailer Q1 2017 B2B Buy Side Online Survey
Brendan touched on Amazon's success, and how the online giant forced B2C retailers to open digital storefronts. Now, as Amazon moves to the B2B market, it will likely create the same effect amongst B2B marketers.
To tailor the best customer-centric buying experience, merchants must make it a frictionless, relevant, omni-channel experience that includes self-service. Build an agile modern technology landscape by being flexible, scalable, connectable, and changeable. This means that B2B merchants should avoid committing to technology; instead, build a landscape where it's easy to upgrade to new technologies anytime.
Next up, Meelis Prett, Business Unit Manager at Vaimo spoke about "Finding the Perfect e-Commerce Partner and Key Topics to Consider During the Journey." Meelis stressed that he was speaking objectively based on his experiences with Vaimo's own clients, and their challenges when looking for a solutions partner to work with on their commerce journey.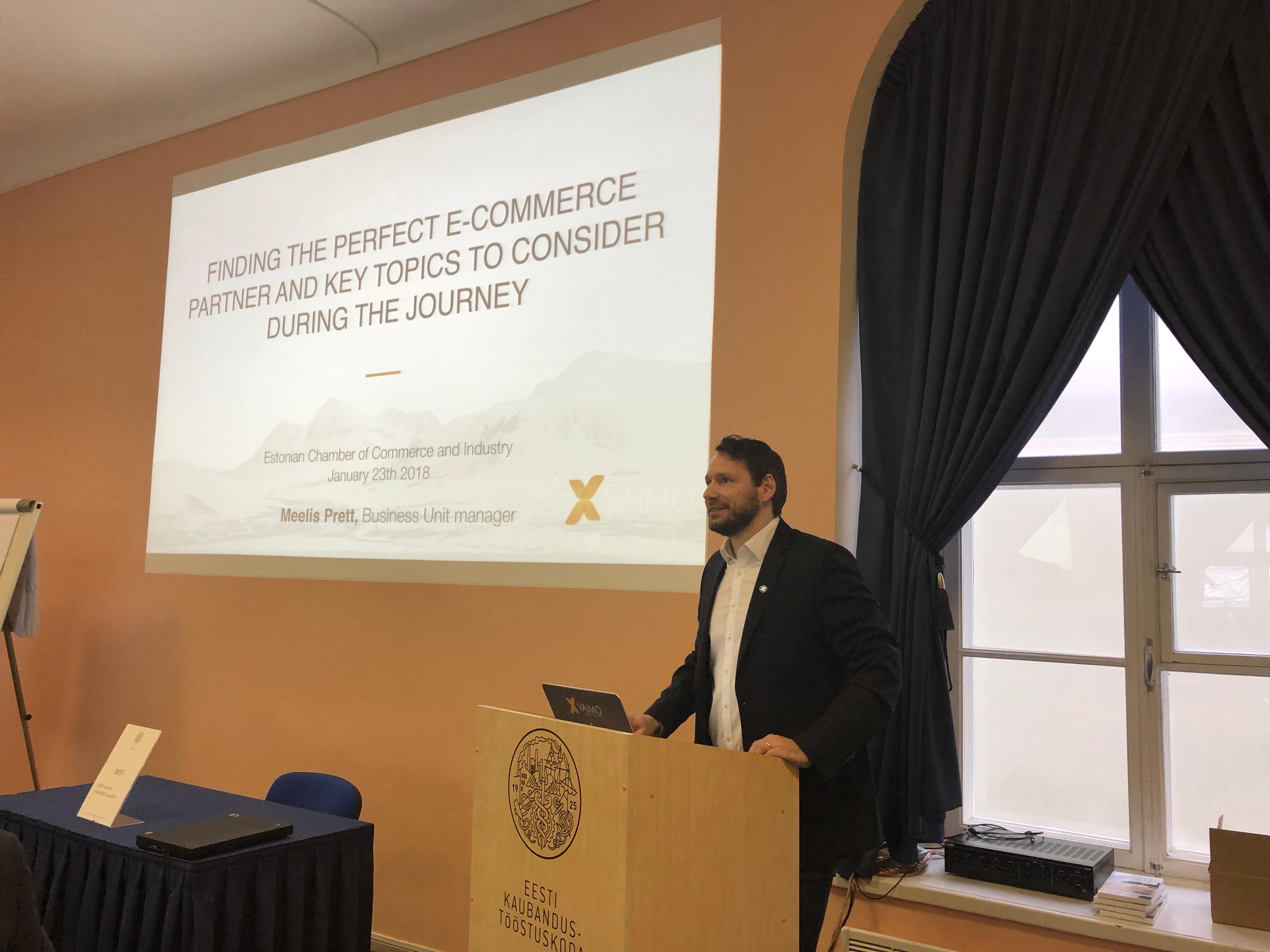 Here are Meelis' key points to finding the right solutions partner:
Bring together a strategic team: Gather staff from IT, customer service, CEO, finance, store sales, warehouse, marketing, and make sure everyone is on board and knows what's going on within the company.
Focus on the partner and the software: It's very expensive to make a mistake and choose the wrong partner, as it takes time to find them, and also fire them. Many solution partners have fantastic websites and portfolios – but how many of those are solely developed by them? Look at the clients they work with usually – are they big, small, local, or international? Are the partner's products functional? Establish what needs to be included in your project, and make sure your potential partner can deliver them. Also define what you need from a partner – such as certified developers to work with tools and platforms, an in-house team of developers, at least 50 employees in different support areas for your business, etc.
Examine Integration Experience: What is your potential partner able to do in regard to integrations, and what's their experience like? B2B eCommerce solutions are far more complex than B2C, and include integrations with ERP, PIM, CRM, etc. If your partner isn't knowledgeable in this arena, you will likely end up teaching them in the process.
Assess Project Processes and Credentials: Look at the partner's methods, to understand what they can deliver; their project methodology should be established, with a clear discovery, design, define, development, and deployment phases. Investigate their background, and stay away from solution partners that don't offer a project manager and those without an in-house development team.
Assess Creative Design Skills: Check out whether the partner's solutions are intuitive, functional and easy to use. See if they have experience with building solutions for different devices, browsers, and whether their design approach is mobile first.
Hosting & Security: Often ignored, these two will come back and haunt you if your partner fails on either. Ensure that the hosting solution is meant to scale, and meant for e-commerce – so that it will hold up under pressure during peak periods. Likewise, check whether the partner's security measures are e-commerce related, as failing on security could potentially bankrupt a business.
Scalability and Growth: Ensure that the partner is adequately prepared to scale new technologies, business growth, and new markets with you. Check out their client case studies for references, and investigate where those clients are now.
Cultural Fit: Evaluate whether you could cooperate with this partner for 10 years – are they a good fit from a cultural fit point of view? Your partner is more important than your software – you can swap out software, but a partner is harder to switch out.
Don't Put Price Over Value: – Choosing the cheapest solution partner may come at a very high price for your business – investigate what you're giving up by choosing this partner. What does their offer include? Will you need to acquire services or products on your own? Remember, you can develop a web solution in many different ways – and it's possible to develop it very cheap, but you'll end up paying for it in other ways down the road.
Omni-channel: Choose a partner with a strong portfolio of omni-channel solutions that feature diverse channels so you can be where your customers expect you to be.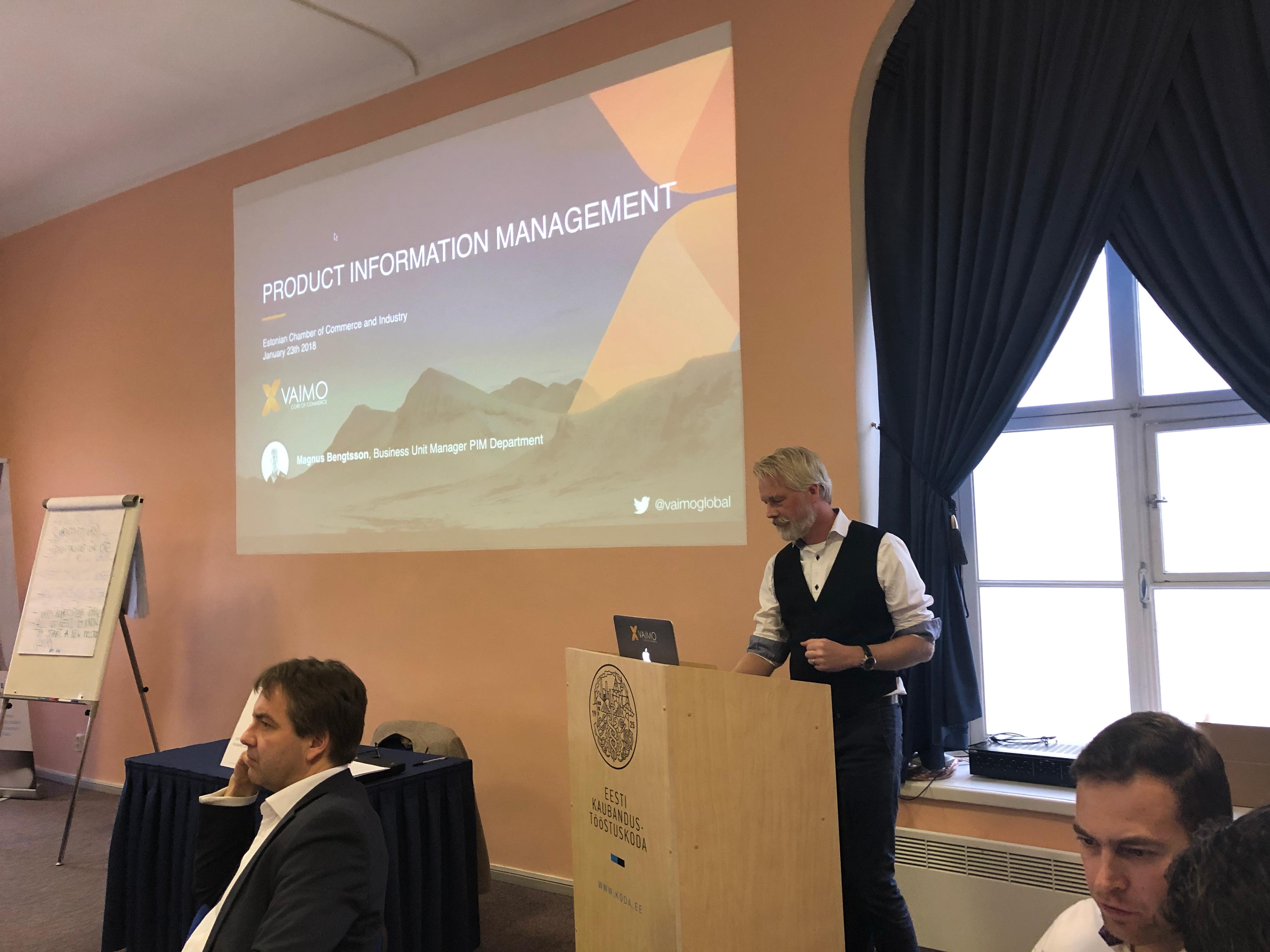 Next, Magnus Bengtsson, Business Unit Manager for Vaimo's PIM Department, introduced Product Information Management. He opened the session with an anecdote of shopping for shoes with his young son, who had found shoes on sales and in stock online before visiting the physical store. When the duo arrived at the store, they found that the information online was incorrect, and the shoes were not in stock. With a quick online search, they were able to locate the desired shoes at another location close by, and off they went. The moral of this story was that up-to-date product information matters.
Magnus then asked from the audience, what are the key factors to success with digital commerce?
PIM: Customers expect product information that is comprehensive, accurate, and is easy to consume and interact with. By the way, only 16% of organizations fully trust their own product information processes.
Read our blog post on When Should You Consider PIM here.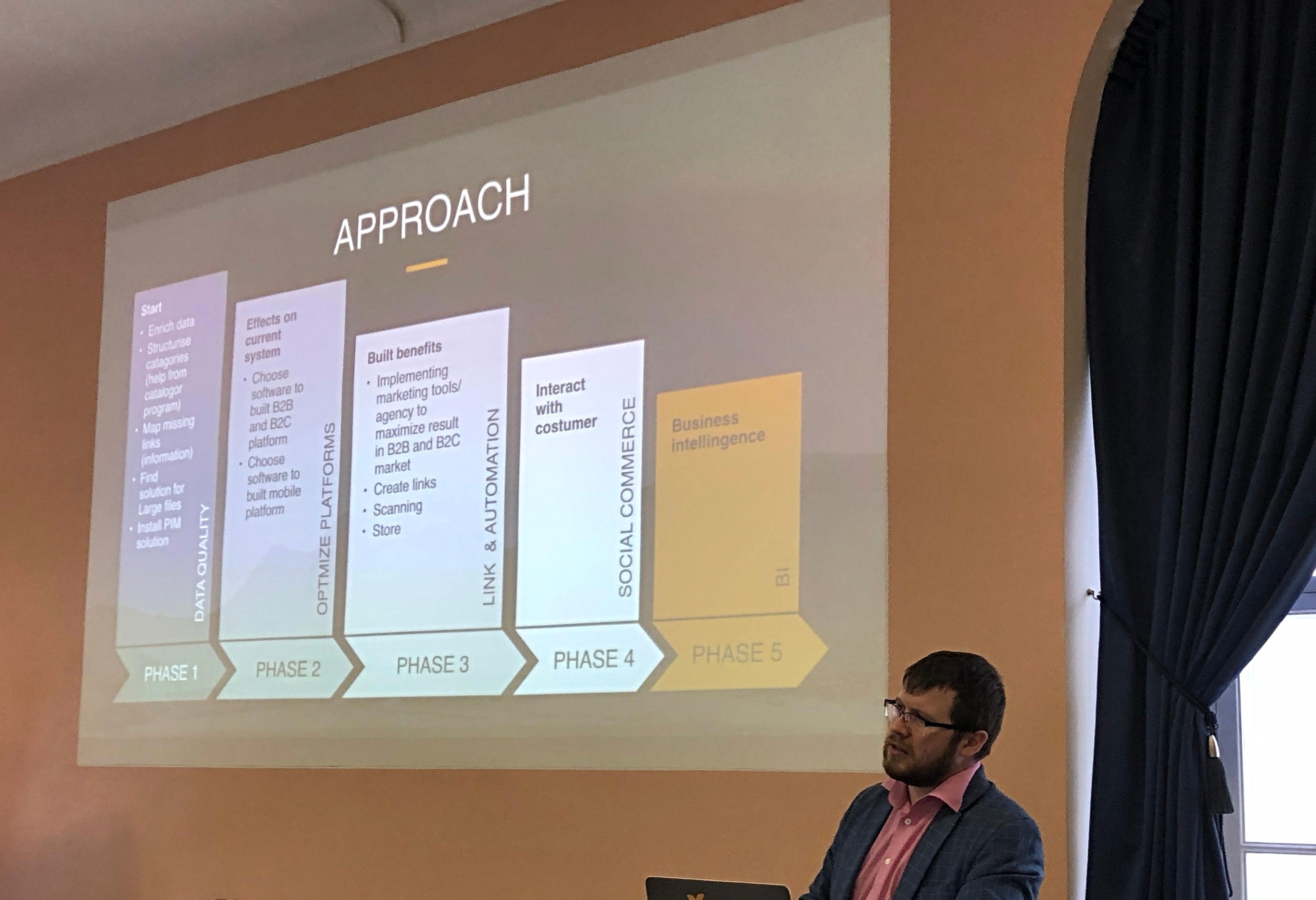 Sales Architect, Aapo Reitsak took the stage next to talk about Vaimo B2B clients Lecot and SLO and their digital journeys. For Lecot, the main challenges when they came to Vaimo included turning a system without any integrations to a fully functioning site, incorporating different user rights and prices, and performing a deep integration with their ERP system. The requirements included: increase data quality, increase functionality, create product overview with filters, dropdown group products, show what they're selling, easy overview, easy check-out, incorporate complex price structure, and increase turnover.
View our video case study with Lecot to get the full overview: 
Vaimo's solution for Lecot included a web shop built on Magento 1 with B2B/B2C functionalities, an ERP and e-commerce connector and PIM, and shared accounts for companies. The solution also included requisition lists and scanner integrations.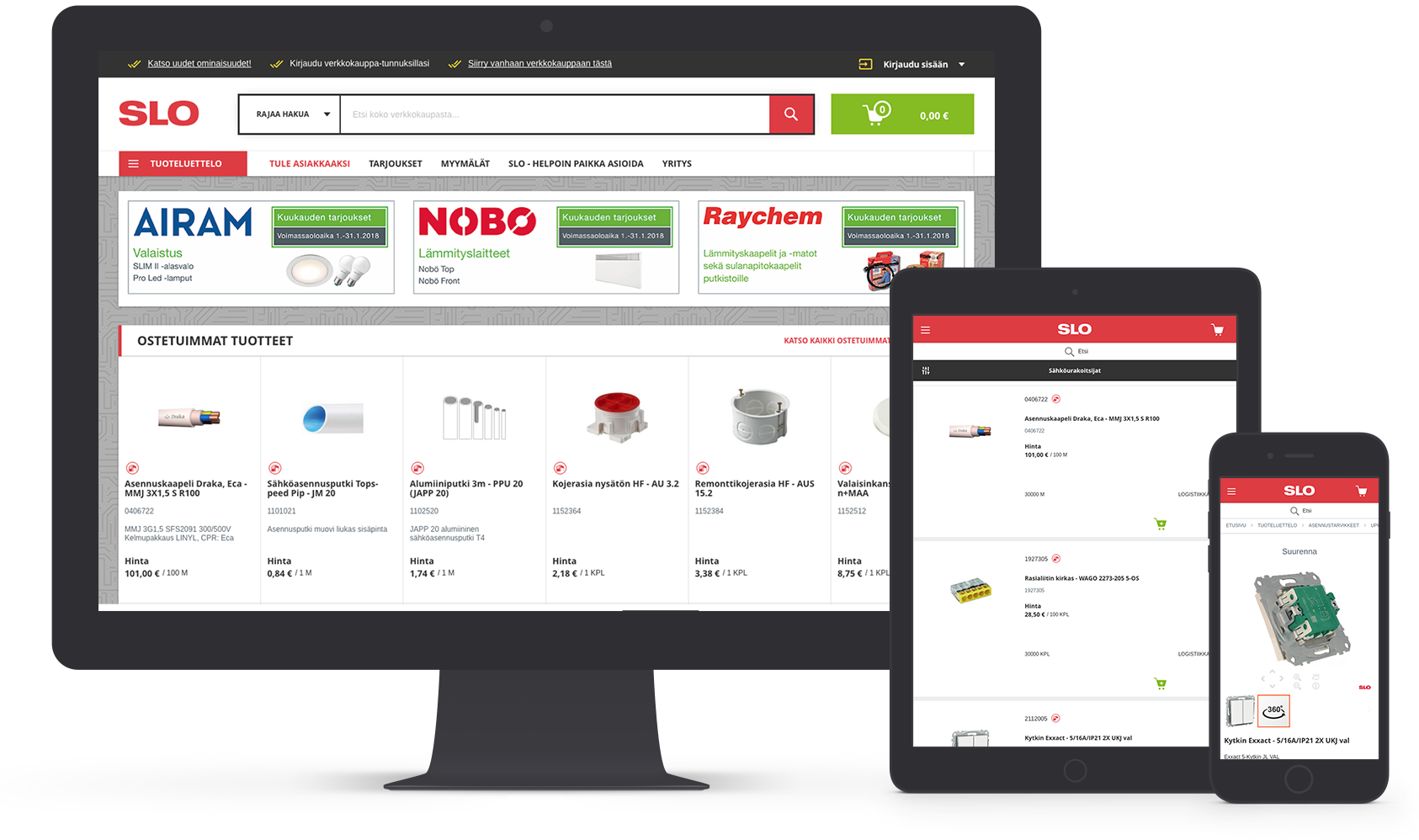 The main challenges for SLO included turning a legacy support system to a new primary channel, and incorporating different price lists for existing clients into the solution. Their challenges also included an enormous amount of products and attributes, and business-important developments. Vaimo built an all-encompassing B2B solution on Magento 2 for SLO with total custom implementation to ensure speed while supporting 150,000 SKUs and 13,000 product attributes.
According to Aapo, online and offline connections come together here for B2B:
Stock check between ERP and ecommerce platform
Geo IP
Pick and Pack possibility
Store locator
Logistical processes
Common internal B2B business problems with making the move to online, according to Aapo:
Why are we switching to a new system?
Who will deal with it?
Will I lose my job?
Everything is fine, why should we change everything?
Will we lose our personal contact with our customers?
Aapo urged that moving online will allow staff members to focus on more important tasks, instead of dealing with mundane, repetitive tasks (especially those involving Excel spreadsheets for product information management, order management etc).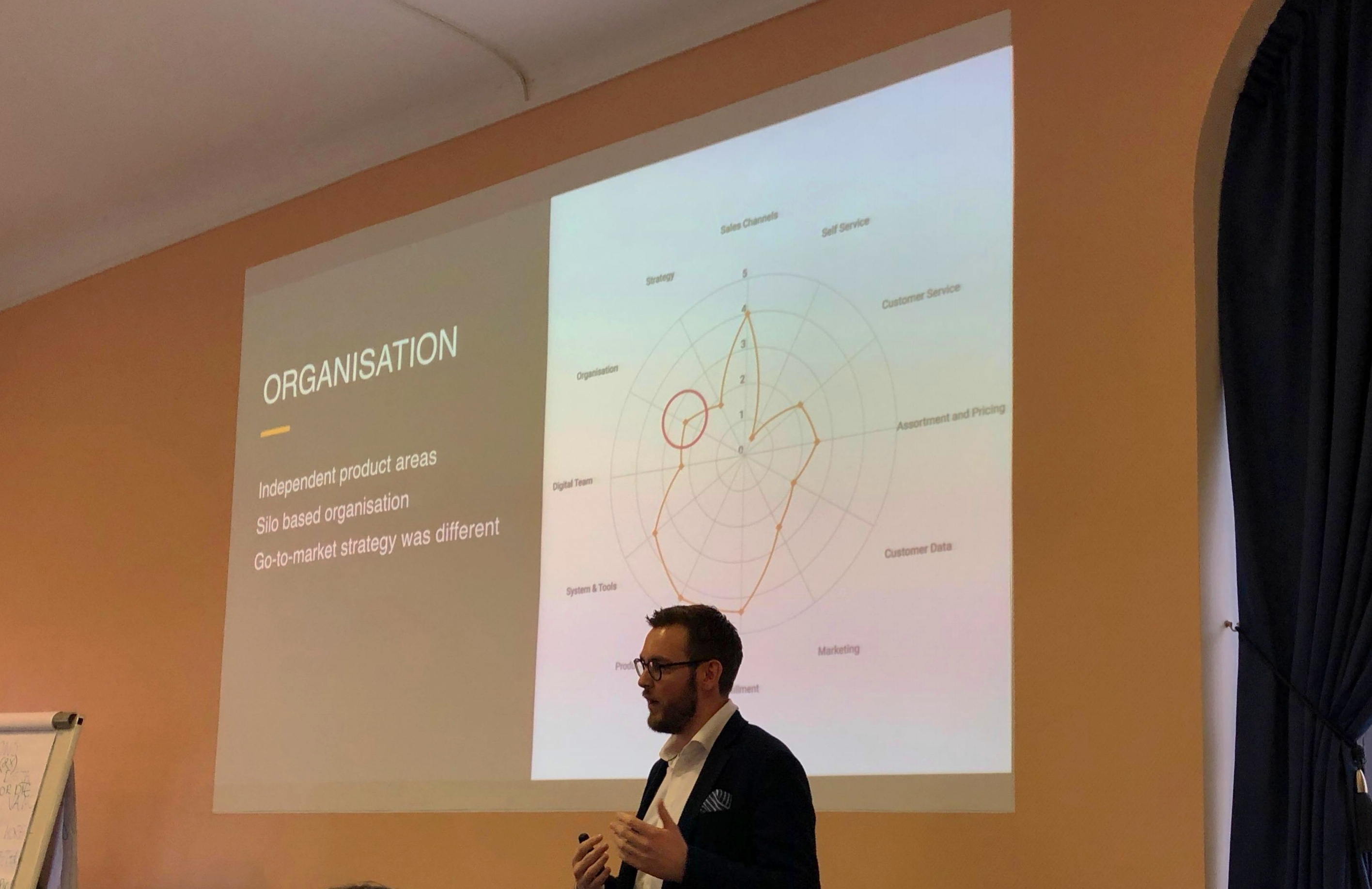 Finally, Henrik Feld-Jakobsen, Head of Strategy at Vaimo, shared the Twelve Areas of Excellence on B2B Digitalisation within the scope of a case study with a Vaimo client. Henrik delved deep into strategy talk with Vaimo's "Digital Maturity Wheel," a comprehensive test that will show the B2B merchant where they are lacking when the project first begins. According to Henrik, the biggest frictions for success are no buy-in on the strategy, the silo-based organisation, and non-supportive incentive models. The day closed with a call to action to speak to Vaimo representatives available on location.
The article was published in Estonian Chamber of Commerce and Insdustry magazine 'Teataja' in Febraury 2018.
Thank you for attending our event in Tallinn, Estonia! Our next joint event wtih Estonian Chamber of Commerce & Industry will be hosted in Tartu on 12th April 2018. Registration is now open, book your place to get the latest industry updates from Vaimo, our partners and clients.
Want to find out how Vaimo can help you with digital transformation? Get in touch with our team of experts today!