Vaimo is very pleased to announce that three of our clients (BAUHAUS, SLO and Helly Hansen) have been selected as finalists for Magento's prestigious yearly Imagine Excellence Awards. Recognising the extraordinary achievements of companies, brands and individuals, in the eCommerce arena, the Imagine Excellence Awards celebrate those who are the epitome of exceptional customer experience, groundbreaking innovation, exquisite design and pioneering business insight. With over 250 entries and strong competition, making it to the shortlist is a truly fantastic accomplishment for all finalists.
Best Sales Channel Growth – Helly Hansen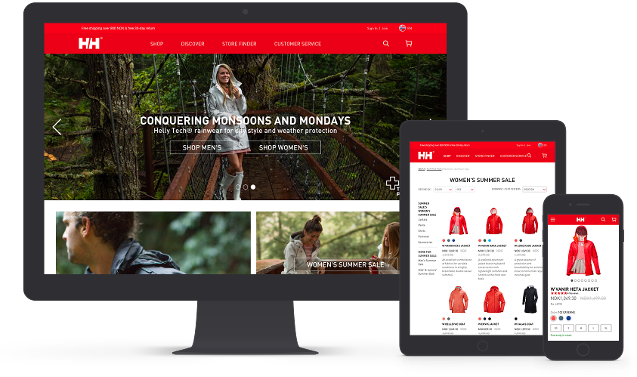 Helly Hansen was born in Norway in 1877 when sea captain Helly Juell Hansen and his wife began creating waterproof gear to withstand the ruthless Norwegian weather conditions. Today, Helly Hansen continues to make professional outdoor gear and is the preferred apparel brand for professional skiers, sailors, and at workplaces around the world. In October 2016, Vaimo helped Helly Hansen to launch a fully mobile-optimised online store on Magento 2 which led to a 68% increase in transactions from mobile and a 45% increase in revenue. This award celebrates growth across multiple sales channels, brands and geographies.
Best Overall B2B Implementation – SLO
SLO is Finland's largest supplier of electrical equipment, with a turnover of approximately 400 million euros and a staff of nearly 500. Vaimo unleashed a first-of-its-kind behemoth B2B solution on Magento 2 to provide a fast site whilst supporting 150,000 SKUs and 13,000 product attributes. This award celebrates acknowledges those who have managed to transform their business operations through digital.
BAUHAUS first introduced the unique concept of "everything-under-one-roof" in 1960, when the first DIY home improvement store opened in Mannheim, Germany. BAUHAUS brings quality tools and materials for home improvement to one store and they aim to offer the industry's biggest selection and provide effective customer service with knowledgeable staff. Vaimo's partnership with BAUHAUS began back in 2011 and we have been working closely with them ever since to develop new functionality and services for its customers. This Magento award recognises the most significant B2B sales growth percentage through Magento Commerce.
Vaimo, a Magento Global Elite Partner, has a rich history of success in the Imagine Excellence Awards through its clients, and so is proud to continue on this trajectory. In 2015, Vaimo's client Konga picked up the Sales Growth Award and in 2016, Selver, another Vaimo client, was nominated as a finalist in the category for the Best Commerce Launch. Then last year, we saw a bumper number of nominations for Vaimo's clients with three nominations for the following awards: Best Omnichannel Experience (Tous), Growth Award (Selver) and Best Web Design (Absolut Art).
Congratulations to all the other finalists for the 2018 Imagine Excellence Awards. You can view the full list here!
About Imagine and Imagine Excellence Awards
Imagine is Magento's main annual conference that unites over 2,500 attendees that are comprised of brands, retailers and technology providers from more than 45 countries to meet, share thoughts and build connections. You can find out more about the conference here. The Imagine Excellence Awards identify remarkable talent, innovation and growth that retailers around the global Magento ecosystem are propelling across channels.
About Vaimo
Vaimo is the global leader in delivering award-winning digital storefronts, omni-channel solutions and mobile apps. Their only focus is to accelerate B2B and B2C sales for their brand, retail and manufacturer clients. Vaimo is Magento's Global Elite partner and has received the following recognitions from Magento: Global Elite partner in 2017, Digital Commercial Partner of EMEA in 2017, EMEA Omni-channel Partner of the Year in 2016 and EMEA Partner of the Year in 2015. In 2014, Vaimo won the Magento Spirit of Excellence Award and in 2012 Vaimo was named by Magento as the Fast and Emerging Partner of the year.